A Faster Tegra 3, More Memory Bandwidth
As its new Android tablet flagship, ASUS selected the fastest Tegra 3 SoC NVIDIA is offering today: the T33. Architecturally similar to the rest of the Tegra 3 lineup, the T33 is simply a higher leakage part running at a higher voltage to hit higher clock speeds. Whereas the original T30 used in the Transformer Prime ran at a nominal voltage of 1.15V, the T33 runs at 1.237V. CPU clocks can now reach 1.7GHz with a single core active, or 1.6GHz otherwise.
NVIDIA Tegra 3
CPU Cores
Max CPU Clock (1 core active)
Max CPU Clock (multiple cores)
GPU Cores
Max GPU Clock
NVIDIA Tegra 3 (T33)
4+1
1.7GHz
1.6GHz
12
520MHz
NVIDIA Tegra 3 (T30)
4+1
1.4GHz
1.3GHz
12
520MHz
NVIDIA Tegra 3 (T30L)
4+1
1.3GHz
1.2GHz
12
416MHz
ASUS continues to expose control over the CPU governer through its Performance, Balanced and Power Saving modes exposed in ICS. In general, the balanced mode really does deliver nearly max performance (1.5 - 1.6GHz) while power saving significantly clamps CPU clock speeds (1GHz) and is more conservative with ramping up CPU clock to that max. Despite offering support for up to 1.7GHz operation, I typically saw 1.6GHz as a max even in performance mode.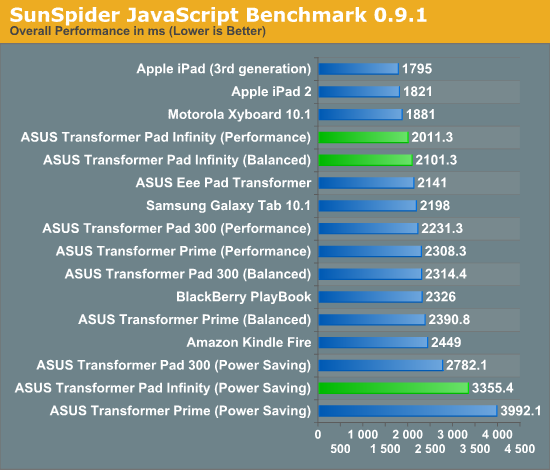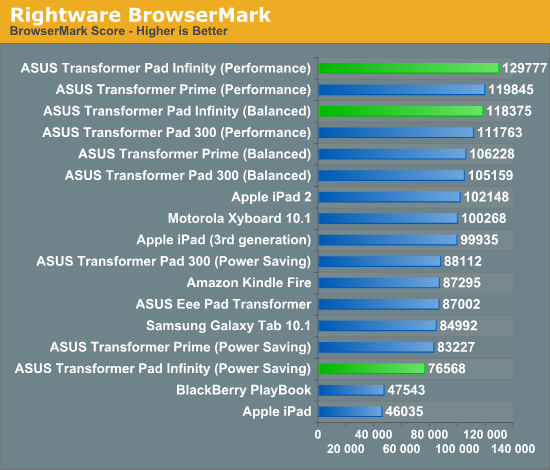 The higher clocked CPU does deliver a tangible performance improvement over the Transformer Prime, and definitely over the original Transformer if you look at the BrowserMark results.
Although GPU clocks remain unchanged, in order to drive the higher resolution panel ASUS outfitted the Infinity with DDR3-1600. If I'm reading the part numbers on the DRAM devices used in previous models it looks like there's a significant increase in memory bandwidth this generation:
ASUS Transformer Memory Choices
TF Prime
TF Pad 300
TF Pad Infinity
Memory Capacity
1GB
1GB
1GB
Memory Type
DDR2-500
DDR3-667
DDR3-1600
Memory Bandwidth
2.0GB/s
2.7GB/s
6.4GB/s
Remember NVIDIA's Tegra 3 only has a single channel memory interface, so frequency is the only option for increasing memory bandwidth. The increase in bandwidth does make scrolling and most UI interactions fairly smooth, although you will see dropped frames from time to time. I must say I'm fairly impressed by how well ASUS/NVIDIA were able to pull off smoothness without a significant hardware update. It's worth pointing out that the experience is far from perfect though. Even ICS is rough around the edges when it comes to delivering consistent UI performance on a tablet. Google is expected to address this with Jelly Bean but it's something to keep in mind for those buying in the near future. Granted by the time the Infinity is actually available, Jelly Bean may have already launched. As ASUS is widely expected to be a launch partner on Jelly Bean, I wonder if that means TF Pad Infinity owners will get a swift update.