GPU Performance
Peak synthetic GPU performance sees a sizeable boost compared to the previous generation Zenbook. 3DMark 11 requires DX11 hardware and thus the original Zenbook won't run on it, but the rest of the 3DMark tests give us some perspective.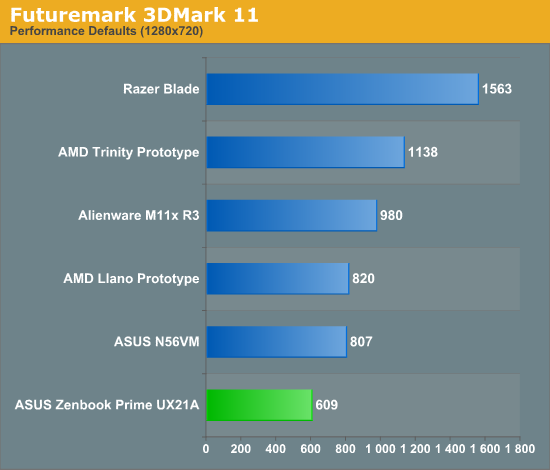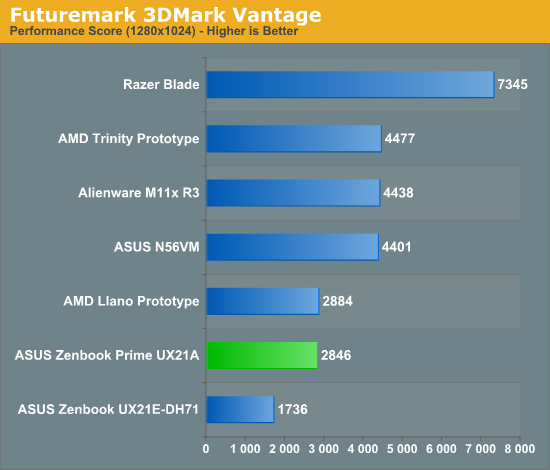 Vantage shows us a 63% improvement over the HD 3000 based Zenbook UX21.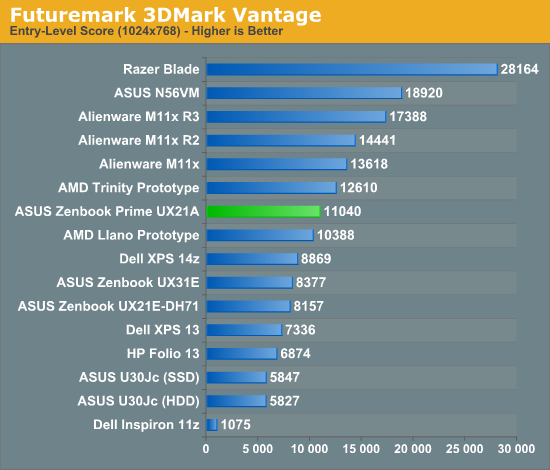 Here we see just how much better Intel's graphics cores have gotten over the years. The Inspiron 11z could barely run the entry level 3DMark Vantage suite, whereas the Zenbook Prime delivers nearly an order of magnitude higher score here.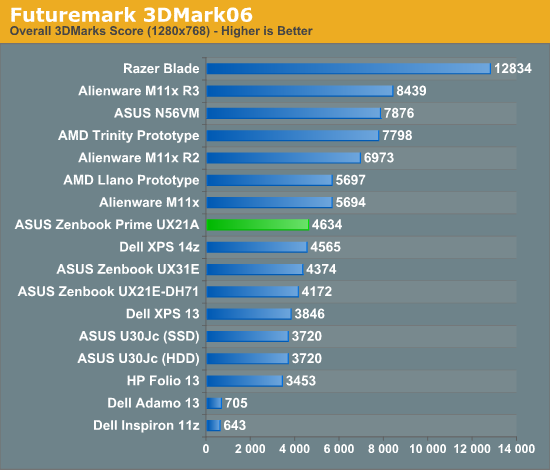 Gaming Performance
We can say that the silicon in the Zenbook Prime's CPU features Intel's HD 4000, the upgraded 16 EU Ivy Bridge GPU. The result should be much improved gaming performance. Once again we are thermally limited so there are some cases where you won't see tremendous increases in performance.
At a high level, for any modern game, you shouldn't count on being able to run it at the Prime's native 1080p resolution. You need a discrete GPU (or Haswell) to pull that off. The former is a tall order for a machine that's already mostly battery. The good news is that 1366 x 768 is playable in many games.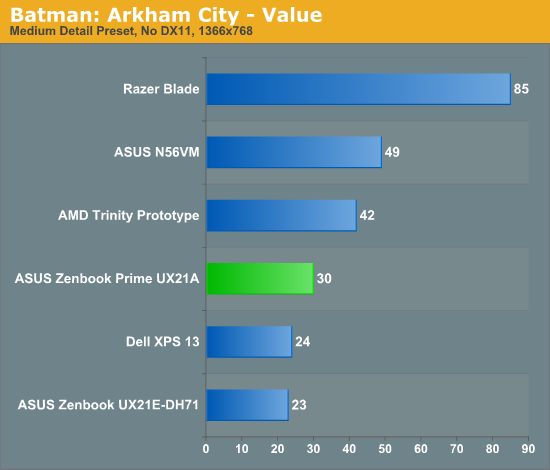 Not all games will see huge performance gains, but the latest Batman title runs 30% quicker on the new Prime.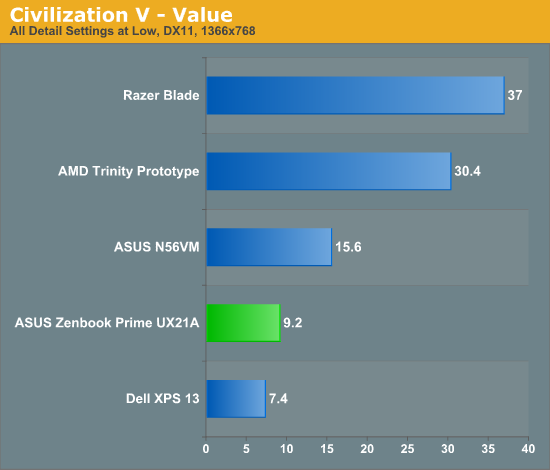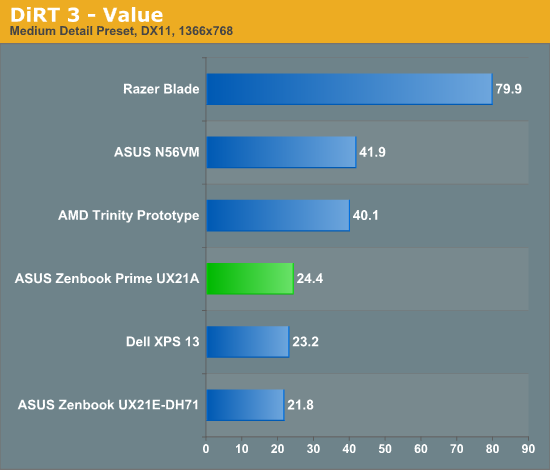 More CPU constrained and thermally bound environments won't show any improvement over the Sandy Bridge based Zenbook UX21.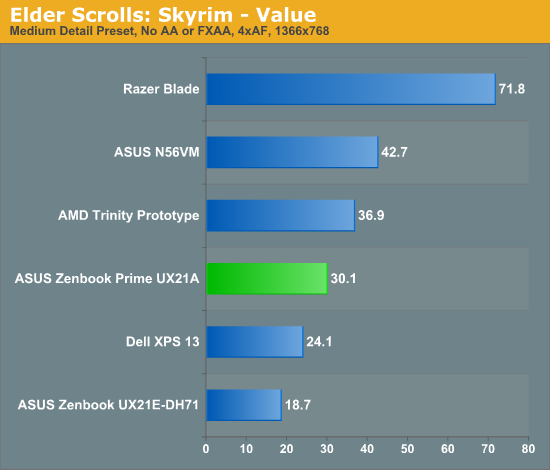 The 61% increase in performance over the original Zenbook takes the Prime into the realm of playability at these settings.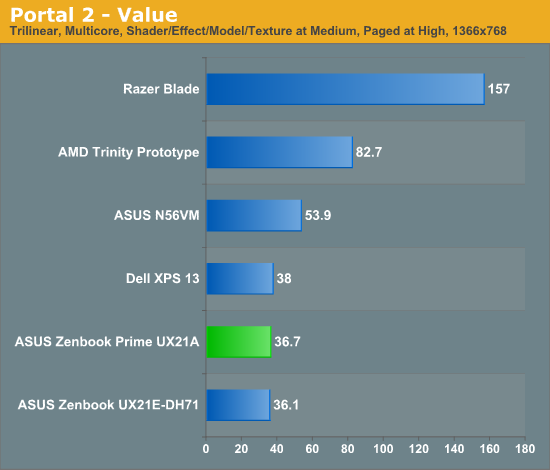 Portal 2 is an interesting case as we are significanty CPU and thermal bound here. The Prime can reach frame rates as high as 39 fps, but after a couple of runs you see degradation into the 32 - 37 fps range. On average, there's no improvement in performance compared to its predecessor - there's no beating the laws of physics.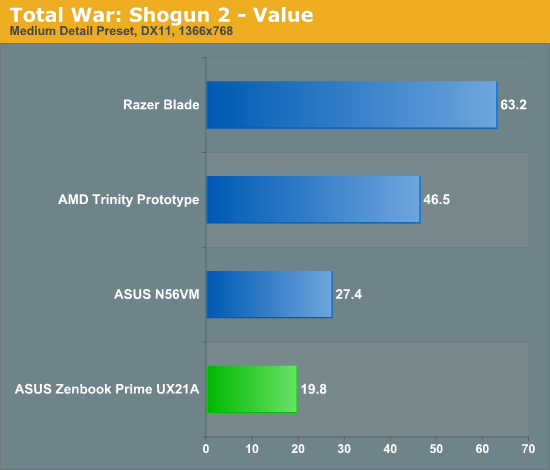 Diablo III
Last week Intel proudly showed me a demonstration of Diablo III running on Ivy Bridge's processor graphics, from a standard notebook all the way down to an Ultrabook. Eager to repeat the experiment myself, I fired up Diablo III on the Zenbook Prime.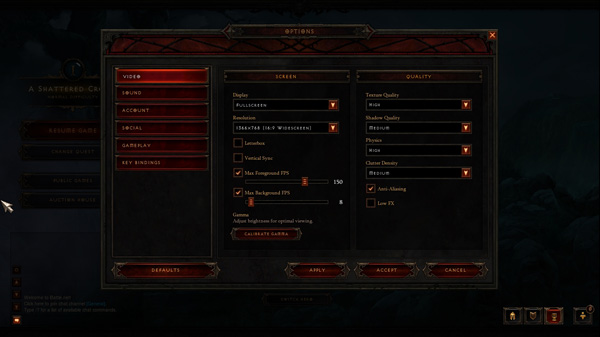 Default settings at 1920 x 1080 were understandably unplayable. Dropping the resolution down to 1366 x 768 and clutter density down to medium however gave me an average of around 17 fps outdoors and 20 fps in early crypts. Given that Diablo isn't a twitch shooter, these frame rates were actually playable - all I needed was an external mouse.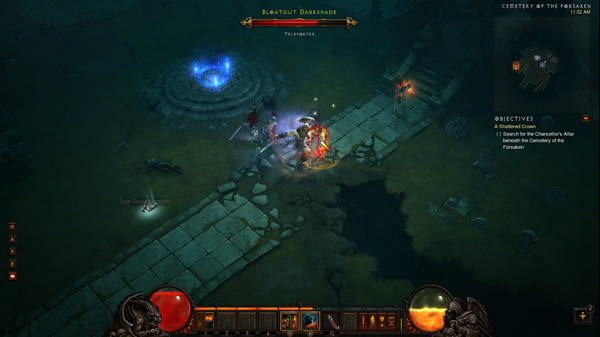 As a primary gaming system, any Ultrabook this size is going to fall short. However, if you need to get your Diablo fix in while on the road, the Zenbook Prime will deliver in a pinch.