The Test
To keep the charts clean and simple I omitted a lot of the config details of each of the notebooks. For your reference, here's the configuration of each of the notebooks in our tests:
Alienware M11x (SU7300 + GT335M + HDD + 63Wh)
Alienware M11x R2 ( i7-640UM + GT335M + HDD + 63Wh)
Alienware M11x R3 (i7-2617M + GT540M + HDD + 63Wh)
AMD Llano (A8-3500M + HD6620G + SSD + 58Wh)
AMD Trinity (A10-4600M + HD7660G + SSD + 56Wh)
ASUS N56VM (i7-3720QM + HDD + 56Wh)
ASUS U30Jc (i3-350M + G310M + SSD + 84Wh)
ASUS Zenbook Prime UX21A (ULV IVB + HD4000 + SSD + 35Wh)
ASUS Zenbook UX21E-DH71 (i5-2677M + HD3000 + SSD)
ASUS Zenbook UX31E (i7-2677M + HD3000 + SSD + 48Wh)
Dell XPS 13 (i7-2637M + HD3000 + SSD + 47Wh)
Dell XPS 14z (i5-2430M + HD3000 + HDD + 58Wh)
HP Folio 13 (i5-2467M + HD 3000 + SSD + 60Wh)
Dell Inspiron 11z (SU4100 + GMA4500 + HDD + 56Wh)
Dell Adamo 13 (SU9400 + GMA4500 + SSD + 40Wh)
Performance
As I mentioned earlier in this review/preview, the deal ASUS worked out with Intel prevents us for discussing clock speeds or specifications of the ULV Ivy Bridge silicon in the Zenbook Prime. Obviously the silicon is going to fit within the same 17W TDP as its predecessor so don't expect huge differences in clock speeds.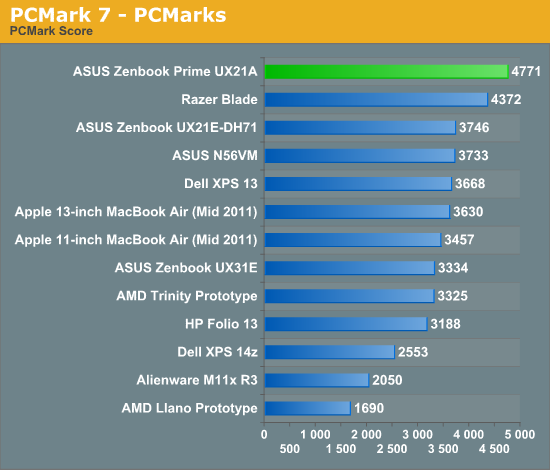 If you take into account Quick Sync and its SSD, the Zenbook Prime is an extremely quick solution. Looking at the breakdown of PCMark scores you get a much more realistic look at where the ULV IVB fits into things.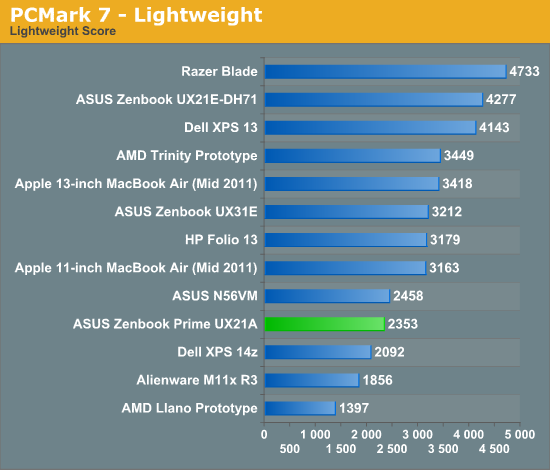 In some areas the Sandisk U100 holds the Zenbook prime back, here it's actually slower than its predecessor. Despite all of its issues throughout most of last year, SandForce was always fast.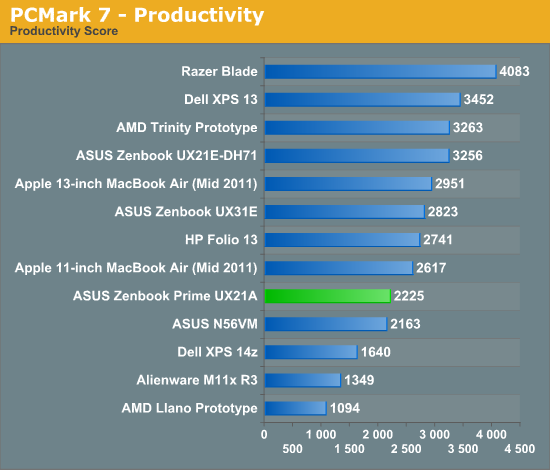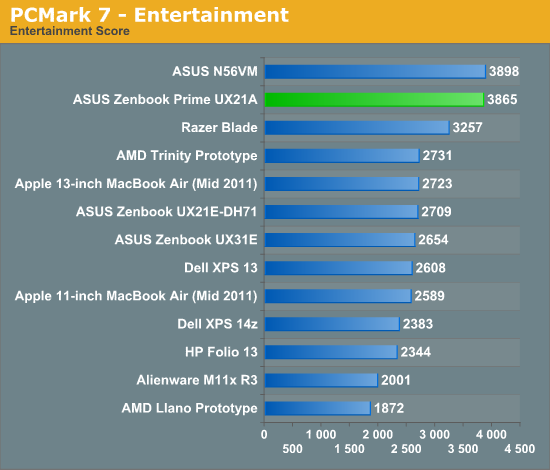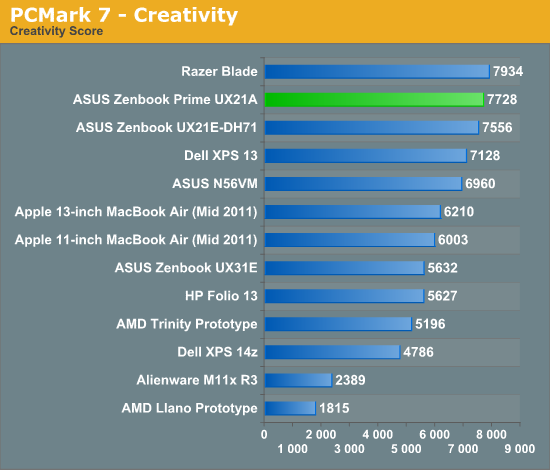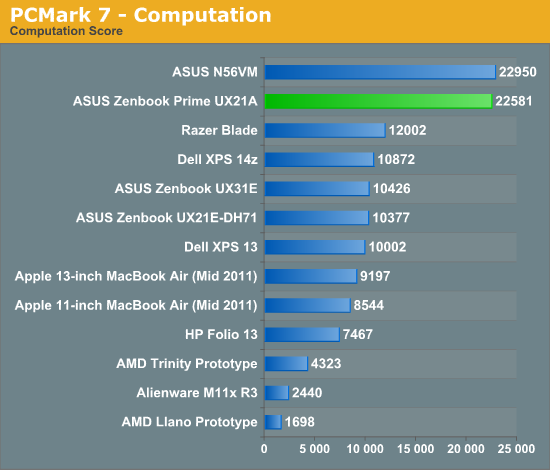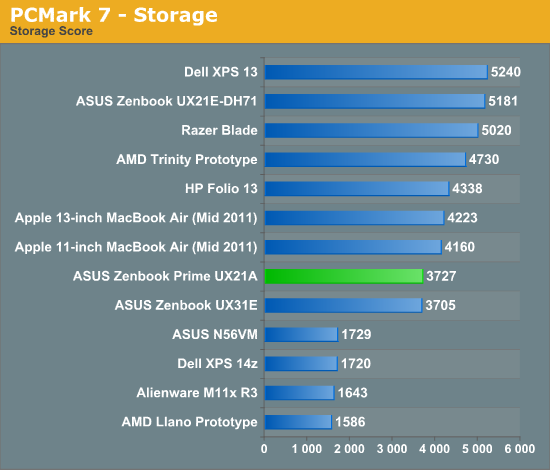 I threw in a PCMark Vantage graph as we have a lot of older data in that benchmark that can help put things in perspective: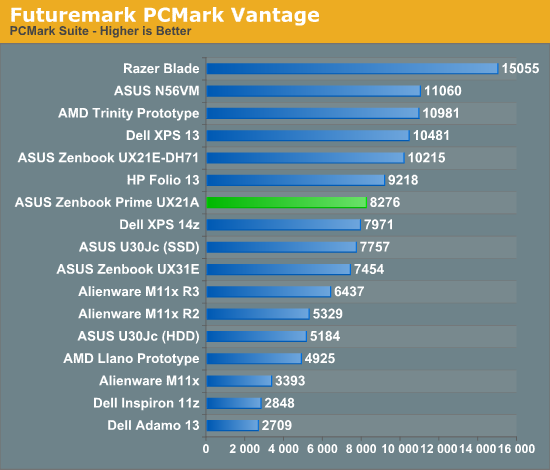 It's amazing the sort of performance gains we're able to show over the older Core 2 based ultra portables like the Dell Inspiron 11z and Adamo 13. Again we see a slight performance deficit versus the SandForce based UX21E.