Civilization V
Our final game, Civilization 5, gives us an interesting look at things that other RTSes cannot match, with a much weaker focus on shading in the game world, and a much greater focus on creating the geometry needed to bring such a world to life. In doing so it uses a slew of DirectX 11 technologies, including tessellation for said geometry, driver command lists for reducing CPU overhead, and compute shaders for on-the-fly texture decompression.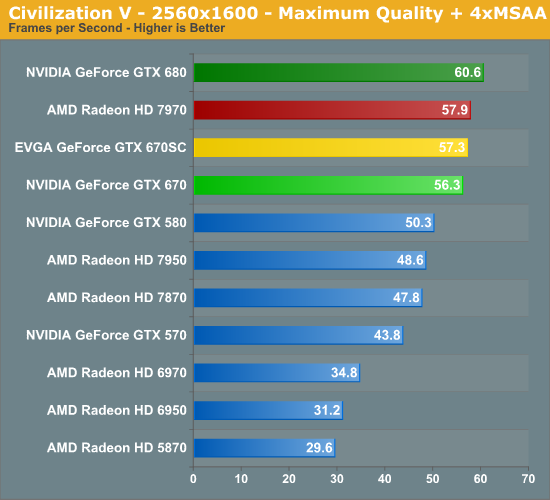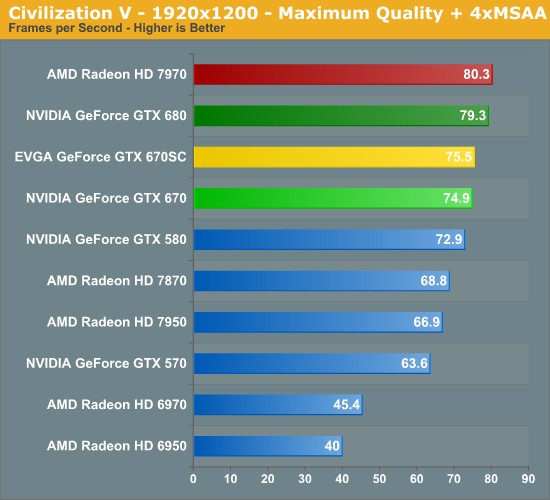 On our final test the 7970 sees a slight resurgence compared to the past few games, preventing NVIDIA from sweeping the whole back half of our tests. In any case it's just enough to leave the GTX 670 trailing the 7970 by 3%, or about 2fps.
It's interesting to note however that this is one of a couple of games that GTX 670 doesn't do particularly well at compared to the GTX 500 series. At 2560 it has a 29% lead on the GTX 570, but that's still the smallest lead out of any game we have tested. More than anything else it seems Civ V really needs more shader performance.