Cellular Performance
Cellular connectivity on the X900 is courtesy Intel's Infineon acquisition, and uses the popular XMM6260 / X-Gold 626 baseband that we have seen in numerous other HSPA+ smartphones, including Galaxy S II and Galaxy Nexus, among others. Obviously Intel/Infineon knows how to implement its own baseband, and has done so in the device. The X900 is thus limited to GSM/UTMS for its air interfaces. The interesting part is that it's another one of the pieces of the puzzle which Intel has in its portfolio for eventual inclusion in some upcoming SoC, and on the other hand is a major component built for an Intel phone not at an Intel fab, instead at TSMC on their 40nm process for baseband and 65nm CMOS for the UE2 transceiver, with an ARM11 at its core.
I mention these things since it's one of the next areas that Intel will need to work on - both taping out its existing designs on its own 32nm or 22nm processes for manufacture at Intel fabs, and eventually making this another x86 powered device. Eventually baseband tasks will be de-elevated from something existing on essentially its own discrete SoC to just another task for a hypervisor to shuffle around on the main multicore SoC.
Lava Xolo X900 - Network Support
GSM/EDGE Support
850 / 900 / 1800 / 1900 MHz
WCDMA Support
850 / 900 / 1900 / 2100 MHz
Baseband Hardware
Intel/Infineon X-Gold 626 / SMARTi UE2 Transceiver
HSPA Speeds
HSDPA 21.1 (Cat.14) / HSUPA 5.76 (Cat.6) - 3GPP Rel.7
Anyhow back to the X900 - it's a quad band WCDMA and GSM/EDGE device, with support for everything but AWS basically. That's good enough for HSPA+ on almost everything except those on carriers who run AWS. X-Gold 626 supports 64QAM on the forward link, meaning HSDPA up to category 14 / 21.1 Mbps. The reverse link has basically stayed the same for a while now on WCDMA at category 6 / 5.76 Mbps. In addition the device supports 3GPP Release 7 features which makes it HSPA+. The X900 also implements WCDMA receive diversity.
I went ahead and ran just short of 100 tests using the trusty speedtest.net app on the X900 in my AT&T market which runs WCDMA on PCS 1900 MHz.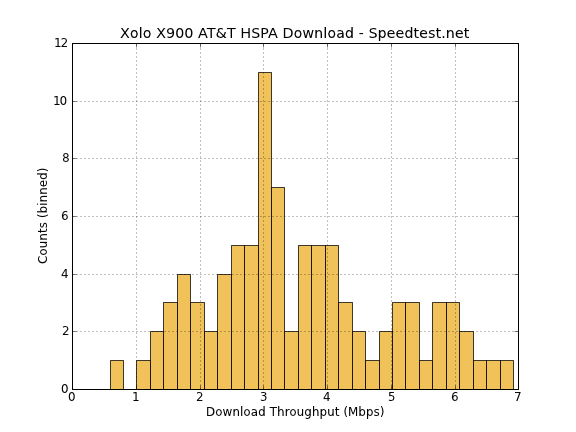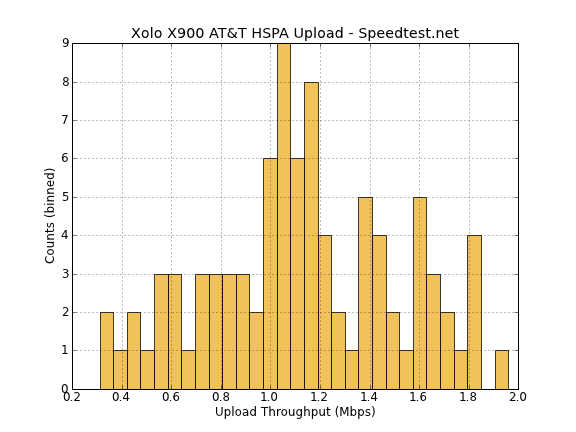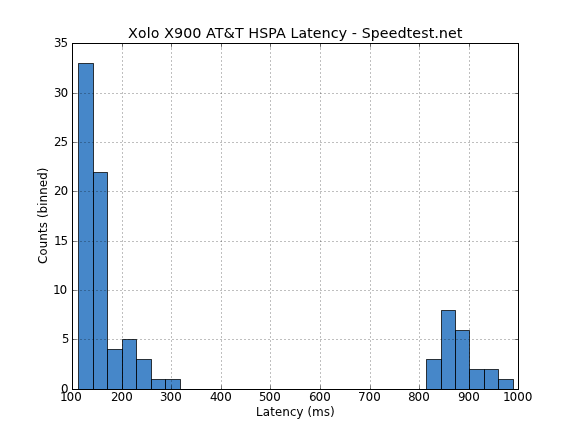 At this point HSPA+ 14.4 on AT&T is fairly well understood, running these is more validation that there's nothing wrong with cellular on the device, and unsurprisingly there isn't - again Intel knows how to implement its own baseband without issue, and with good performance.
WiFi
For WiFi and Bluetooth, the X900 uses a TI WiLink WL1271 series 6 combo chip which supplies 802.11b/g/n single spatial stream on 20 MHz channels with the short guard interval rate of 72 Mbps, and bluetooth 2.1 + EDR support. Some of the Intel documentation shows a TI WL1283 being used (which is WL 7.0 and includes a GPS baseband) and I don't doubt that other Medfield platforms may implement WL128x or even WiLink 8 series with GNSS, however the X900 is definitely WL1271.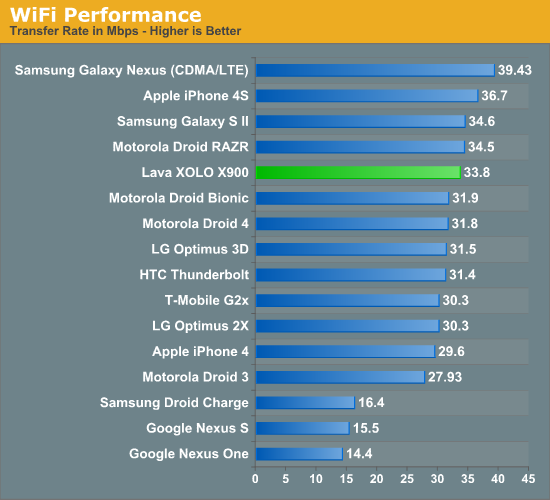 In our WiFi test which consists of a 100 MB PDF loaded over an 802.11n network, the WL1271 does pretty well, just as expected.
GPS
Like the TI WiLink series part, it seems that some Medfield designs include the WiLink 7 series with a GPS basbeand, and others include the more common SiRF Star 4 GSD4t GPS which we have seen in a ton of different smartphones, again including many Samsung phones.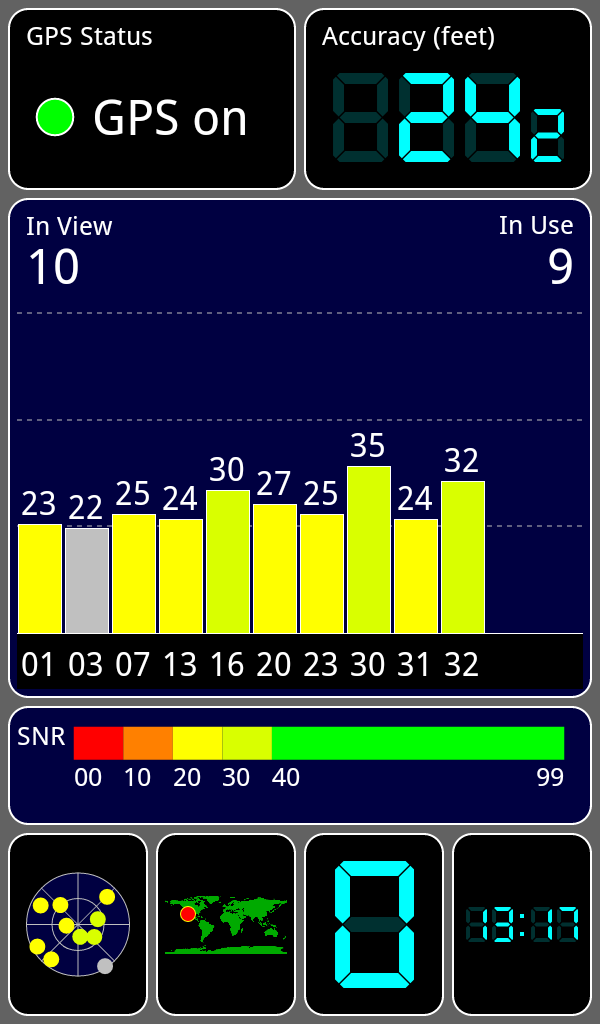 I have no complaints with the GPS lock speed or quality on the X900, it's speedy and accurate, and works well. I navigated around town with the device and never encountered any problems.
NFC
The X900 also includes NFC support, courtesy the ubiquitous NXP PN544 controller. The smartphone also includes the stock tag reader application, though NFC ships disabled. I tested it on the NFC tag sent with the Nexus S an eternity ago and it worked perfectly.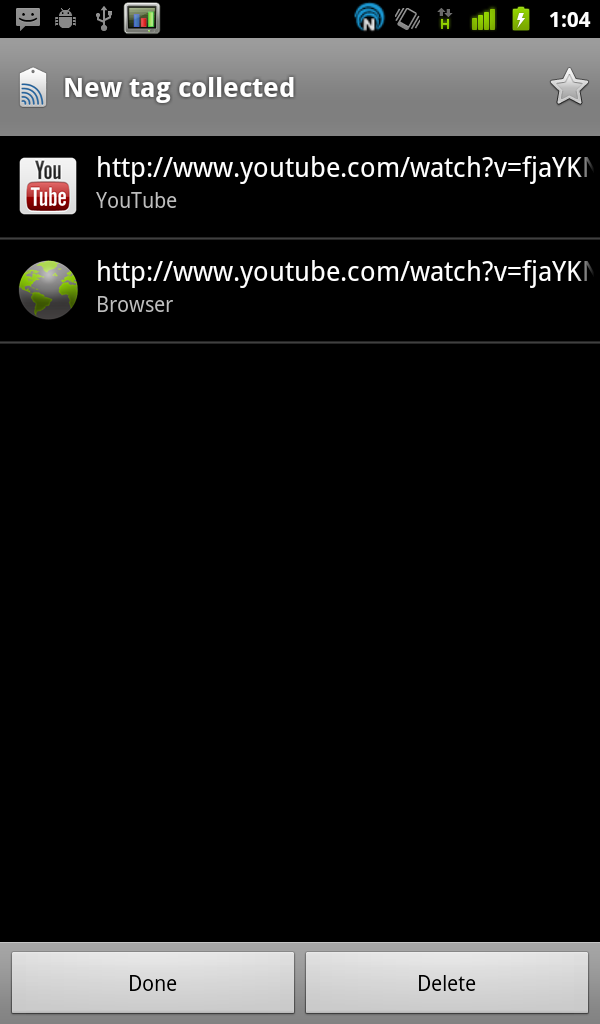 It's safe to assume that with the Android 4.0 update beaming will be enabled.
Voice and Speakerphone
The X900 includes some common mode noise suppression components, including a primary and secondary microphone and an Audience eS305 voice processor.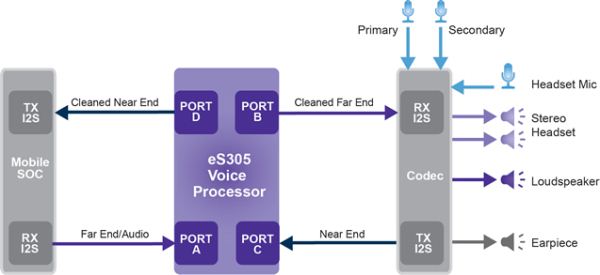 We've seen the A102x series in devices before, including the Nexus One, iPhone 4, and numerous other popular smartphones. The reality is that good noise rejection so the far end hears nothing of the ambient sound around you is important both for making calls sound better, and also for increasing the idle or blanking periods on the reverse link. The X900 is my first time hearing the eS305 in action, and to test we did what we normally do by placing a call in front of some speakers, increasing volume, and speaking into the handset while recording the call on the far end on another handset.
Lava Xolo X900 with Audience ES305 Noise Rejection Quality by AnandTech
I can't emphasize enough that during the most taxing parts of this recording, I cannot hear myself speak at all. eS305's performance is great, just like we've seen with their other solutions in devices where we're able to identify its presence. The reality is also that using an array of microphones and some common mode noise rejection is basically the status quo for a high end smartphone right now.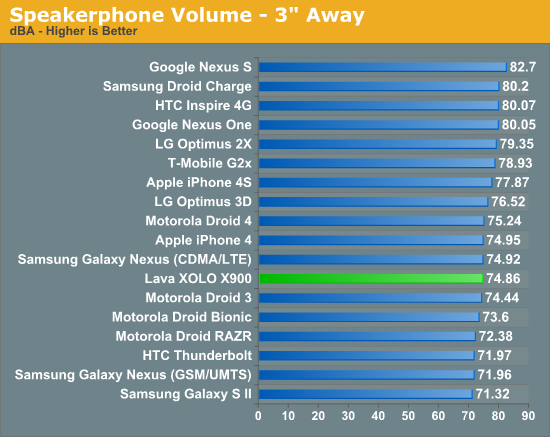 Speakerphone on the X900 is split between the two bottom speaker jacks, and isn't quite as loud as I'd like. We measured as usual with an Extech digital sound data logger 3 inches above the device.