ASUS Sabertooth 990FX
In similar ilk to covering ASUS ROG boards last year, we also never touched upon the ASUS Sabertooth range. The Sabertooth range hits a very specific niche in their goals, and as such ASUS has dedicated designers and engineers working solely for the Sabertooth ranges. In a nutshell, Sabertooth boards are aimed to complete control, stability, temperatures, and all coupled in a five year warranty. The fan headers onboard have more control than other competitors', and there is also a set of specialized software to go along with it. The Sabertooth 990FX is thus ASUS' answer for this niche in the 900-series.
Overview
As the major selling point of the ASUS Sabertooth range is the warranty and the features on the board that contribute to temperature. ASUS is playing to its strength in this area – the software provided with the system is fully featured to deal with any manner of fan settings and combination settings (i.e. pulling temperatures from different sensors on board) and all of this is completely configurable. The Fan Xpert software from ASUS is a joy to play with, and well constructed.
On the board itself, we are spoilt slightly for features, with extra SATA 6 Gbps from a JMicron JMB362 controller, six fan headers, and room enough for tri-card GPU setups. We are missing a set of on/off buttons on board (and two-digit debug LED), but this seems to be more a feature of the Sabertooth range in general.
Despite that attention to detail, at default the temperatures on board were a little warm, with some difficulty in overclocking the FX-8150 (Bulldozer) processor and keeping the temperatures in check. Performance wise, the Sabertooth 990FX was decently respectable with both Thuban and Bulldozer, however it does suffer at the hands of AI Suite a little during the DPC (Audio) Latency test due to the sensor sub-program. This situation is easily rectified by closing AI Suite however.
Being in the ~$180 range means that the Sabertooth is side by side with the MSI and Gigabyte boards in this roundup. On the whole, it does perform well and has a feature set which befits its price. However that warranty is hard to ignore when considering this price range, coupled with ASUS' strong backing of software and support.
Visual Inspection
From the start, the board sports distinct military camouflage colors – shades of brown or grey that you might be able to take from an army desert uniform swatch catalogue. This is a lot different from other ASUS products, which helps to distinguish the Sabertooth as a brand.
The heatsinks are jagged affairs but feel fairly beefy in design. The heatsink covering the VRMs is linked to another below the socket by an enclosed heatpipe – this design covers what would typically be the area used by an initial PCIe x1 at the top of the PCIe section, but with good reason. The segment of this board and design is such that a top PCIe x1 isn't an issue, even if the user would like to run tri-GPU with a x1 audio solution or similar.
If you want fan headers, then the Sabertooth has them. All six are within easy reach of the CPU socket – two 4-pin CPU headers above the socket itself, another 4-pin chassis fan header above the DIMM slots, two 4-pin chassis headers above the PCIe slots, and a 3-pin header below the 24-pin ATX power connector. As I will discuss later, all these 4-pin headers are completely controllable thanks to the fan controllers that ASUS use, with specialized software to help fine tune the speed of each fan as required.
Along the right hand side, at the top is the ASUS Mem-OK! Button, which allows the board to recover from failed memory overclocks that fail to get through the initial POST screen by setting defaults. Further down, below the 24-pin ATX connector is a USB 3.0 header. The position of this (and one of the 4-pin chassis headers) is a little odd – if the user has a very beefy GPU in the first slot which has a large (>4mm) back plate, it could possibly intrude into the USB header, making it rather annoying. I see a current trend to put USB 3.0 headers at right angles like the SATA ports, for dedicated USB 3.0 front panel support – perhaps this will occur on later models, depending on the design philosophy.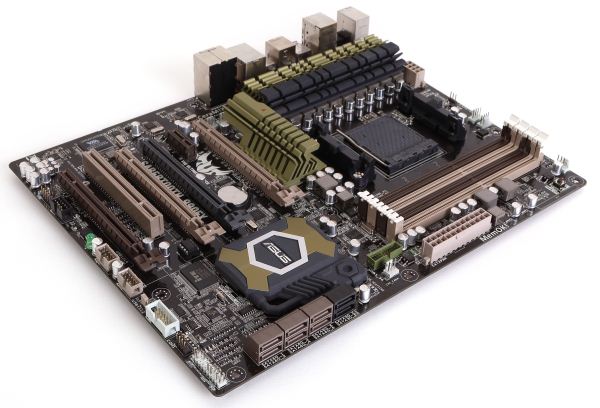 While the chipset heatsink does not look like it will remove a lot of heat (very few fins), it does look pretty substantial in terms of bulk. The SATA ports are beside this, with two SATA 3 Gbps from a JMicron JMB362 controller in black, and the six SATA 6 Gbps ports from the chipset below. The bottom of the board is standard – a trio of USB 2.0 headers, a COM port, front panel audio and front panel connectors.
For PCIe layout, we have a design that rather than maximize the number of GPUs available, tries to make sure that there is enough airflow. So from the top, we have an x16, x1, x4, x16, PCI, x8. This means that there is plenty of space for a trio of GPUs (the second x16 will reduce to x8 if a card is in the x8 slot) and an x4 card. But the common usage will be in dual GPU mode, which leaves a one slot gap between cards (unlike the Gigabyte board later).

The IO back panel is representative of a 9-series board at $185, though personally there could be score for improvement. We have a combination PS/2 port, eight USB 2.0 ports in black, two more USB 2.0 ports in red, two USB 3.0 ports in blue, an IEEE1394 port, a Power eSATA 3 Gbps port, a standard eSATA 3 Gbps, optical SPDIF output, Realtek 8111E gigabit Ethernet, and standard audio headers. Personally it could have been arranged a little nicer – it does look a bit of an up-and-down skyscraper landscape. There is space for another Ethernet port, and I have a feeling that Sabertooth users might be interested in another one.