Measuring Real-World Power Consumption
The Equal Workload (EWL) version of vApus FOS is very similar to our previous vApus Mark II "Real-world Power" test. To create a real-world "equal workload" scenario, we throttle the number of users in each VM to a point where you typically get somewhere between 20% and 80% CPU load on a modern dual CPU server. The amount of requests is the same for each system, hence "equal workload". The CPU load is typically around 30-50%, with peaks up to 65% (for more info see here). At the end of the test, we get to a low 10%, which is ideal for the machine to boost to higher CPU clocks (Turbo) and race to idle.
We used the "Balanced" power policy and enabled C-states as the current ESXi settings make poor use of the C6 capabilities of the latest Opterons and Xeons.
First let's check out the response times.
vApus FOS Response times (ms)
CPU
PhpBB1
PHPBB2
MySQL OLAP
Zimbra
AMD Opteron 6276
101
30
3.8
41
AMD Opteron 6174
118
41
3.8
45
Intel Xeon X5650
45
18
2.4
29
Intel Xeon E5-2660
41
18
2.5
25
Intel Xeon E5-2690
27
14
2.3
23
It's worth noting that enabling the C-states in ESXi improves the performance/watt ratio of the Opteron 6276 quite a bit. Not only is the power consumption lower (see below), but enabling C6 allows higher turbo clocks, which in turn benefits response times. Compared to our previous test (standard out of the box "Balanced") all response times improve by 10% except for MySQL (which is already very low).
Even with that improvement however it is not enough to beat the Xeon E5. The Xeon E5 delivers extremely low response times....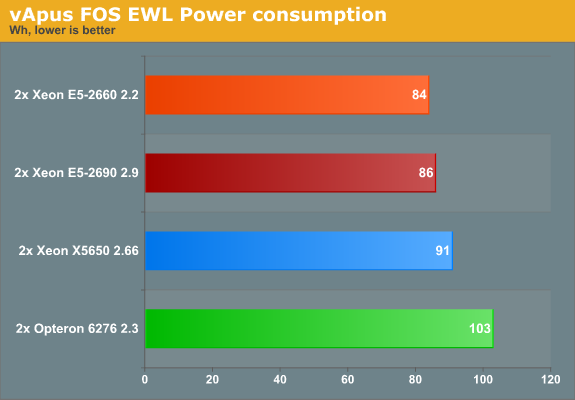 ... while sipping very little power, despite being run inside a feature rich server. Kudos to Intel for a job very well done.