Virtualization Performance: Linux VMs on ESXi
We introduced our new vApus FOS (For Open Source) server workloads in our review of the Facebook "Open Compute" servers. In a nutshell, it a mix of four VMs with open source workloads: two PhpBB websites (Apache2, MySQL), one OLAP MySQL "Community server 5.1.37" database, and one VM with VMware's open source groupware Zimbra 7.1.0. Zimbra is quite a complex application as it contains the following components:
Jetty, the web application server
Postfix, an open source mail transfer agent
OpenLDAP software, user authentication
MySQL is the database
Lucene full-featured text and search engine
ClamAV, an anti-virus scanner
SpamAssassin, a mail filter
James/Sieve filtering (mail)
All VMs are based on a minimal CentOS 6 setup with VMware Tools installed. All our current virtualization testing is on top of the hypervisor which we know best: ESXi (5.0). We have changed two things in our vApusMark FOS setup: we upgradeded the guestOS from 5.6 to 6.0 and increased the number of vCPUs of the OLAP VM from 2 to 4. This small upgrade means that our latest results should not be compared to the results in our older articles.
We (Tijl Deneut and myself) tested with four tiles (one tile = four VMs). Each tile needs nine vCPUs, so the test requires 36 vCPUs.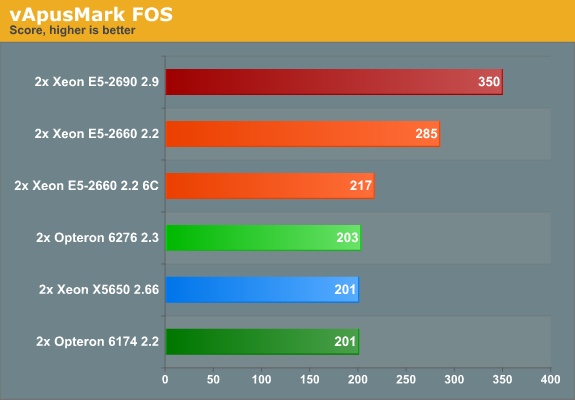 The benchmark above measures throughput. As for response times, let's take a look at the table below, which gives you the average response time per VM:
vApus FOS Average Response Times (ms), lower is better!
CPU
PhpBB1
PHPBB2
MySQL OLAP
Zimbra
AMD Opteron 6276 2.3
671
514
1410
758
AMD Opteron 6174 2.2
674
524
1210
861
Intel Xeon E5-2660 2.2
645
394
160
631
Intel Xeon E5-2690 2.9
362
288
40
483
Intel Xeon X5650 2.66
745
569
821
866
Considering that we may assume that the Xeon E5-2690 consumes considerably more than the E5-2660, it looks like the Xeon E5-2660 is the new virtualization champ. Let us check out the power consumption numbers under a realistic load.