The early 2011 MacBook Pro is honestly Apple's best effort to date. Only using quad-core CPUs on the 15 and 17-inch models, and offering an optional Thunderbolt Display that can act as a modern day dock makes this platform, particularly the 15-inch model, the perfect candidate for users who want the power and flexibility of a desktop with the portability of a notebook. Apple gets the mobile revolution in more ways than one, and its MacBook Pro/Thunderbolt Display combo is the perfect example of that.
It's this very combination that I've been using, partially since the introduction of the Sandy Bridge MacBook Pro earlier this year (the Thunderbolt Display didn't arrive until later). I've been quite happy with the setup. With the exception of lackluster Quick Sync adoption by Apple and obviously limited GPU options, I have very few major complaints.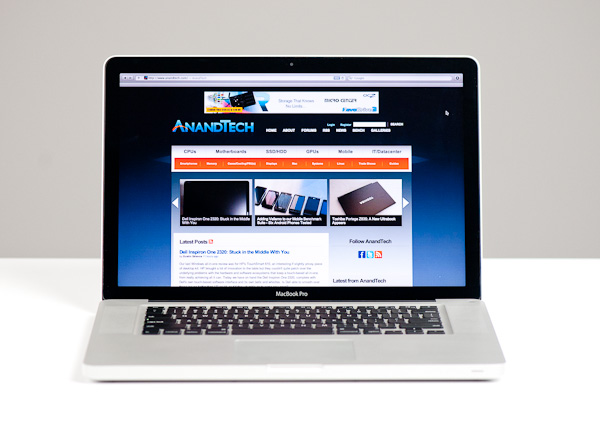 Late last month, Apple updated its 2011 MacBook Pro lineup - likely the first and last update before Apple adopts Ivy Bridge in Q2 next year. We got our hands on the new base 15-inch MacBook Pro configuration, which received one of the more substantial upgrades over the previous model. As this is still a fairly minor upgrade, be sure to read our original review of the platform for a deeper dive into all of the aspects of the system.
Late 2011 MacBook Pro Lineup
13-inch (low end)
13-inch (high end)
15-inch (low end)
15-inch (high end)
17-inch
Dimensions

0.95 H x 12.78 W x 8.94 D

0.95 H x 14.35 W x 9.82 D

0.98 H x 15.47 W x 10.51 D

Weight

4.5 lbs (2.04 kg)

5.6 lbs (2.54 kg)

6.6 lbs (2.99 kg)

CPU

2.4 GHz dual-core Core i5

2.8 GHz dual-core Core i7

2.2 GHz quad-core Core i7

2.4 GHz quad-core Core i7

2.4 GHz quad-core Core i7

GPU

Intel HD 3000 Graphics

Intel HD 3000 + AMD Radeon HD 6750M (512MB)

Intel HD 3000 + AMD Radeon HD 6770M (1GB)

Intel HD 3000 + AMD Radeon HD 6770M (1GB)

RAM

4GB 1333MHz DDR3 (8GB max)

HDD

500GB 5400 RPM

750GB 5400 RPM

500GB 5400 RPM

750GB 5400 RPM

750GB 5400 RPM

Display Resolution

1280x800

1440x900 (1680x1050 optional)

1920x1200

Ports

Gigabit LAN, Firewire 800, Thunderbolt, 2x USB 2.0, SDHC slot, combined audio in/out jack

Gigabit LAN, Firewire 800, Thunderbolt, 2x USB 2.0, SDHC slot, separate audio in/out jacks

Gigabit LAN, Firewire 800, Thunderbolt, 3x USB 2.0, separate audio in/out jacks, ExpressCard 34 slot

Battery Capacity

63.5Wh

77.5Wh

95Wh

Price
$1,199
$1,499
$1,799
$2,199
$2,499
Silicon Updates
The focus of Apple's late 2011 update, despite rumors to the contrary, was on the silicon inside the platform. As the Mac business is a relatively mature one, we can expect a slower pace of chassis and design upgrades compared to the iPhone/iPad businesses for example.
We'll start with the CPU, the lesser updated chip in the new MacBook Pro. System pricing hasn't changed, but CPU speeds have all gone up.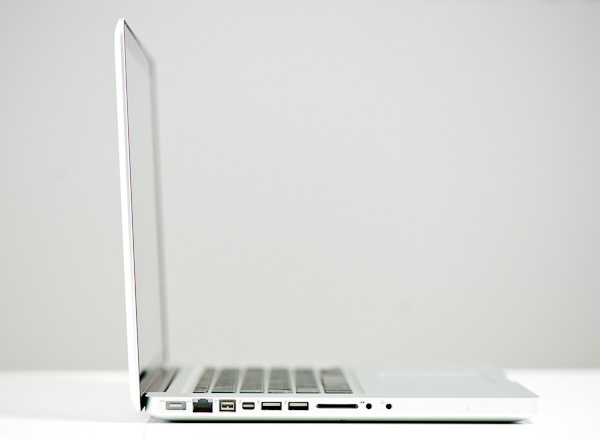 Just as before the 15-inch MacBook Pro is only available with a quad-core Intel Core i7 CPU (codename Sandy Bridge). The $1799 configuration goes from a 2.0GHz i7 to a 2.2GHz model. Be warned, this isn't the same 2.2GHz model that was available as an upgrade earlier this year though.
A quick run of Cinebench points out that the 2.2GHz i7 in our system may be a Core i7 2675QM. The original 2.2GHz option was a Core i7 2720QM. What's the difference between the two? Not a whole lot.

Max turbo is down a bit on the 2675QM. It was 3.3GHz on the 2720, but now it's 3.1GHz. The two, three and four core turbo limits are also down by 200MHz compared to what they were in early 2011. If you didn't have a 2.2GHz early 2011 15-inch MacBook Pro, these differences likely don't mean anything. If for whatever reason you're comparing to an early 2011 2.2GHz model, you'll see a slight regression in CPU bound performance.
The on-die GPU is a hair slower as well. You still get an Intel HD 3000 GPU (12 EUs) but the max turbo moves from 1.3GHz down to 1.2GHz. Or if you prefer another way of looking at it, the 2675QM is the same as the 2670QM, except the GPU is able to clock 100MHz higher (1.2GHz vs. 1.1GHz).
Apple 15-inch Late 2011 MacBook Pro CPU Comparison
2.2GHz quad-core
2.4GHz quad-core
2.5GHz quad-core
Intel Model
Core i7-2675QM
Intel Core i7-2760QM
Intel Core i7-2860QM
Base Clock Speed
2.2GHz
2.4GHz
2.4GHz
Max SC Turbo
3.1GHz
3.5GHz
3.6GHz
Max DC Turbo
3.0GHz
3.4GHz
3.5GHz
Max QC Turbo
2.8GHz
3.2GHz
3.3GHz
L3 Cache
6MB
6MB
8MB
AES-NI
Yes
Yes
Yes
VT-x
Yes
Yes
Yes
VT-d
No
Yes
Yes
TDP
45W
45W
45W
The upgraded 15-inch configuration comes with an all new Sandy Bridge SKU: the Core i7 2760QM running at 2.4GHz. Unlike the old 2.3GHz part, the 2760QM still only has a 6MB L3 cache. You do get higher base and turbo speeds. There's also a new 2.5GHz quad-core option that can run at up to 3.6GHz with a single core active. That's an absolutely insane frequency for a notebook. Notebook-as-a-desktop users will appreciate the flexibility here.
All of the new CPUs support AES-NI, although once again Apple is the victim of Intel's silly segmentation. The entry level 2.2GHz part does not support VT-d (Virtualization Technology for Directed I/O), which allows virtual machines to have direct access to I/O devices (including PCIe GPUs). I'm not sure if any current virtualization software for OS X supports VT-d, but the absence of the feature is important to note nonetheless. The rest of the CPU lineup supports VT-d.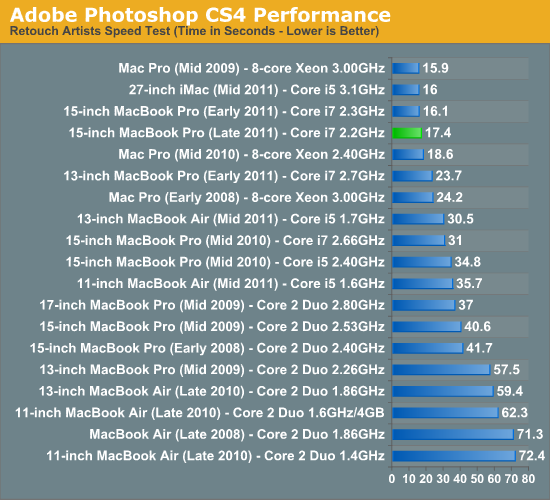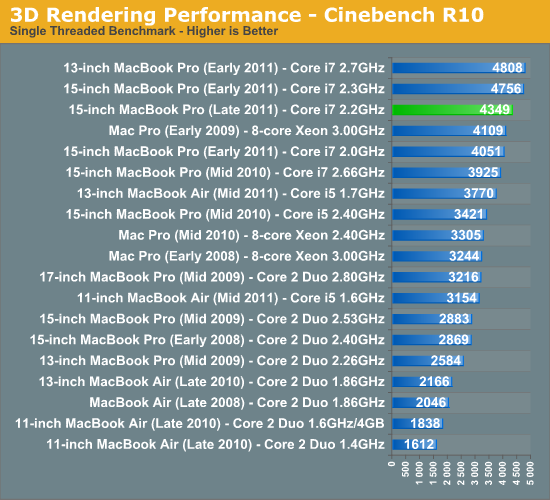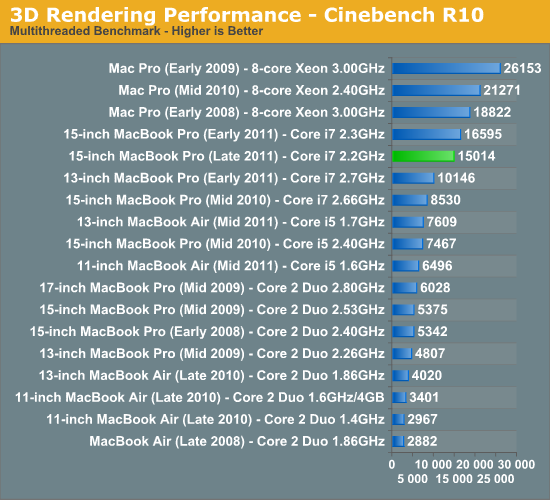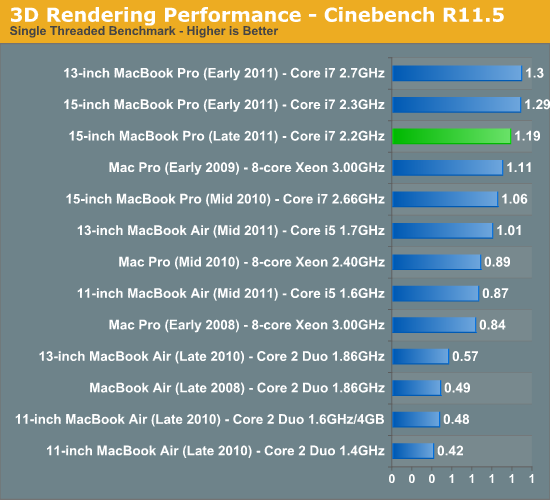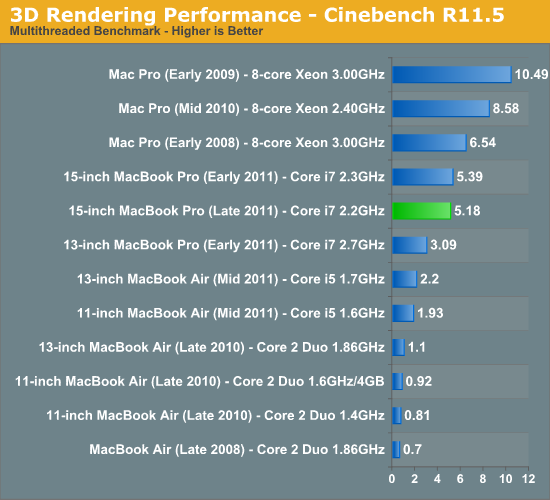 Battery Life
TDPs haven't changed, nor has the MacBook Pro's battery capacity, so overall battery life should (and does) remain relatively unchanged from the early 2011 models. Worst case scenario you can expect around 2.5 hours of battery life under load. With moderate load expect 4 - 5 hours of use on a single charge. And under a very light load you can easily exceed 7 hours.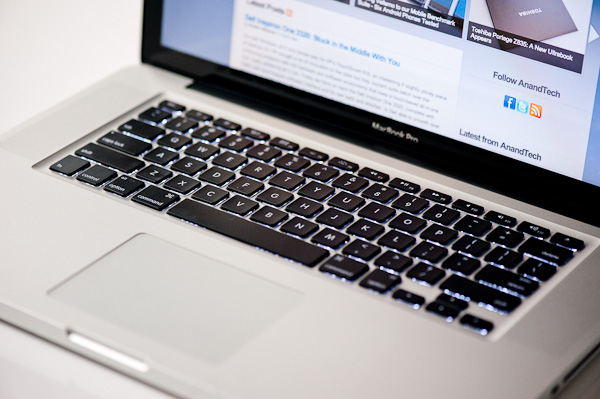 I ran our normal battery life suite, however Lion has made some of the numbers a little less comparable than I would've liked. The lighter use cases (e.g. our web browsing tests) see a drop compared to our older Snow Leopard results. Under full load the new platform, even while running Lion, actually did a bit better than its predecessor. All in all I'd say the new MacBook Pro is pretty consistent with its predecessor - Lion just threw a wrench in a lot of our battery life comparisons so we'll be starting over from scratch in building our new database.