Netgear's ReadyNAS lineup is very well respected in the industry. This lineup owes its existence to the acquisition of Infrant in 2007. After acquiring Infrant, Netgear moved away from the custom RAID controllers (based on the LEON SPARC core [PDF]) in favour of Intel x86 based solutions. However, Intel based solutions are too costly for the mid-range SMB market. We have already seen vendors like Synology and LG using Marvell based controllers in their systems. Netgear is also moving to a Marvell based solution for this market with the products introduced today.

The 2-bay Duo v2 is meant to replace the existing ReadyNAS Duo and the 4-bay NV+ v2 is meant to replace the existing ReadyNAS NV+. Compared to the Ultra and Ultra Plus series, these solutions are much cheaper. They also sacrifice some features such as NFS and iSCSI. These are not used by a majority of the consumers in the economical prosumers segment. Hardware wise, both the products carry only one GbE port (compared to the two ports in the Ultra lineup). The table below presents the various home NAS models from Netgear.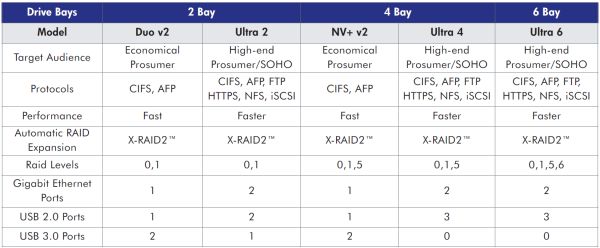 Netgear's suggested pricing for today's introductions is presented below:


Netgear doesn't offer any specifics on the platform except for indicating 'Marvell Smart' in the packaging and a 1.6 GHz CPU at the core. Both the Duo v2 and NV+ v2 run on the same CPU, with the number of bays being the only difference. A look at the pricing table above reveals that the units compete in the same class as that of the LG N2A2 NAS that we reviewed a couple of months ago. Is the platform same? How does the performance stack up? We will see the answers to these questions in the next few sections.