Build, Noise, Heat, and Power Consumption
Unfortunately, this is the section where iBuyPower's Professional Series falls flat on its face. The smaller custom chassis designs that HP and Dell employ are places where any boutique is going to have a hard time competing, but the Cooler Master Silencio 550 isn't doing iBuyPower any favors.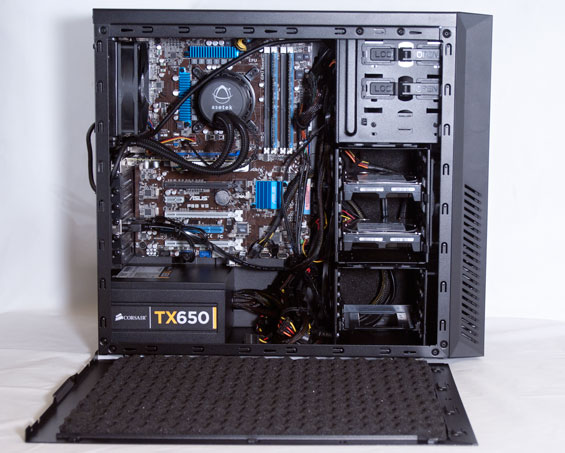 Internal build quality is certainly clean, and the noise dampening materials employed on the insides of the side panels don't hurt. In fact, under load the iBuyPower Pro is borderline inaudible...or at least it should be. The problem is that the hard drives are loud. Not even a little loud, either; they completely overwhelm the rest of the build. They're so close to the ventilation in the front that the noise from them isn't dampened at all, and whenever the iBuyPower Pro hits the RAID 1 you can hear them crunching. There's nothing in the character of the noise to suggest that the drives are malfunctioning, it's just a case of them being too noisy. I have to wonder if opting for a different brand of hard drive wouldn't have been a better choice.
The liquid cooling on the processor also strikes me as overkill. This is a fine checkbox feature for gaming desktops, but in a workstation it's an unnecessary expense. The rest of the enclosure has enough dampening that I don't see how Intel's stock cooler would be that much of a drawback. It's nice for iBuyPower to include this as standard, but in workstation desktops from OEMs it's unnecessary; their custom chassis designs allow them to dissipate heat quietly and efficiently.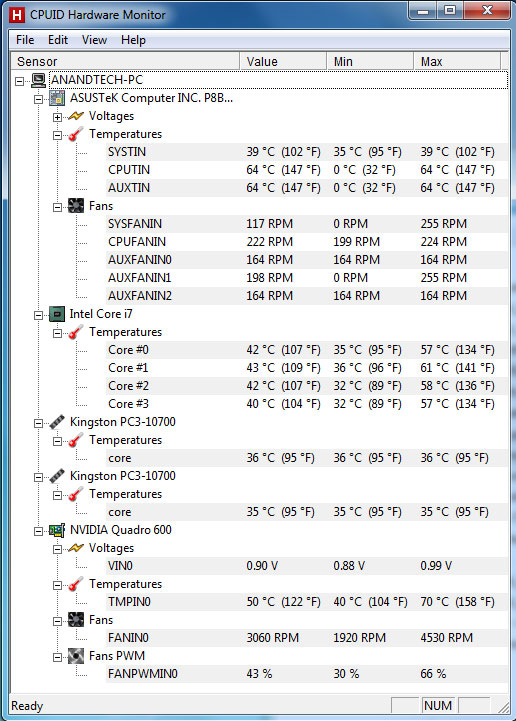 The iBuyPower system's thermals aren't terrible but they still manage to underwhelm. I suspect part of the reason is that the Silencio 550 may have two intake fans in the front, but with the front door closed there's virtually no way for air to get into those fans. It runs into the same problem NZXT's H2 does. For a system with a mid-tower enclosure and liquid cooling on the processor, you'd expect a little bit better. The temperatures on the Quadro 600 in particular aren't great; 70C under load seems a touch high for such an underpowered card in a relatively open case.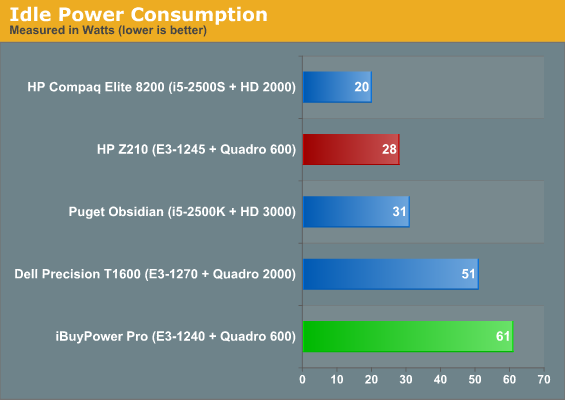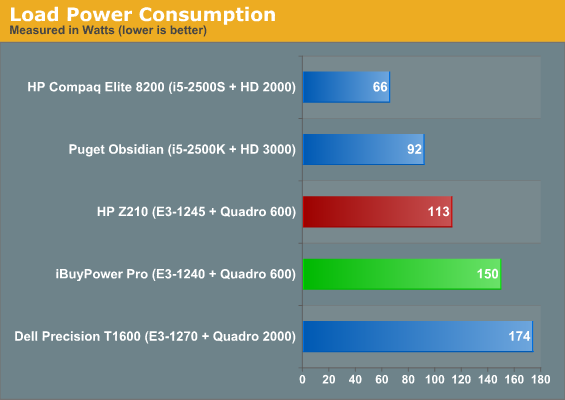 Idle consumption of 61 watts certainly isn't bad for a desktop, but every other system we've tested does better, and HP's system is able to run at half that. The bigger case, bigger motherboard, liquid cooler, and dual hard drives take their toll on power consumption. It's only when we get to load power that Dell's significantly faster Precision T1600 pulls more juice, and even then it's not a massive gulf. For roughly the same performance, HP's Z210 pulls less than half the power at idle and 75% of it at load.