vApus FOS results
In the first test, we use the vApus FOS test that pushes the servers to 90 - 100% CPU load. This performance test is not really important as these kind of server / application combinations are not supposed to run at these high CPU loads. Also remember that this is not an AMD versus Intel graph. The AMD based Open Compute server is used as a memcached server that typically hogs RAM space but does not stress the CPU; the Intel Open Compute Server is built to be a CPU intensive web application server. Thus, you should not compare them directly.
The real comparison is between the HP DL-380G7 and the Facebook Open Compute Xeon Server, which both use the same platform: the same CPUs, the same amount of RAM, and so on. The big question we want to answer is whether Facebook's server that is built specifically for low power use and cloud applications can offer a better performance/watt ratio than one of the best and most popular "general purpose" servers.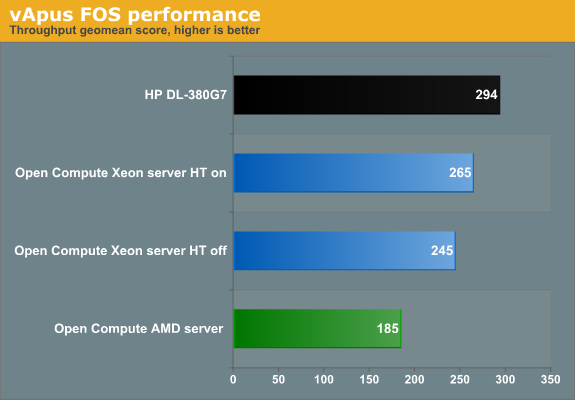 When requiring the highest performance levels, the HP DL380 G7 is about 11% faster than the Open Compute alternative. We suspect that the Open Compute server is configured to prefer certain lower power, lower performance ACPI settings. However, as this server is not meant to be an HPC server, this matters little. A web server or even virtualized server should not be run at 95-100% CPU load anyway. Let us take a look at the corresponding power consumption.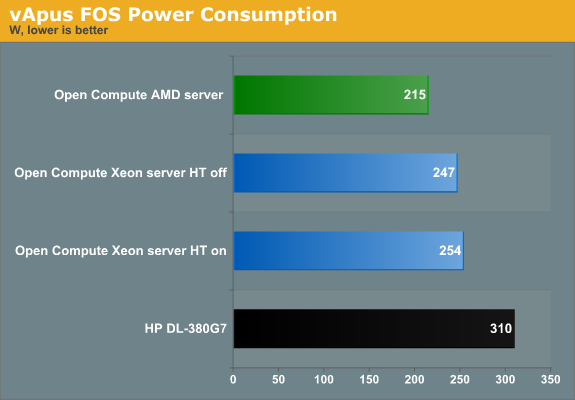 To deliver 11% higher performance, the HP server has to consume about 22% more power. The Open Compute servers deliver a higher performance/watt even at high performance levels. The advantage is small, but again these servers are not meant to operate at 95+ % CPU load.
We also checked the power consumption at idle.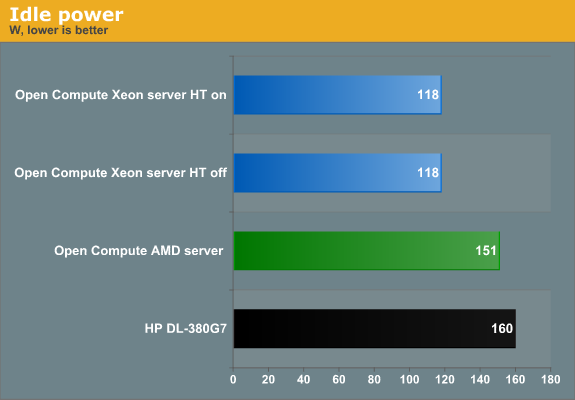 The results are amazing: the Open Compute servers need only 74% of the power of the HP, saving a solid 42W when running ide. Also remember that the HP DL380 is already one of the best servers on the market from power consumption point of view.
Let us see what happens if we go for a real-world scenario.