SSD Performance
Last year's MacBook Air was the first Mac to ship without a mechanical hard drive or an option to install one. Using a custom form factor, Apple partnered with Toshiba (and later Samsung) to build value SSDs for the MacBook Air line.
Although Apple has tested solutions from Intel, Marvell and SandForce, to date it hasn't opted to ship any of them to market. Toshiba and Samsung offer much better pricing and don't mind being silent members of the supply chain. There are also reliability benefits. While Toshiba and Samsung may not perform as well as the aforementioned controller makers, they've definitely had fewer issues.
My 13 had a Toshiba based drive while my 11 had a Samsung drive. You can tell what controller you have by looking at the model string in a System Report from your machine. The SM prefix indicates a Samsung drive while the TS indicates Toshiba: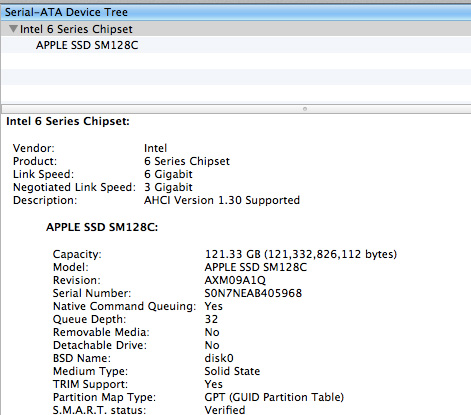 Both controllers are limited to 3Gbps operation (neither company has released a 6Gbps controller) but performance does vary pretty significantly between the two:
2011 MacBook Air SSD Performance Comparison
4KB Random Read (QD3)
4KB Write Read (8GB LBA Space QD3)
128KB Sequential Write
128KB Sequential Read
13-inch MacBook Air (Mid 2011) - Toshiba SSD
18 MB/s
1.65 MB/s
204.2 MB/s
189.5 MB/s
11-inch MacBook Air (Mid 2011) - Samsung SSD
44.6 MB/s
27.2 MB/s
258.0 MB/s
234.4 MB/s
11-inch MacBook Air (Late 2010) - Toshiba SSD
31.1 MB/s
2.49 MB/s
147.0 MB/s
113.0 MB/s
The Samsung drive has much better random and sequential performance, maxing out the 3Gbps interface when it comes to sequential reads.
In regular use I doubt you'd notice a huge performance difference between the two, but if you want the fastest drive you want the Samsung. Compared to last year's MacBook Air (Toshiba) you get a huge boost in sequential read/write performance.
Both drives support TRIM under OS X.
WiFi
Unlike other members of the 2011 Mac family, the MacBook Air retains a WLAN stack with 2 receive and 2 transmit antennas via the Broadcom BCM4322. The WLAN solution in the Air is capable of up to two simultaneous spatial streams, topping out at 270Mbps.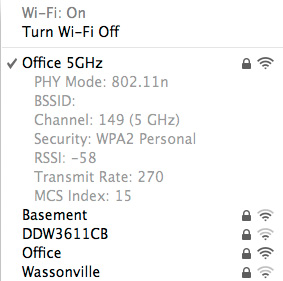 In practice this results in peak performance over 802.11n at around 128.8Mbps. Testing at the same distance I tested the MacBook Pro and iMac at, the results drop to 116.8Mbps.
802.11n Network Performance Comparison
27-inch iMac (Mid 2011)
15-inch MacBook Pro (Early 2011)
13-inch MacBook Air (Mid 2011)
11-inch MacBook Air (Mid 2011)
Peak Network Transfer Speed
150Mbps
133Mbps
116.8Mbps
116.8Mbps
The new Air also supports Bluetooth Low Energy, although without any Bluetooth LE devices on hand I was unable to test the feature.