CPU Performance: A Huge Upgrade
I've got an expanded test suite here courtesy of the testing I did for our Lion review. As I mentioned in our Lion review, performance hasn't changed between Snow Leopard and Lion for the most part so the older data in these benchmarks is still quite valid.
Adobe Photoshop CS4
The old Air was not very good for those doing a lot of photo work. You could manage, and I definitely did, but it was painful. The story is completely different with the new MacBook Air however.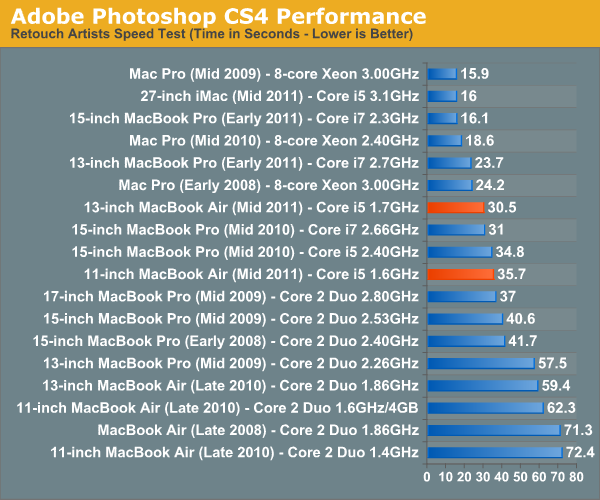 While the 2011 Macbook Pro is still considerably faster, completing our CS4 test in just over half the time as the 13-inch Air, these machines are competitive with last year's MBP. Remember the 2010 MacBook Pro only had two Arrandale cores and these Airs have lower clocked, but higher performing Sandy Bridge cores. Part of the performance advantage is the integrated SSD, whereas those older Macs didn't come with one by default. But most of the time these chips are running near their max turbo frequencies under load, which really helps narrow the performance gap between them and their 2010 professional counterparts.
If you have anything older than a 2010 MacBook Pro, these new Airs will actually be an upgrade for you.
Cinebench: Single & Multithreaded Performance
The old Air just wasn't that great of a performer. They were good enough if you didn't do much with your machine, but for those who lived on the bleeding edge they performed like a 3 year old MacBook Pro.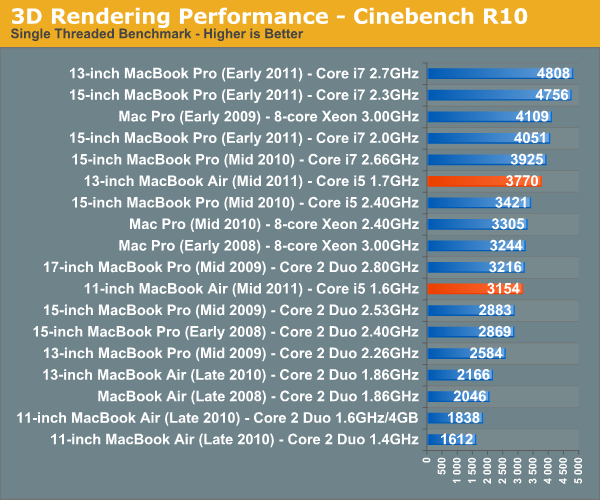 Single threaded performance on the new Air is much better than before thanks to turbo boost. The 11-inch MBA is 71% faster than the upgraded 11 from last year, that's more than noticeable in real world usage. The 13-inch MacBook Air enjoys a similar advantage over its predecessor.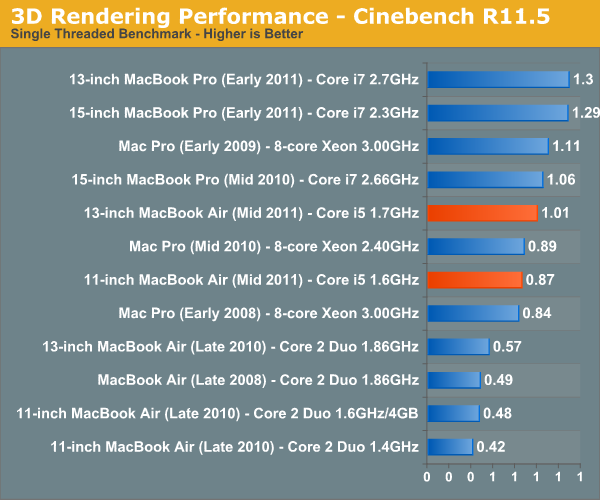 Where things get even more ridiculous is in multithreaded performance: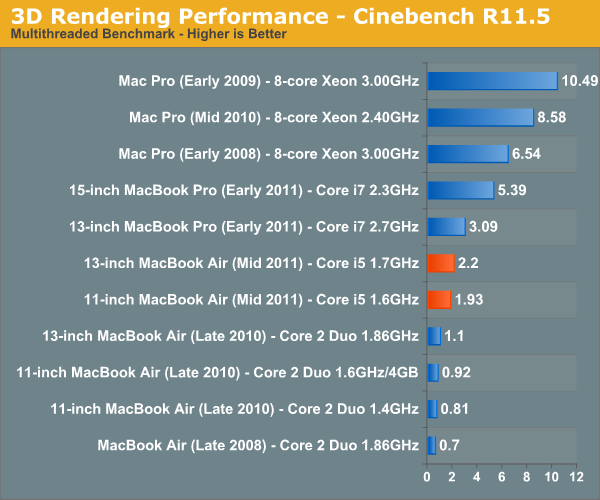 The single threaded performance of the new 11-inch MacBook Air is actually higher than the multithread performance of last year's model. Thanks to Hyper Threading and better performance per core you get around twice the performance of last year's models. Again the Air still isn't as good as the new quad-core MacBook Pros, but if you've got a machine from 2008 the new 13-inch MBA will actually be a performance upgrade (and a more portable machine).
Boot Performance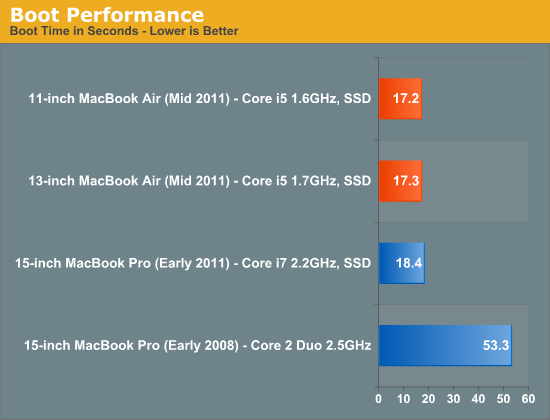 Boot time on these machines is great thanks to Apple's minimalist EFI and their SSDs. I will mention that the MacBook Air used to wake from sleep almost instantly however as of several OS revisions ago there seems to be a noticeable lag before I get a usable mouse cursor. I don't remember this being the case when the MacBook Air first came out and it's no different in Lion.
iMovie 11 Performance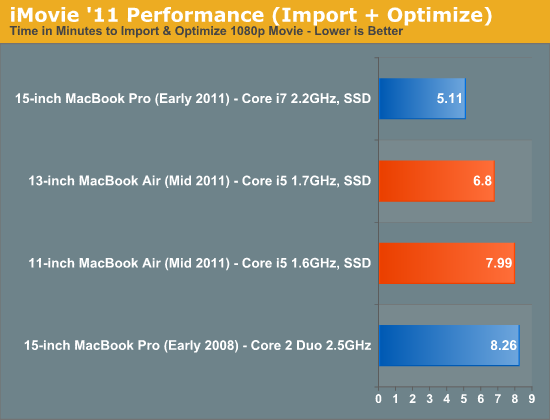 If you're going to be doing any video transcoding work you're going to want to upgrade the 11-inch MacBook Air's CPU. While it's much quicker than it used to be, the 1.6GHz Core i5 takes 17% longer to finish our iMovie import script than the 1.7GHz i5 in the 13-inch MacBook Air.
Exporting is a far bigger issue on these parts. Again the new systems are much faster than the old ones but if you're serious about video transcoding you should probably have a MacBook Pro.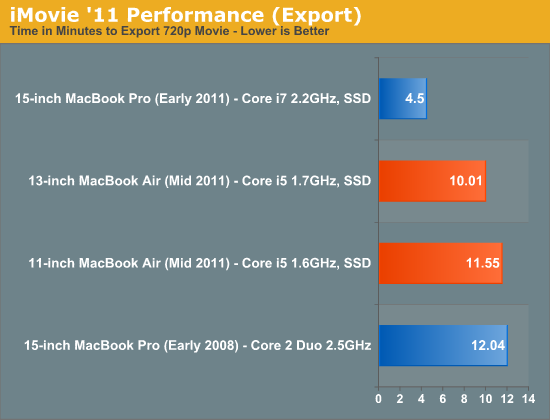 I'd also like to take this opportunity to say that it's absolutely ridiculous that Apple still doesn't support QuickSync in iMovie. We'd see far better performance from all Sandy Bridge equipped Macs if Apple would just take advantage of QuickSync. The silicon is there, it just needs to be used.
iPhoto 12MP RAW Import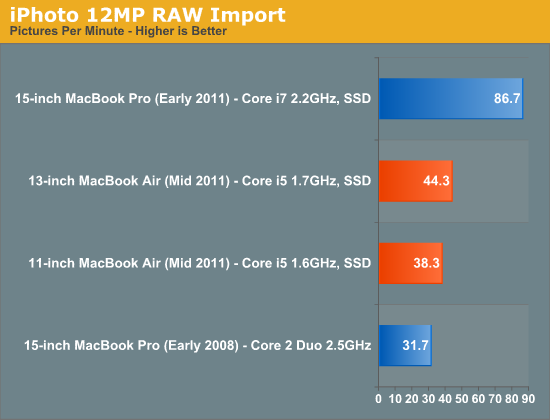 Here the new Airs do very well, but the 15-inch MacBook Pro is still around 2x the speed.
Adobe Lightroom 3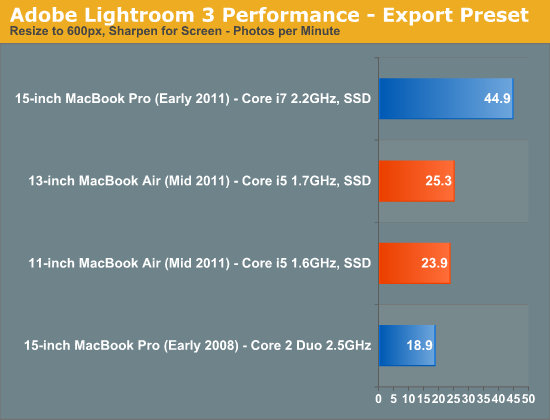 Final Cut Pro X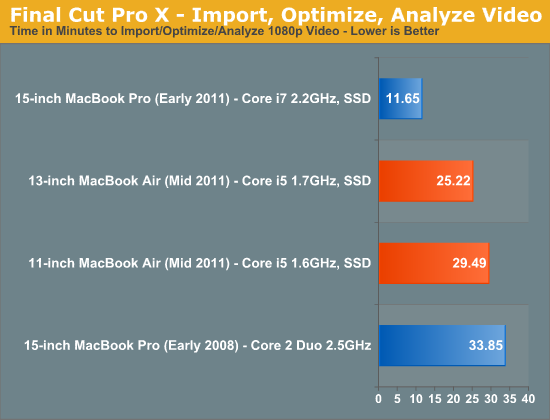 The trend continues. These new machines are faster than a 15-inch MacBook Pro from early 2008, but are no match for the new 2011 15-inch MacBook Pro. If you're going to do a lot of video encoding there's no replacement for more cores.