The Display: Better than Most, Not as Good as the Pro
When I reviewed last year's MacBook Airs I came away impressed by the displays. The MacBook Air, particularly the 11-inch, was a netbook alternative for many. You got much better performance (at a higher cost of course) than any netbook but in a great form factor. Compared to those ultra cheap machines, the 11 and 13-inch MacBook Air from 2010 had great displays.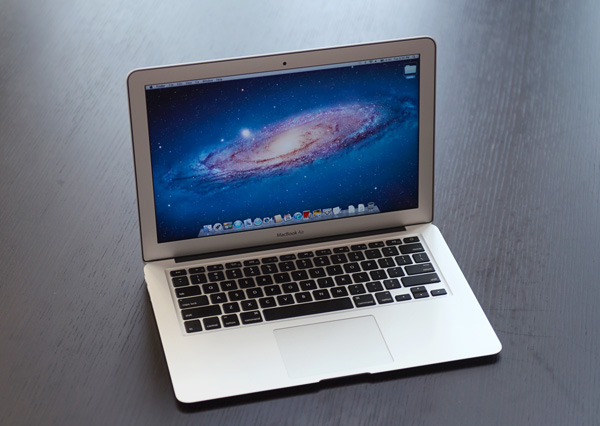 This year things are a bit different. Equipped with Sandy Bridge CPUs these new MacBook Airs can still be ultraportable competitors, but for many the new systems are faster than their current notebooks. If you bought a MacBook Pro in 2008, even the 11-inch MacBook Air is faster with its 1.6GHz CPU. Last year's models may have been great ultraportables, but this year's Air lineup are great notebooks. As a result we have to compare their displays to both the low end of the PC market as well as the high end of the Mac market.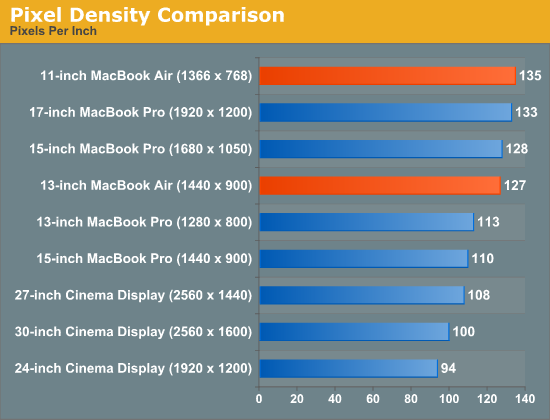 First the bad news. The 13-inch MacBook Air Apple sent me for review has a noticeably dimmer panel than the one I reviewed last year. The 2010 model I reviewed was 21% brighter at its highest setting. This will vary depending on the panel you get (and the panel you had) but with the wrong combination you'll be left with a noticeably dimmer display. That being said, even at 354 nits the 13-inch MacBook Air is far brighter than most PC notebooks. Not to mention the fact that 354 nits is often a bit too bright, I usually find happiness at around 200 - 250 nits.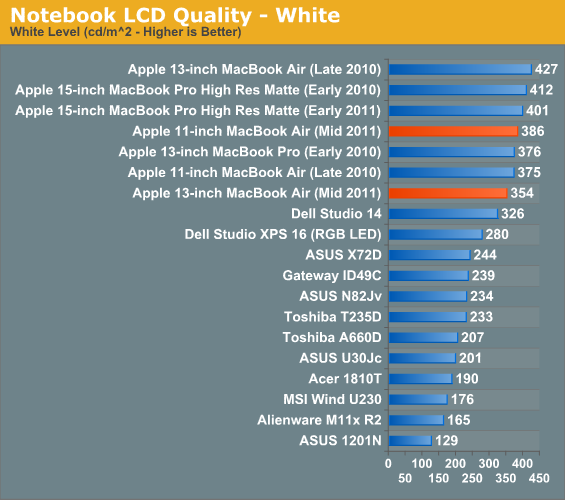 The 11-inch MacBook Air on the other hand was slightly brighter than the one I reviewed last year. Don't get too excited though, my personal 11-inch MacBook Air puts out 408 nits at max brightness - 6% more than the new 2011. It's going to be luck of the draw here but don't expect these new panels to be significantly brighter than last year's. If anything, there's a good chance that your new MacBook Air will be dimmer than your old one (if you're a yearly upgrader that is).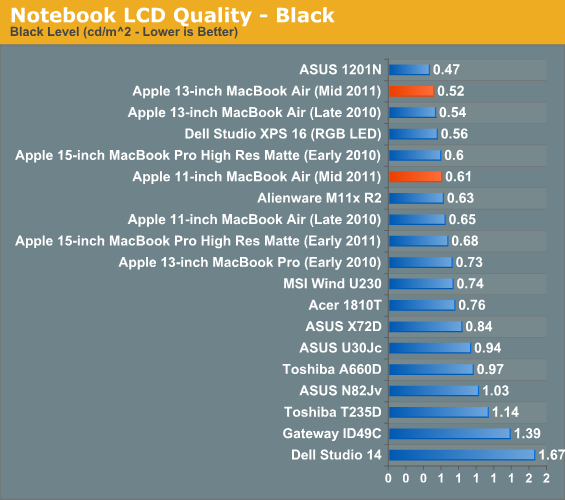 Black levels are slightly better on the 13, but not enough to overcome the drop in brightness. Contrast is down as a result on the 13, but up on the 11. Both are still in a league of their own among notebooks in this price range. As far as brightness, black levels and contrast are concerned, the MacBook Air is pretty much on par with the MacBook Pro.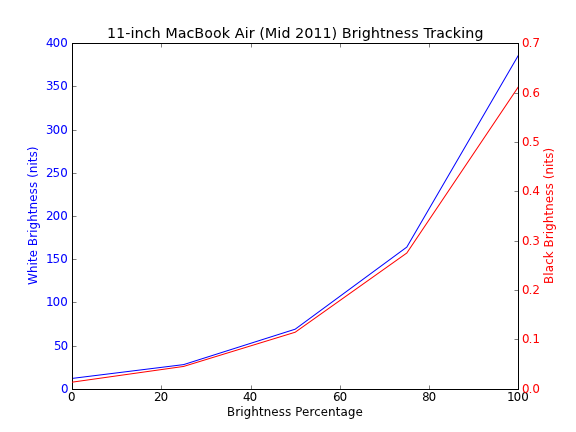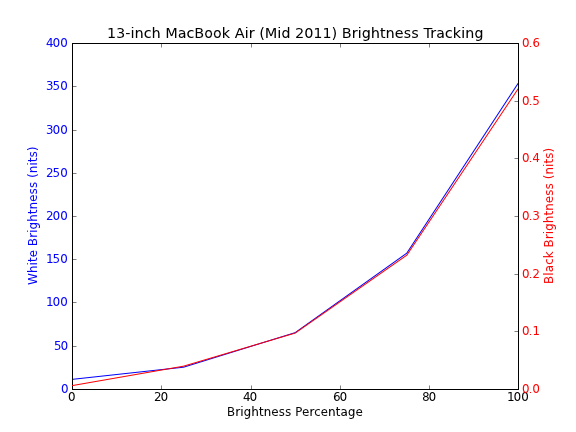 Where the Air stops filling its bigger brother's shoes is in viewing angles and color gamut. The MacBook Air uses a lower quality TN panel than what's in the MacBook Pro, causing viewing angles to suffer.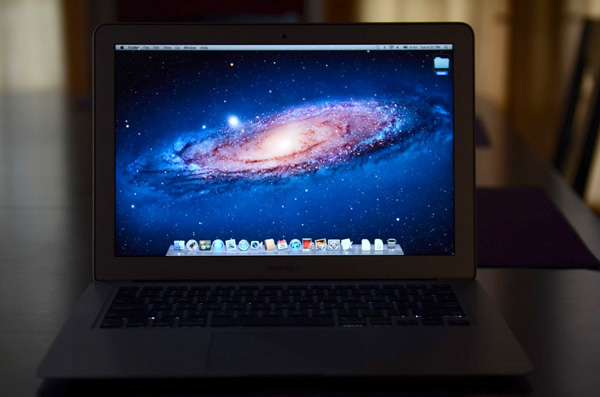 Viewed straight on the Air's panel looks great. It's bright and has a reasonable ~6800K white point calibrated from the factory; uncalibrated deltaE is around 8.58 though. Viewed from above colors begin to wash out: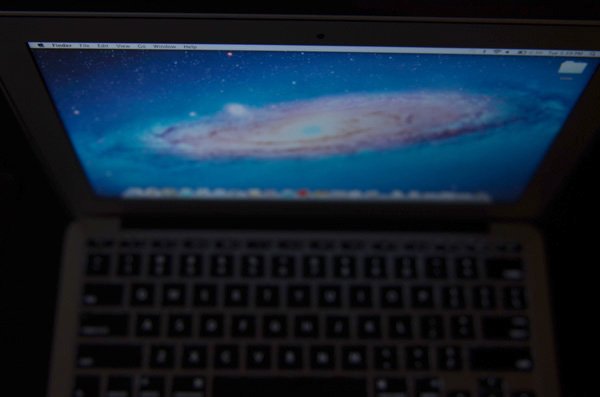 Viewed from below there's some color shift and the screen gets much darker.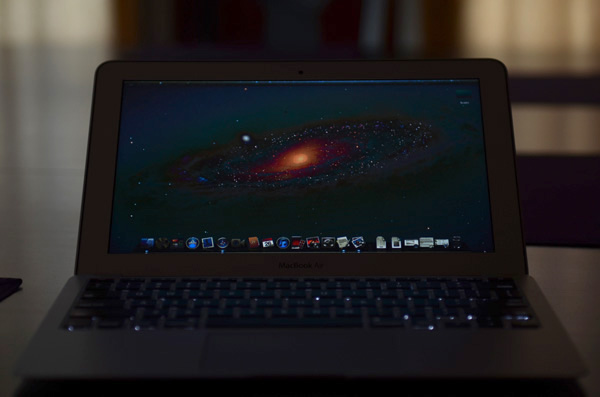 Left/right viewing angles are pretty good though, colors don't change you just lose a bit of brightness.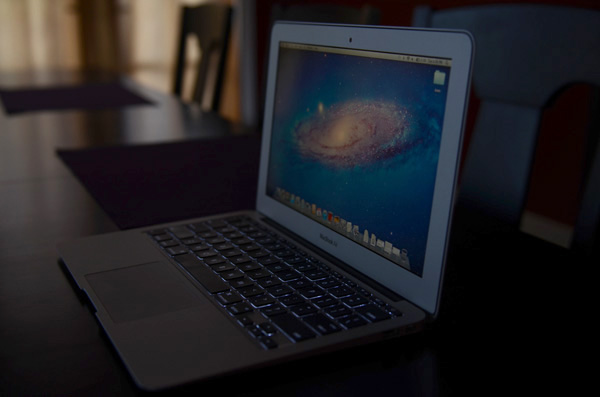 The issue with poor vertical viewing angles is particularly a problem on these ultra portables since there's a good chance you'll have to tilt the screen back further than normal depending on your desk/seating/lap position. If you're coming from an older MacBook Pro you'll likely be disappointed by viewing angles on the MacBook Air.
Compared to the old MacBook the Air has a much better display, it's only compared to the Pro that you do sacrifice a bit in quality.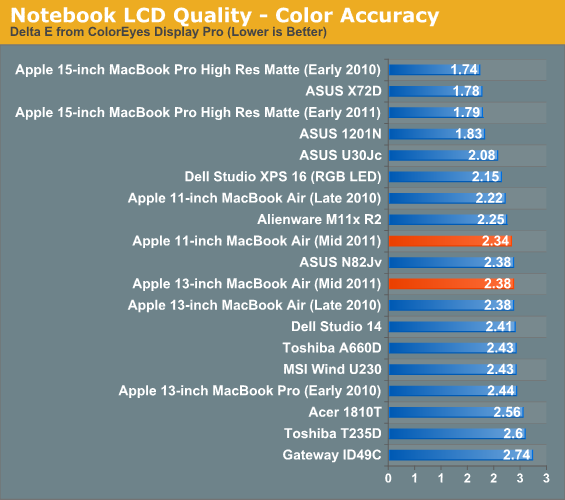 Calibrated color accuracy is pretty good on the Air, although not quite as good as the MacBook Pro. Color Gamut also hasn't improved since last year's Air: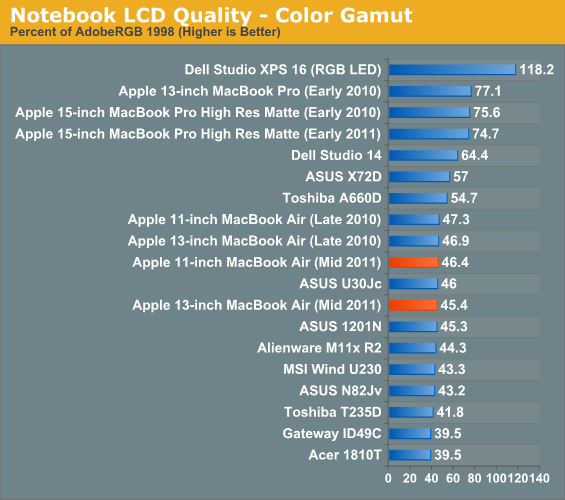 Apple calibrates white point on all of its Macs before they leave the factory. Both the 11 and 13-inch Macbook Air have a white point around 6800K that tracks consistently across all brightness settings: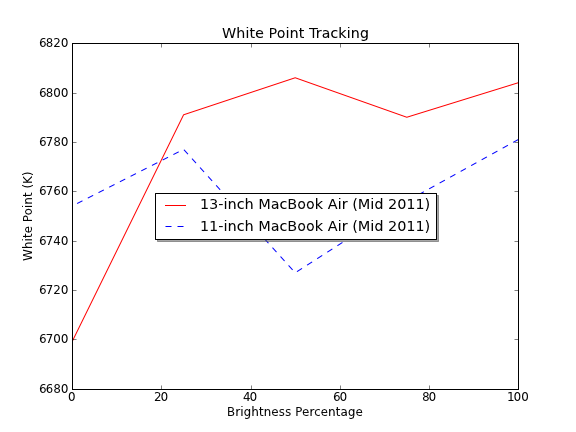 There are at least two different panel vendors in the new Airs, both of my Airs used panels from the same company though:
LTH133BT01A03
LTH116AT01A04
It's quite possible that users with a different panel could have a different experience than what I've published here.