Target Disk Mode
Another use of Thunderbolt is Target Disk Mode. Connect any two 2011 iMacs, 2011 MacBook Pros or any combination of the two with a Thunderbolt cable, reboot one of them while holding down the T key and you'll boot into target disk mode.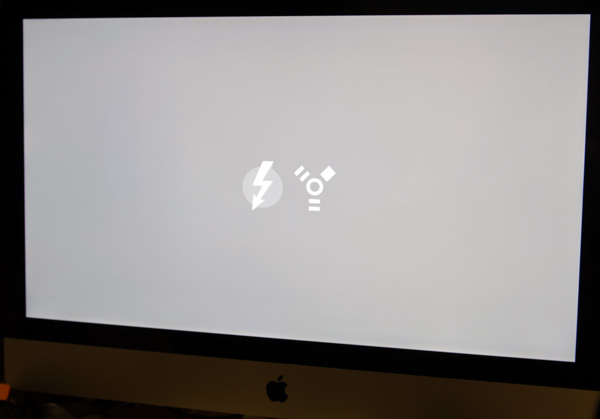 Hold down T and you'll get both Thunderbolt and FireWire logos at boot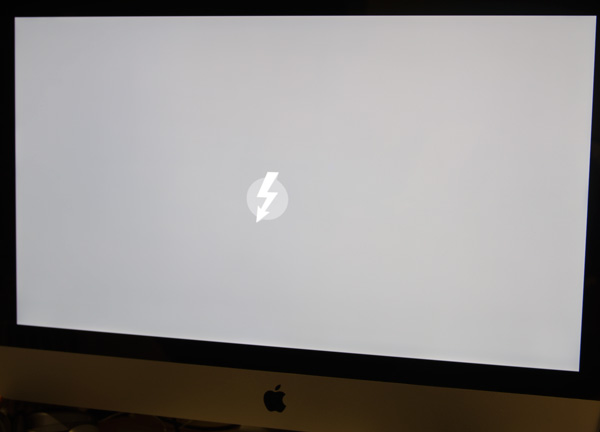 With only Thunderbolt connected, the FireWire logo disappears - you're now in Target Disk Mode over TB
In this mode the target Mac boots into a special EFI state that allows all of its drives (HDDs, SSDs, optical, anything connected to the computer) to be mounted by the host Mac. The drives appear like normal removable disks on the host Mac: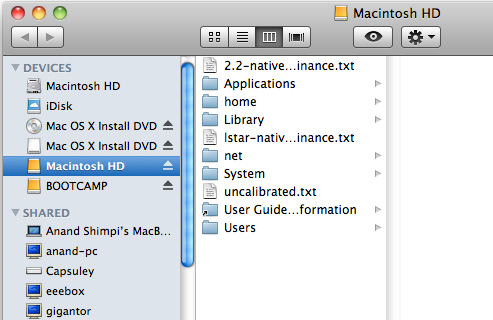 MacBook Pro accessing the iMac's sole HDD over Thunderbolt in Target Disk Mode
You even have to eject them all manually before turning off the target Mac.
Don't get too excited though, since the target Mac isn't running full blown OS X it only implements basic storage drivers and optimizations. As a result, peak performance is no where near what Thunderbolt is capable of. Regardless of whether I put the 15-inch MacBook Pro or 27-inch iMac in target disk mode, I never saw more than 61MB/s from the target.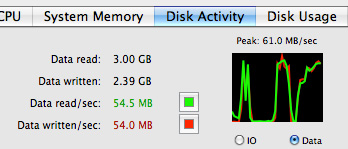 Performance was erratic as well. Sometimes I'd see transfer rates drop all the way down to 9MB/s before jumping up to 30MB/s and then 60MB/s. On average I'd say I saw transfers around 40MB/s.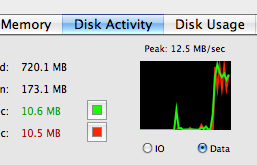 The functionality is great, however I believe target disk mode would be a killer feature of Thunderbolt if it could operate at peak performance. In its current implementation, it's faster than a WiFi transfer but a bit slower than a good Gigabit Ethernet network transfer. If we could get line speed transfers, being able to move data between two modern Macs at multiple Gbps would be great.