One by one the barriers to mobile computing have been falling. In the early days you could move to a notebook but you'd give up a lot of CPU, GPU and I/O performance. SSDs really fixed the storage performance issue (2.5" hard drives are horrendously slow compared to their 3.5" counterparts), power gating and turbo boost helped address the CPU problem and I wouldn't be too surprised to see companies have another go at external GPU solutions for those who need the added graphics horsepower.
The idea of external GPUs brings up the current limitation we face in this mobile transition. Although being more mobile is great, we still want the best of both worlds: great performance when we're at a desk, and great battery life when mobile. Enabling the former is going to require new technologies as well as new high speed interfaces.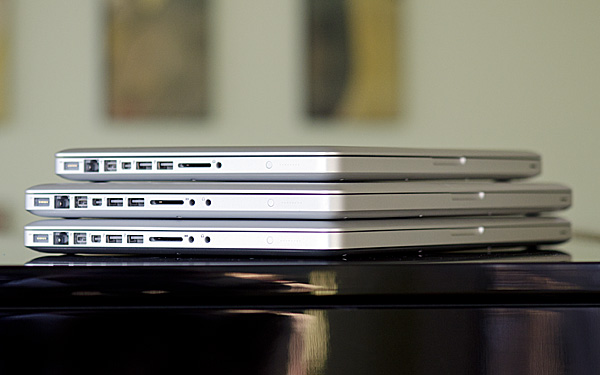 Intel has been at the forefront of many of the successful high bandwidth interfaces in the evolution of the PC industry. Will Thunderbolt be another feather in its cap? In February we got the first Thunderbolt enabled MacBook Pros and just last week Promise shipped the first Thunderbolt enabled storage device. It's time to put the two together.
Thunderbolt Recap
At the beginning of this year Intel, alongside Apple, finally introduced a productized version of the interface we'd previously only known as Light Peak. Given that the first instantiation of this interface used traditional copper wires and not an optical interface, Apple and Intel branded it Thunderbolt.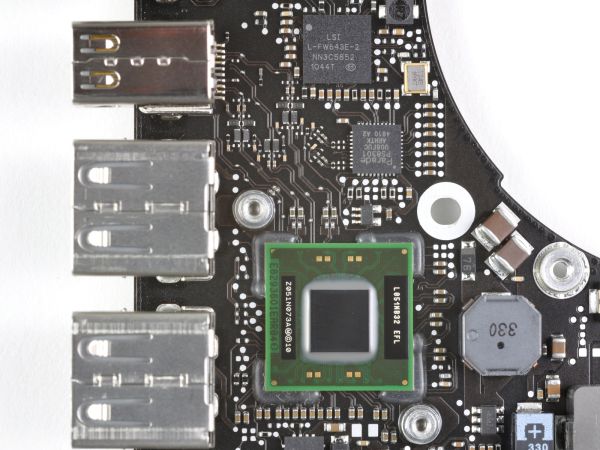 Thunderbolt Controller IC on 15" 2011 MacBook Pro - Courtesy iFixit 
The interface is royalty free, although Intel is the only company that makes Thunderbolt controller needed to support the interface. There's no word on the cost of the Thunderbolt controller. Thunderbolt isn't an Apple exclusive, however we won't see PCs ship with the high bandwidth copper interface until 2012 at the earliest.
Thunderbolt is a high speed, dual-channel serial interface. Each channel is good for up to 10Gbps of bi-directional bandwidth (20Gbps total) and with two channels a single Thunderbolt link is enough for 40Gbps of aggregate bandwidth.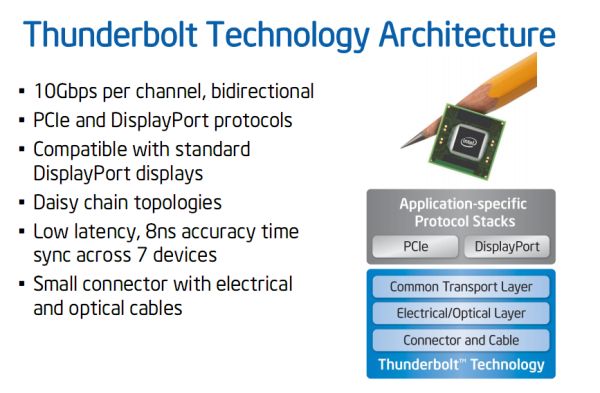 Thunderbolt can carry both PCIe and DisplayPort signaling. Apple claims that one of the channels is used for DisplayPort while the other is used for PCIe. DisplayPort interface support extends to the connector, which is physically compatible with a standard mini-DisplayPort connector. DisplayPort support is key as it allows video to be carried in addition to data, potentially allowing for some interesting use as a single cable docking solution for notebooks.
In addition to carrying up to 40Gbps of total bandwidth, a single Thunderbolt cable can also deliver up to 10W of power to connected devices.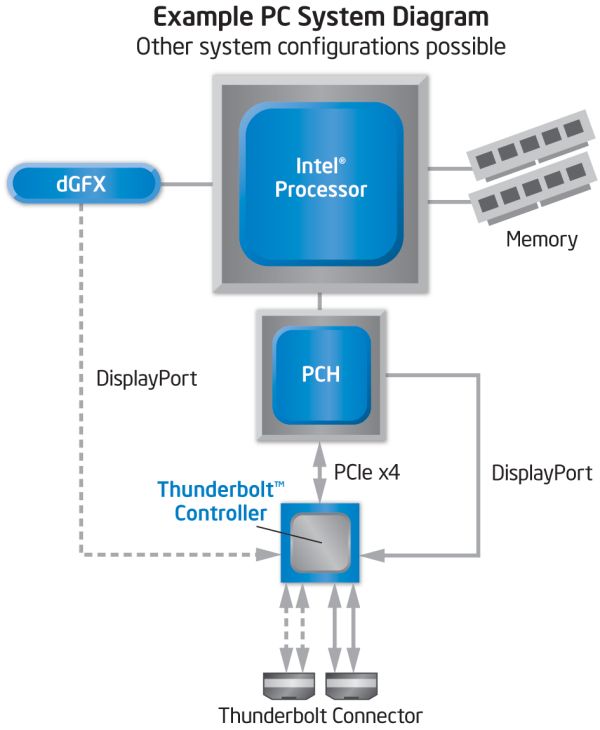 Each Thunderbolt port can drive up to 7 daisy chained devices, although all devices must share the 40Gbps (up/down) bandwidth to the host.
There's an obvious comparison to USB 3.0 which currently tops out at 5Gbps, however even it offers only 1/4 of the total available bandwidth of the Thunderbolt PCIe channel (not to mention its inability to carry DisplayPort).