One of the most glaring issues we found with local file playback was the chroma upsampling error. Initially, we suspected that the MPC Video Decoder (our preferred H.264 decoder for use in MPC-HC running on AMD GPUs) was at fault.

Screenshots are not allowed while playing back Blu-rays in either PowerDVD or Total Media Theater. Thankfully, playing a mounted ISO enabled screenshots while apparently retaining the same playback quality as the original Blu-ray. Since the ArcSoft video decoder is the easiest to get working with MPC-HC, we grabbed screenshots when playing back the ISO and the M2TS files using Total Media Theater. To put things on a equal footing, we took the ArcSoft decoder from Total Media Theater 5 and enabled its usage in MPC-HC. Presented below are the screenshots from approximately the same timestamp for the three cases.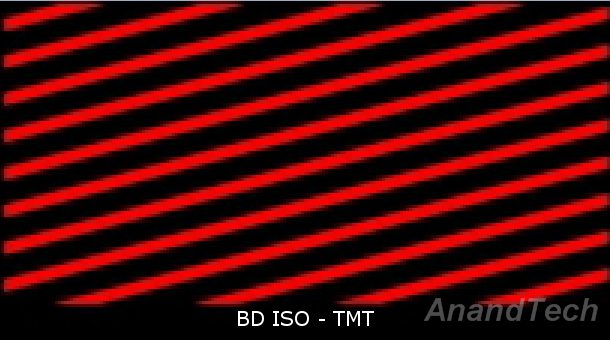 Considering that the video decoder used in all the cases is the same, the difference is only in the renderer / driver applied post processing. Even assuming that the EVR CP renderer used by MPC-HC lacks the quality of the ArcSoft renderer, there is a definite difference between the local file played back from within TMT and the ISO. It can only be concluded that the AMD drivers are enabling certain post processing steps only for Blu-ray playback. Will AMD rectify this issue? Only time will tell.