General Performance: SYSMark 2007
Our journey starts with SYSMark 2007, the only all-encompassing performance suite in our review today. The idea here is simple: one benchmark to indicate the overall performance of your machine. SYSMark 2007 ends up being more of a dual-core benchmark as the applications/workload show minimal use of more than two threads.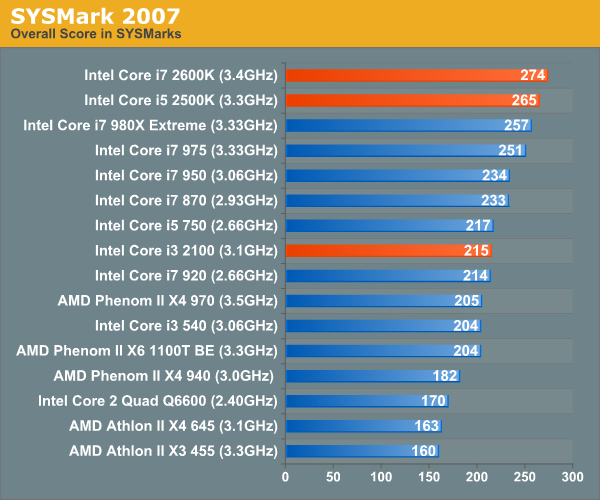 The 2600K is our new champion, the $317 chip is faster than Intel's Core i7 980X here as SYSMark 2007 doesn't really do much with the latter's extra 2 cores. Even the 2500K is a hair faster than the 980X. Compared to the Core i5 750, the upgrade is a no brainer - Sandy Bridge is around 20% faster at the same price point as Lynnfield.
Compared to Clarkdale, the Core i3 2100 only manages a 5% advantage howeer.
Adobe Photoshop CS4 Performance
To measure performance under Photoshop CS4 we turn to the Retouch Artists' Speed Test. The test does basic photo editing; there are a couple of color space conversions, many layer creations, color curve adjustment, image and canvas size adjustment, unsharp mask, and finally a gaussian blur performed on the entire image.
The whole process is timed and thanks to the use of Intel's X25-M SSD as our test bed hard drive, performance is far more predictable than back when we used to test on mechanical disks.
Time is reported in seconds and the lower numbers mean better performance. The test is multithreaded and can hit all four cores in a quad-core machine.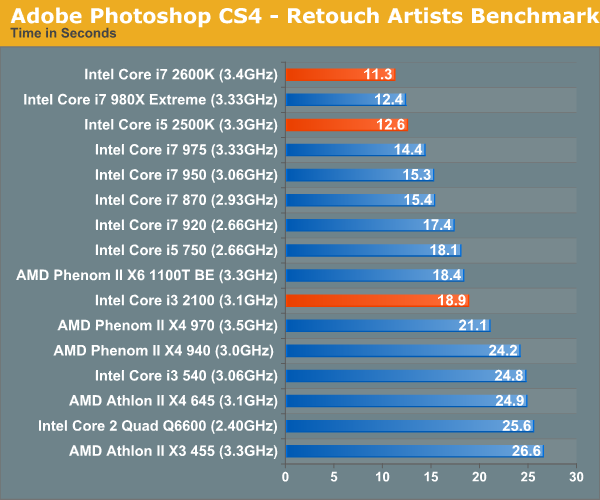 Once again, we have a new king - the 2600K is 9.7% faster than the 980X in our Photoshop CS4 test and the 2500K is just about equal to it. The Core i3 2100 does much better compared to the i3 540, outpacing it by around 30% and nearly equaling the performance of AMD's Phenom II X6 1100T.