Video Encoding Performance
Our DivX test is the same DivX / XMpeg 5.03 test we've run for the past few years now, the 1080p source file is encoded using the unconstrained DivX profile, quality/performance is set balanced at 5 and enhanced multithreading is enabled.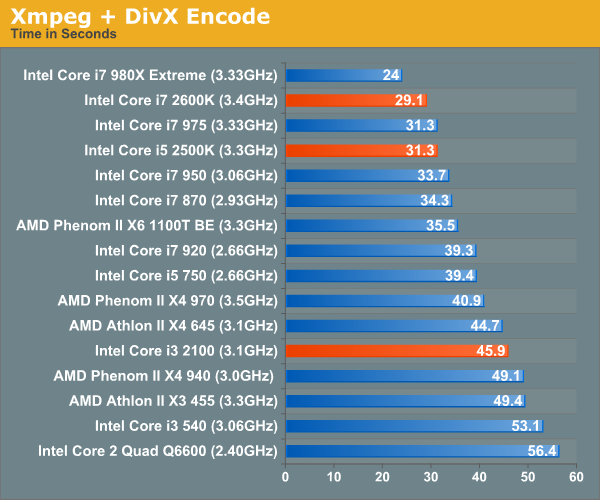 Despite the greatness that is Quick Sync, there are no editing/high quality transcode tools that support Intel's hardware transcode engine. Luckily, Sandy Bridge is still very fast when it comes to software encoding. Our WME test only shows minimal gains thanks to the architectural improvements however.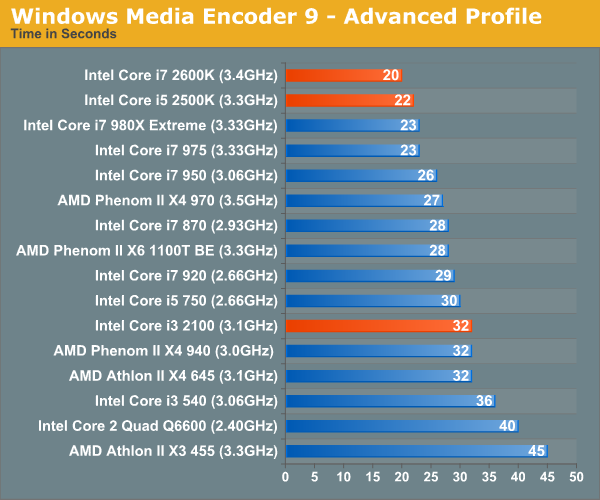 Graysky's x264 HD test uses x264 to encode a 4Mbps 720p MPEG-2 source. The focus here is on quality rather than speed, thus the benchmark uses a 2-pass encode and reports the average frame rate in each pass.
Other than the Core i7 980X, there's nothing quicker than Sandy Bridge. The Core i7 2600K is 10% faster than the Core i7 975, and the 2500K easily outpaces its Lynnfield rivals. The i3 2100 is quicker than its predecessor, however not by much. In these heavily threaded situations, AMD's Athlon II X4 645 is a better option than the 2100.