Resolution Scaling with Intel HD Graphics 3000
All of our tests on the previous page were done at 1024x768, but how much of a hit do you really get when you push higher resolutions? Does the gap widen between a discrete GPU and Intel's HD Graphics as you increase resolution?
On the contrary: low-end GPUs run into memory bandwidth limitations just as quickly (if not quicker) than Intel's integrated graphics. Spend about $70 and you'll see a wider gap, but if you pit Intel's HD Graphics 3000 against a Radeon HD 5450 the two actually get closer in performance the higher the resolution is—at least in memory bandwidth bound scenarios: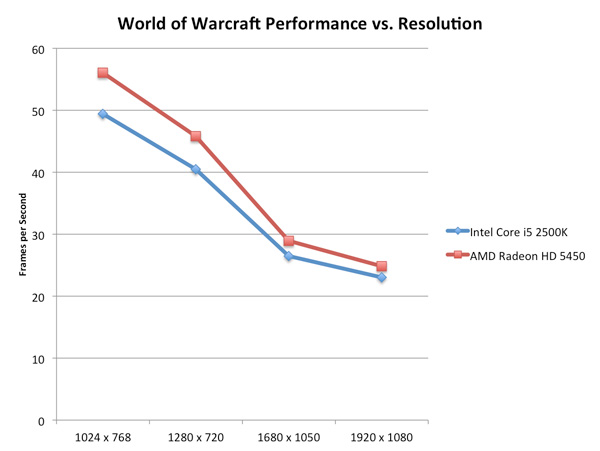 Call of Duty: Modern Warfare 2 stresses compute a bit more at higher resolutions and thus the performance gap widens rather than closes: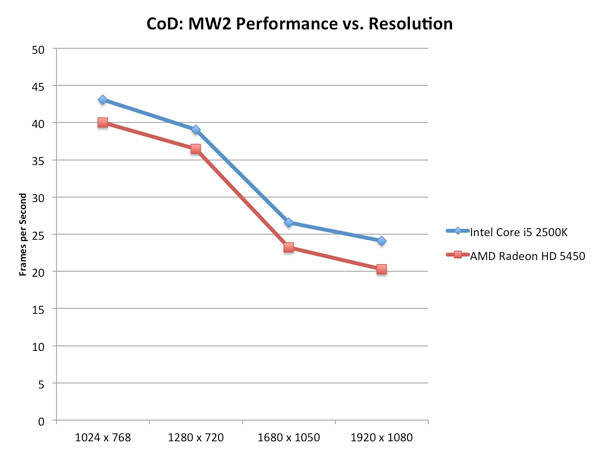 For the most part, at low quality settings, Intel's HD Graphics 3000 scales with resolution similarly to a low-end discrete GPU.
Graphics Quality Scaling
The biggest issue with integrated and any sort of low-end graphics is that you have to run games at absurdly low quality settings to avoid dropping below smooth frame rates. The impact of going to higher quality settings is much greater on Intel's HD Graphics 3000 than on a discrete card as you can see by the chart below.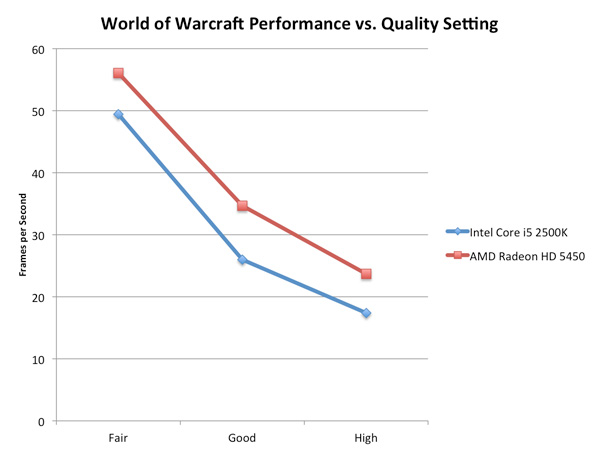 The performance gap between the two is actually its widest at WoW's "Good" quality settings. Moving beyond that however shrinks the gap a bit as the Radeon HD 5450 runs into memory bandwidth/compute bottlenecks of its own.