Overclocking Intel's HD Graphics
The base clock of both Intel's HD Graphics 2000 and 3000 on desktop SKUs is 850MHz. Thankfully, Intel's 32nm process allows for much headroom in both the CPU and GPU for overclocking. There are no clock locks or K-series parts to worry about when it comes to GPU overclocking; everything is unlocked. I started by trying to see how far I could push the Core i3-2100's HD Graphics 2000.
While I could get into Windows and run games at up to 1.6GHz, I needed to back down to 1.4GHz to maintain stability across all of our tests. That's a 64.7% overclock: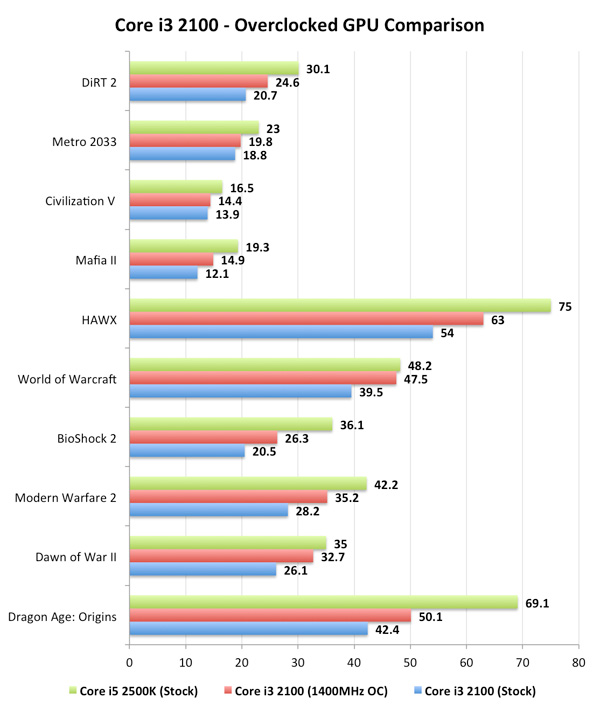 In some cases (Civilization V, WoW, Dawn of War II), the overclocked HD Graphics 2000 was enough to bring the 6 EU part close to the performance of the 3000 model. For the most part however the overclock just helped the Core i3-2100 perform halfway between it and the Core i5-2500K.
I tried the same experiment with the Core i5-2500K. While there's no chance it could catch up to a Radeon HD 5570, I managed to overclock my 2500K to 1.55GHz (the GPU clock can be adjusted in 50MHz increments):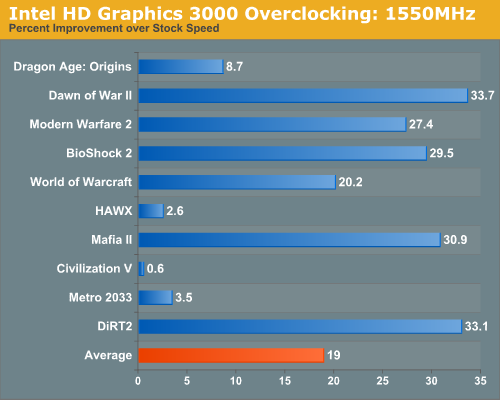 The 82.4% increase in clock speed resulted in anywhere from a 0.6% to 33.7% increase in performance. While that's not terrible, it's also not that great. It looks like we're fairly memory bandwidth constrained here.