3dsmax 9 - SPECapc 3dsmax CPU Rendering Test
Today's desktop processors are more than fast enough to do professional level 3D rendering at home. To look at performance under 3dsmax we ran the SPECapc 3dsmax 8 benchmark (only the CPU rendering tests) under 3dsmax 9 SP1. The results reported are the rendering composite scores: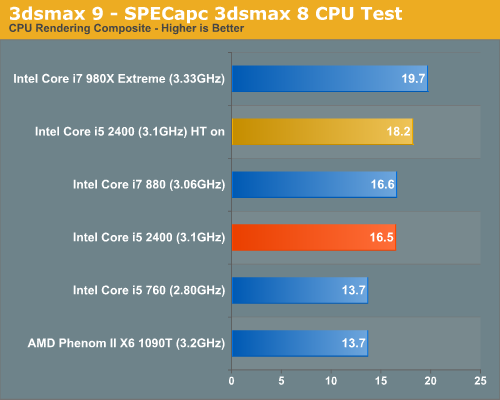 This is another one of those situations where the Core i5 2400 without Hyper Threading is able to perform on par with the Core i7 880 with Hyper Threading. Compared to the i5 760 it's 20.5% faster.
With Hyper Threading enabled, the Core i5 2400 is actually dangerously close to the 6-core 980X. Whatever Intel has done to Sandy Bridge's FP is big.
Cinebench R10
Created by the Cinema 4D folks we have Cinebench, a popular 3D rendering benchmark that gives us both single and multi-threaded 3D rendering results.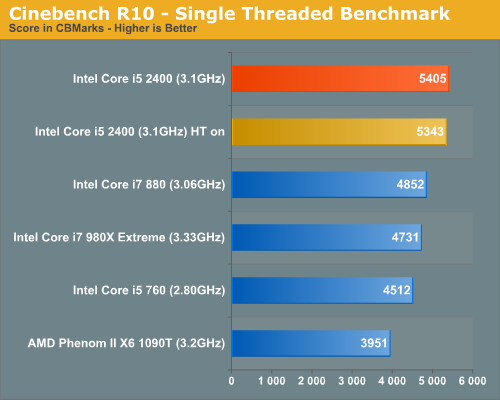 Cinebench was particularly surprising because it gives us a good opportunity to look at single threaded FP performance. Compared to a similarly clocked Lynnfield, Sandy Bridge can deliver 11% better performance. Compared to a similarly positioned Lynnfield, Sandy Bridge is about 20% faster. Note that this is without turbo enabled. The retail 3.1GHz chip should turbo up to 3.4GHz in this test, giving it a 9.6% frequency boost.
In the multithreaded test Sandy Bridge's per-core performance is even better than Lynnfield with HT enabled.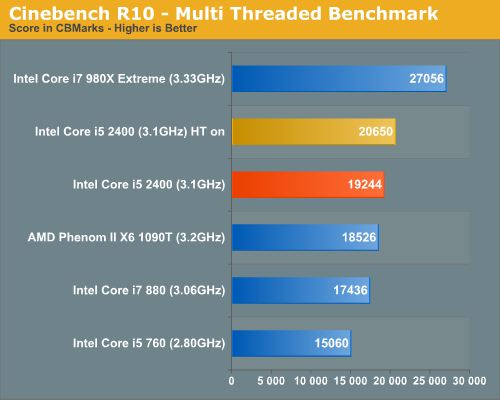 I also ran a few numbers using Cinebench R11.5. I didn't have the opportunity to test the i5 2400 with HT enabled in this test so I measured performance of the i7 880 with HT enabled/disabled to compare per-thread performance.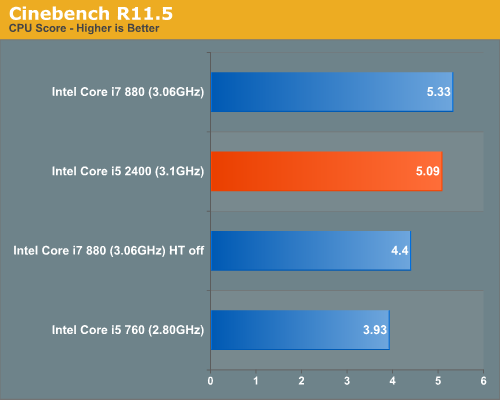 Sandy Bridge's FP performance is very good. Clock for clock we see a 15.6% improvement over Lynnfield (4C/4T vs. 4C/4T). Compared to the proposed similarly priced Core i5 760, the i5 2400 would be 29.5% faster.
POV-Ray 3.73 beta 23 Ray Tracing Performance
POV-Ray is a popular, open-source raytracing application that also doubles as a great tool to measure CPU floating point performance.
I ran the SMP benchmark in beta 23 of POV-Ray 3.73. The numbers reported are the final score in pixels per second.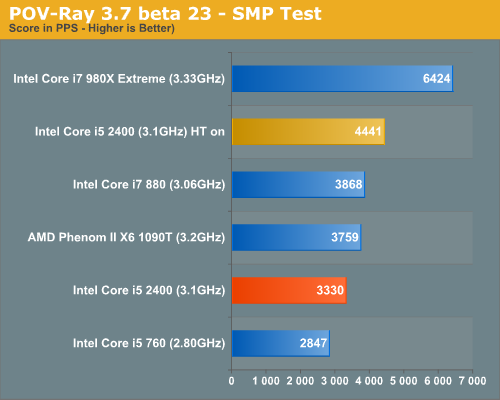 The similarly positioned/priced Core i5 760 is beat by 17%. There's no replacement for more cores/threads however as the i7 880 and X6 parts both pull ahead. Turn on HT to level the playfield (at least within Intel) and Sandy Bridge is 15% faster than Lynnfield.