Battery Life and a Wrinkle or Two
Unfortunately, the improved performance of the L335 exacts its price in blood. Specifically, the blood of your battery.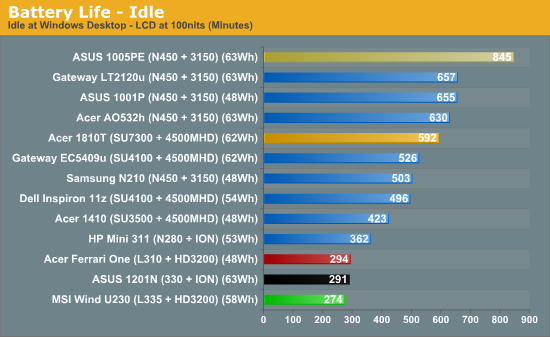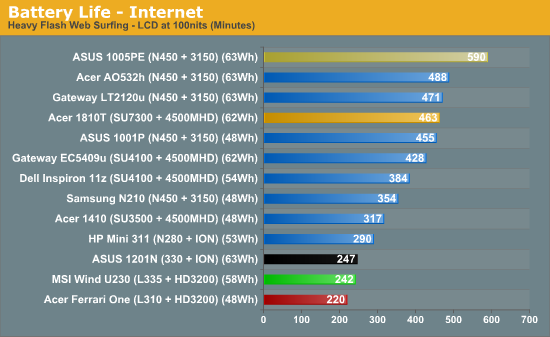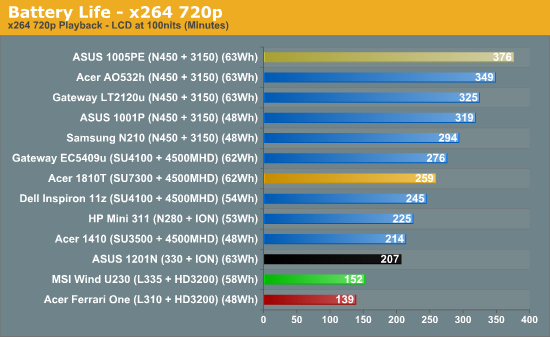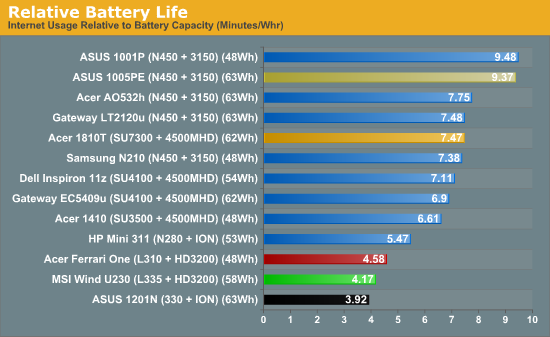 It's pretty dismal. A machine this small begs to be off the chain, but here AMD's power-hungry Congo platform makes its presence known, ensuring a useful lifetime on the battery of a shade over three hours. That's about enough to get through one lecture in a class, but it's inexcusable for a machine that's otherwise so small. And when 720p playback is brought into the picture, battery life dips under three hours.
What's interesting, however, is discovering how AMD handles their power savings on the Athlon Neo X2 L335. Simply put, they don't. While researching this notebook and others that use Athlon Neo processors, many other users have tried to squeeze more battery life out of AMD's hardware and met with some success. That success stems from undervolting the processor using RMClock, and it's actually pretty effective at adding a good half hour or so to the battery.
A major part of the problem seems to be that AMD volts the Athlon Neo X2 extremely aggressively. Our review unit has a standard voltage of one volt on the processor, and that voltage is consistent regardless of the clock speed the chip is running at. That means that whether the chip is running at full tilt 1.6 GHz or the more "power economical" 800 MHz, it has the exact same amount of voltage coursing through it, throwing heat and spinning up the fan.
Using a combination of RMClock and IntelBurnTest, we were able to bring the voltage of the processor at 1.6 GHz down to just .825V, a substantial .175V difference, and at each multiplier step we were further able to reduce the voltage of the chip by at least .025V. It's a major improvement; when testing stability at 1.3 GHz with a voltage of .75V using the gruelling IntelBurnTest, we found the system fan barely span up more than its usual hum and certainly didn't get anywhere near as loud as it did at the full volt. If anything it's a shame the chips don't ship better tuned from the factory, because they're clearly capable of performing at least a little better and a little more efficiently.