SAP S&D 2-Tier
SAP S&D 2-Tier
Operating System
Windows 2008 Enterprise Edition
Software
SAP ERP 6.0 Enhancement package 4
Benchmark software
Industry Standard benchmark version 2009
Typical error margin
Very low
The SAP SD (Sales and Distribution, 2-tier internet configuration) benchmark is an interesting benchmark as it is a real world client-server application. We decided to look at SAP's benchmark database. The results below all run on Windows 2003 Enterprise Edition and MS SQL Server 2005 database (both 64-bit). Every "2-tier Sales & Distribution" benchmark was performed with SAP's latest ERP 6 enhancement package 4. These results are not comparable with any benchmark performed before 2009. The new "2009" version of the benchmark obtains scores that are 25% lower. We analyzed the SAP Benchmark in-depth in one of our previous server oriented article. The profile of the benchmark has remained the same:
Very parallel resulting in excellent scaling
Low to medium IPC, mostly due to "branchy" code
Somewhat limited by memory bandwidth
Likes large caches (memory latency!)
Very sensitive to sync ("cache coherency") latency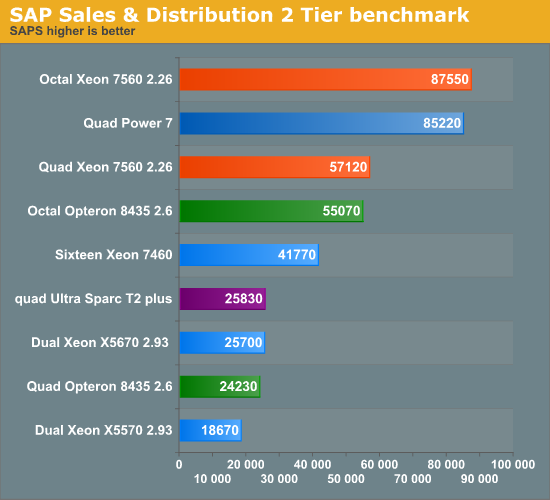 Since we gather the benchmark data from the SAP site, we have to work with what we found so far. A quad Xeon X7560 outperforms an octal-core Opteron 8435 at 2.6GHz by small margin (3%). A quad Opteron 6176 at 2.3GHz should score about 48k-50k. That is competitive performance, but this market will probably prefer the Xeon platform, as price is less an issue and reliability features are on top of the checklist. The Power 7 servers outperform the Nehalem EX CPUs, but the top models (3.55GHz) cost around $100k.