Virtualization and Consolidation
VMmark—which we discussed in detail here—tries to measure typical consolidation workloads: a combination of a light mail server, database, fileserver, and website with a somewhat heavier Java application. One VM is just sitting idle, representative of workloads that have to be online but which perform very little work (for example, a domain controller). In short, VMmark goes for the scenario where you want to consolidate lots and lots of smaller apps on one physical server.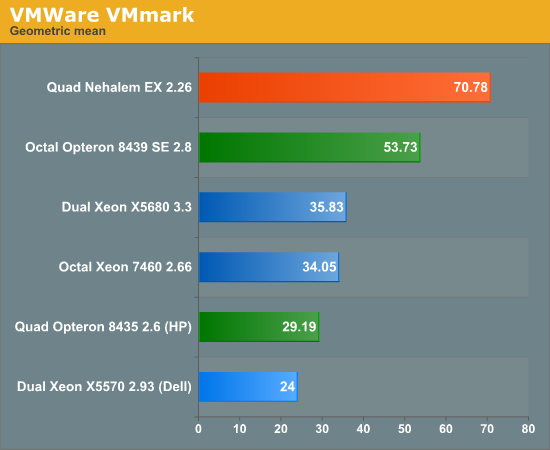 Very little VMmark benchmark data has been available so far, but it is obvious that this is favorite playing ground of the Xeon 7500. It outperforms an octal 2.8GHz Opteron by a large margin. Granted, the octal Opterons scale pretty badly in most applications, but VMmark is not one of them. It is reasonable to expect that a quad twelve-core Opteron 6100 series will outperform older higher clocked octal six-core Opterons in many applications including SAP, OLTP and data mining benchmarks. After all, the communication between the cores has vastly improved. But VMmark is running many small independent applications, which usually run on the same node, so the chances are slim that the quad Opteron 6100 will come even close to the quad Xeon X7560.
vApus Mark I: Performance-Critical Virtualized Applications
As we've discussed previously, our vApus Mark I benchmark is due for a major overhaul. We found out that the 24 cores of the Opteron 6172 were not at the expected 85-95% CPU load, and thus the numbers reported were under the potential of the twelve-core Opteron. To get an idea of where the Xeon X7560 would land, we disabled Hyper-Threading, as our test is capable of stressing 16 cores/threads easily. The dual Xeon X7560 was about 5% slower than the Xeon X5670 with Hyper-Threading enabled, and about 13% faster than the dual octal-core Opteron 6136 2.4GHz. Considering that we found that performance is about 15% higher due to Hyper-Threading, we estimate that the dual Xeon X7560 at 2.26GHz is about 10% faster than a Xeon X5670 at 2.93GHz, and about 29% faster than the octal 2.4GHz Opteron 6136. So core per core, clock per clock the Xeon X7560 has probably in the neighborhood of a 30% performance advantage over the Opteron. Once vApus Mark II is ready, we'll provide more accurate numbers.
However, that is not enough to win the price/performance or performance/watt comparison. An octal-core Xeon X7560 costs four times more and the server consumes a lot more than a similar (clock speed, core count) Opteron 6136.