Decision Support benchmark: Nieuws.be
Decision Support benchmark Nieuws.be
Operating System
Windows 2008 Enterprise RTM (64 bit)
Software
SQL Server 2008 Enterprise x64 (64 bit)
Benchmark software
vApus + real-world "Nieuws.be" Database
Database Size
> 100GB
The Flemish/Dutch Nieuws.be site is one of the newest web 2.0 websites, launched in 2008. It gathers news from many different sources and allows the reader a personalized view on all the news. The Nieuws.be site sits on top of a large database—more than 100GB and growing. This database consists of a few hundred separate tables, which have been carefully optimized by our lab (the Sizing Server Lab).
99% of the loads on the database are selects, and about 5% of them are stored procedures. Network traffic is 6.5MB/s average and 14MB/s at the most, so our Gigabit connection still has a lot of headroom. Disk Queue Length (DQL) is at 2 in the first round of tests, but we only report the results of the next rounds where the database is in a steady state. We measured a DQL close to 0 during these tests, so there is no tangible intervention of the hard disks.
Attention: since our twelve-core Opteron review, we are using a new heavier log. As the Nieuws.be application became more popular and more complex, the database has grown and queries have become more complex too. The results are no longer comparable to previous results. They are similar, but much lower.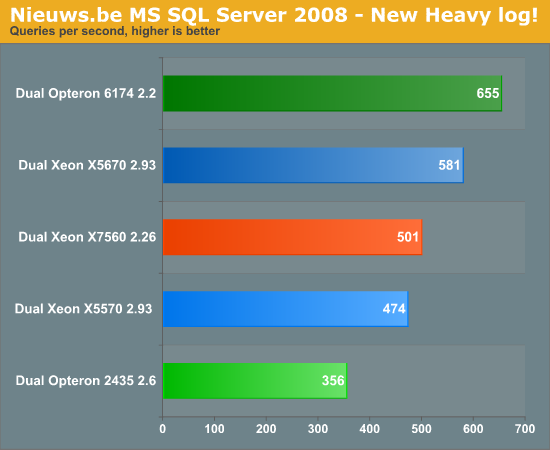 First, you may notice that our dual Xeon X5670 is 6% higher compared to what we reported in our twelve-core Opteron review. As we changed the benchmark and tested a lot of configurations in less than a week (before the launch of the Magny-Cours Opteron), we made an error. We tested with the power option set at "balanced power", which lowered the score of the Xeon X5670. We now tested with the "high performance" power setting, as we did on the Opterons.
Our data mining benchmark scales well with more cores, so the performance delivered by the X7560 is a bit lower than expected. The high memory latency and relatively low bandwidth per core might slow the octal-core Xeon down.