I get inspiration to write from the strangest places. It can be a conversation, an observation or just music. I say it's from the strangest places because the inspiration doesn't result in a painting or a photograph, it ends up in the structure or body of a review of some piece of technology. Whether it's a CPU review, SSD article or even just a cookie cutter article, it all starts with something that gets me in an excited-to-write mode. It's rarely the product, but rather the thought of writing about it that gets me going. Provided I have the right inspiration.
Most of the time you all scare the crap out of me. I want to impress, I want you guys to be happy with what I write. I want every article to be the most well received thing ever. Every writer wants that. No one ever gets it. So when I see comments telling me that you're eagerly anticipating my Nexus One review, I get a turtle complex. And not the ninja kind.
Although I've used and owned (briefly) plenty of Android devices since the platform launched in 2008, I've never sat down to actually review one. Going into today's review I wasn't even sure what approach I should take. You've been asking for an iPhone or Windows Phone 7 style treatment of the platform, but our coverage of both of those things happened when the platforms were just being introduced - not 17 months later.
Then came the inspiration. I was talking to our newest smartphone editor, Brian Klug, about the review and he gave me the angle. For Brian, today's review wasn't so much about exploring every corner of the Android OS but rather properly conveying the feel of the OS and how it differs from the alternatives in the market today. So while I'm going to definitely do the former, I want to tackle the latter early on because ultimately I believe that's what will determine whether or not Android is for you.
Boxus One
You can't buy a Nexus One in any store, your only route is to go through Google itself. Even though there are versions for T-Mobile and AT&T's networks, those carriers don't sell the phone on their websites either.
The ordering process is very simple and you have the option to engrave two lines of text on your phone at no extra charge (doing so voids your ability to return the Nexus One for a full refund). You have two purchase routes. You can either buy the phone unlocked for $529 (AT&T and T-Mobile versions are available), or you can sign up for a new 2-year agreement with T-Mobile and get the phone subsidized for $179. An AT&T subsidized version isn't available at this time.
Google lists both Verizon and Vodafone versions of the Nexus One shipping in the Spring. For today's review I'm looking at the AT&T version of the Nexus One.
Apple has started a trend of companies spending entirely too much on packaging. We all wrote about how good Apple's packaging was, and now everyone spends much more on packaging just to have it thrown away. I swear someone just played a huge practical joke on us, er or Google, or Apple...I'm not sure.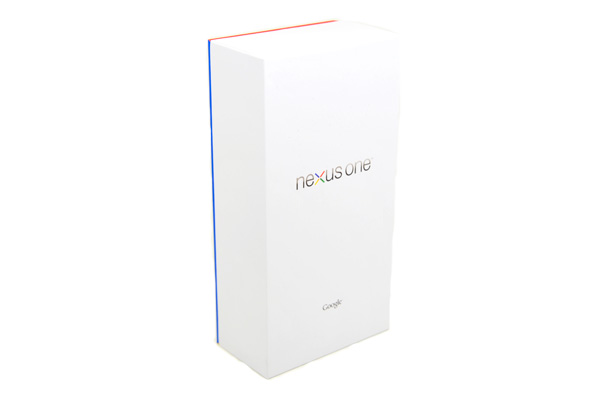 The Nexus One comes in a pretty white box with a splash of color. Inside you find the usual combination of manuals, more boxes and nice feeling packaging.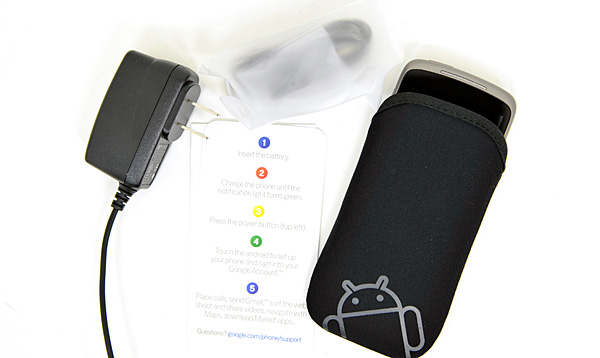 The Nexus One ships with a wall charger, earbuds and a separate USB cable for connecting to your computer. You also get a neoprene case.