CeBIT 2009 officially starts next Tuesday, but we already have some early coverage from cold and wet Hannover, Germany. ASUS has given us an early look at their Marine Cool design concept. Just like concept cars at the major automobile shows, this particular motherboard is meant to introduce new design ideas into a rather "me too" market.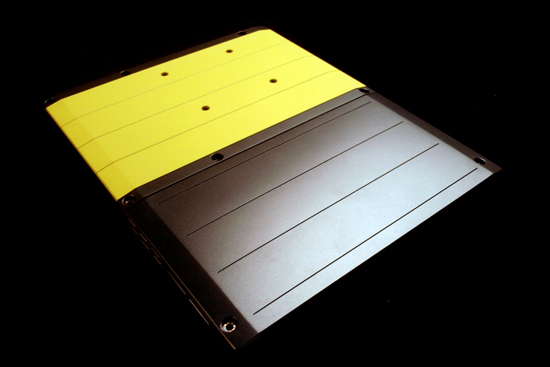 ASUS was rather coy about what design and layout aspects will eventually make their way into future motherboard products. However, one major design change we expect to see in upcoming boards is the new back plate that utilizes "micro-porous ceramic" technology to dissipate heat quicker and to provide structural integrity to the motherboard.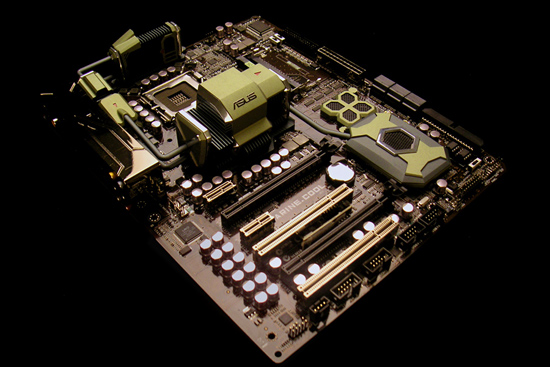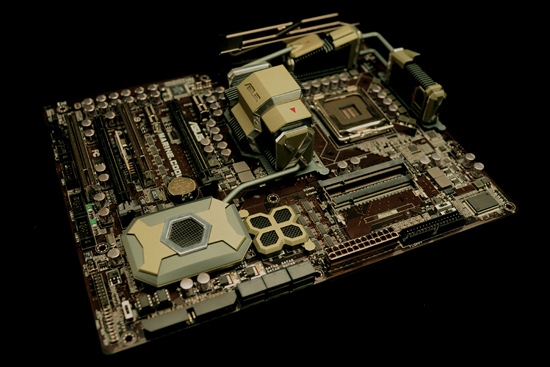 The new heatpipe system also improves chipset and PWM cooling compared to shipping products, while the layout receives a few tweaks for usability. We are not too wild about the SO-DIMM slots for a performance oriented system, but they do save real estate space and perform well on mainstream systems. The heatsink design and technology behind it (cannot comment further, yet) is certainly an item that we liked. In fact, the design reminded us of a few design elements from Space:1999 (yes, some of us are that old).
ASUS is interested in your opinions, so leave your thoughts in our comments section. In the meantime, we will have more information about the Marine Cool technology in upcoming coverage. auf Wiedersehen!
Updated Press Information from ASUS - "ASUS MARINE COOL Motherboard: Revolutionary Design and Advanced Innovations to Deliver the Ultimate in Stability and Durability - The ASUS MARINE COOL is a conceptual motherboard that addresses the most demanding of usage scenarios. The front features a metal heat-pipe module to provide exceptional heat transference and dissipation for core components. Set flush on the back of the PCB, the backplate makes full use of micro-porous ceramic technology to provide a larger surface area—facilitating heat away from the PCB for highly effective thermal dissipation. Together, these revolutionary designs improve heat dissipation by up to 2 fold. The ASUS MARINE COOL also features an on-board uninterruptible power supply (UPS)—a built-in polymer battery (gray portion of the backplate) that averts damage from unexpected blackouts. Furthermore, built-in server-standard Failover Memory (under the flower shaped object) guarantees system boot, regardless of incompatible or faulty memory."