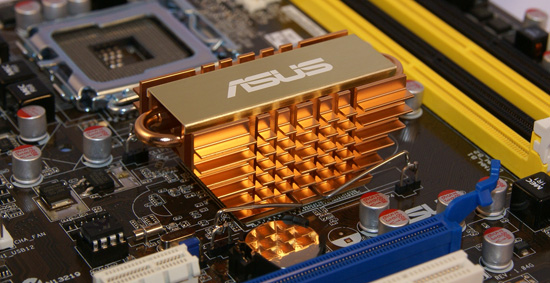 Here are a few updates to our GF9300 launch article.
1. We had numerous emails on what commercial BD playback software worked properly with the GF9300. This is an important question for many as purchasing a $50 card like the AMD HD4550 is sometimes a better value than spending $60~$90 updating your BD playback program. Our retail and OEM copies of Cyberlink's PowerDVD Ultra V7, build 4407, worked fine with our three GF9300 boards. An OEM version of Corel's WinDVD 8 Platinum HD/BD worked properly but we did not have a retail copy to test.
Current versions of PowerDVD 8 Ultra and WinDVD 9 Plus also work. We tested with PowerDVD 8 Ultra, build 2201a, in our chipset article. An OEM developer version of ArcSoft's TotalMedia Theater offered full hardware support for the GF9300. However, we tried to purchase a retail copy on Friday to test and ran into a few problems. After taking our credit card information, confirming purchase, and sending us the program download link, we were left with a program that would not work.
A simple reason really, no license key was included in the invoice documentation. A quick call to customer support resulted in a classic Abbott and Costello routine. The customer support representative requested our product information and serial number on the non-fee based support line. Of course we did not have a serial number so the customer support representative politely suggested we call the fee based technical support group or we could be transferred, which could help us retrieve the product serial number. Of course, we never had a serial number so retrieving it was going to be difficult and a waste of $10 in our opinion.
However, we decided to try this path in order to verify compatibility with the retail product. Turns out before your credit card information is taken, the CSR wanted to verify the product had been registered and updated. After explaining we could not register the product since our license key is not available, the CSR suggested we try emailing the customer support group. A great response instead of taking our $10.
We tried emailing customer support but were directed to setup a user account first. After following the website directions for user account creation, we faced a decision of choosing silver or platinum account status. The platinum account offered a 20% discount at the ArcSoft store, something we could have used in advance, but thinking we might need another license we decided to go platinum. After filling out the information form requesting our personal and/or business information, the last request from ArcSoft was to input our product name and serial number. Turns out, you cannot register for support without a product serial number. A quick call back to customer support reveals there really is not an easy way to get support without having first registered the product.
We then contacted Element 5, the company that handles the online purchases for ArcSoft, and discovered there was a glitch in the ArcSoft servers. License information was not available currently and they would send a message to ArcSoft. Our experiences in the past with digital downloads have not always been pleasant once something goes awry. We asked Element 5 to cancel and refund our order. We received an email confirmation that our order would be canceled, but a refund would not be available until the publisher of the product was contacted and verified our request for refund. Of course this process normally takes around 3 business days. So, after all that, we still cannot verify if the current retail copy of TMT works correctly with the GF9300, it should, just we cannot verify it yet.
2. As we noted in the review, CAS4 memory settings were not available in our test boards. The manufacturers are working on correcting this and we should see new BIOS releases within the next couple of weeks. Honestly, for 95% of users, the differences between CAS4 and CAS5 operation will be nominal at best, our problem is that the BIOS releases had the option for lower memory subtimings but they did not work.
3. Another reason for slightly subpar memory performance on this platform is that NVIDIA's Advance Path (memory controller prefetcher) was disabled. We were originally told this technology would be enabled in the next WHQL driver set, 20.8 that was released on Wednesday. Turns out Advance Path is enabled in the driver sets, it is just not enabled in the core BIOS code yet. We should see updated BIOS' releases with this option enabled shortly.
4. NVIDIA has solved their Race Driver: GRID performance problems. The upcoming beta driver has increased frame rates from the 13fps range up to around 28fps on our benchmark system.
5. We are still working with NVIDIA on speaker setting problems when utilizing our Pioneer or Denon AVRs in HDMI repeater mode. We had to change PowerDVD 8 Ultra to an 8 or 6 speaker setting instead of HDMI/PCM in order to avoid lockups. NVIDIA replicated the problem, but their system is working properly now with the latest .37 HDMI audio driver release and 0404 BIOS from ASUS. We still had problems this weekend but we are creating a new OS image today with a fresh driver and application install to verify the fix.
6. We reported on AHCI problems with our Sony BDU-X10S optical drive. After a drive firmware and board BIOS update, the problem looks to be resolved once we moved the drive to a different port so the drive was not the first one recognized during PnP enumeration. On a side note, we transferred about 130TB of information across our ASUS and MSI GF9300 boards and did not witness any data corruption problems.
7. Our chipset launch article featured Intel's Q9300 Quad Core processor and the 9950BE Quad Core from AMD. We did this to show best performance attributes on each IGP platform. We will have an update to the article in a couple of days that will feature Intel's Q8200, E7200, E5200, and E1200 along with the 8750, 9350e, 4850e, and BE2400 from AMD in BD playback and a couple of general performance scores in order to gauge performance across a wide variety of popular processor choices.
8. A few of the 9950BE/790GX scores seemed odd when compared against the 780G results, especially in BD playback. We mentioned Cool-n-Quiet problems in our IGP chronicles part two article and suggested that users turn off CnQ for best performance during BD playback. We have been working with AMD the past week and it turns out that aggressive C1E routines within the BIOS is the main culprit for some of the problems we noticed. We will have more on this in the upcoming 790GX roundup along with a new set of BIOS releases from several manufacturers that greatly improve CnQ/C1E compatibility/performance during BD playback or gaming.