The story goes like this: Intel let Kingston build a value version of its X25-M G2 drives. This became the 40GB Kingston V Series Boot Drive. When Intel added TRIM support to the G2 drives, Kingston was told to wait. Kingston would get TRIM support when Intel launched its own 40GB version of the G2. Here's where things get hairy. Intel and Kingston couldn't work out terms for the TRIM enabled firmware on the V Series Boot Drives. Intel wanted too much money and Kingston wanted to keep the drive price below $100. The outcome? Kingston V Series Boot Drive owners never got official TRIM support and the product was dropped altogether.
This all took place a few months ago. Two things have happened since then. Intel has, as expected, launched its value SSD: the X25-V. This is basically the Kingston drive we reviewed last year, but with official TRIM support. In other words, it's a X25-M G2 but with only half the channels populated with IMFT NAND. The X25-V is available only in a 40GB capacity (we'll see an 80GB version based on 25nm NAND in Q4 2010). The drive is priced at $125 and available today. On a side note, Intel's pricing shows that there wasn't any room for Kingston to deliver a sub-$100 version of the X25-V.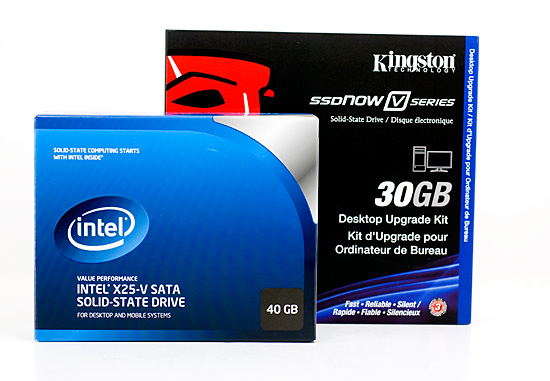 The second thing to happen was that Kingston built another V Series Boot Drive, this time based on a Toshiba controller with 32GB of MLC NAND on board. The price? $124.99 for an upgrade kit. Kingston appears to be going head to head with Intel in the value SSD space. Ballsy. Update: Kingston has pointed out that despite the $124.99 MSRP, Newegg is currently selling the drive for $114.99 with an additional $30 mail in rebate that will drop the total price to $84.99 after rebate.
Meanwhile, OCZ recently announced its Onyx SSD based on a newer low cost Indilinx controller. The target price? Sub-$100. Unfortunately we'll have to wait a little longer on it as the final firmware is still being ironed out. Instead, today's comparison takes place exclusively at $125 and is between Intel and Kingston. Former bedmates, the two now have equally compelling entry-level SSD offerings.