Efficiency Comparison and How to Choose Your PSU
We wanted to explain to you how much power your system should actually use so you can make the best use of your new power supply. Of course you can load these power supplies up to the limit and still have around 87% efficiency - a result that many cheaper power supplies cannot reach even at their ideal load. However, these graphs show you where these power supplies reach their best efficiency.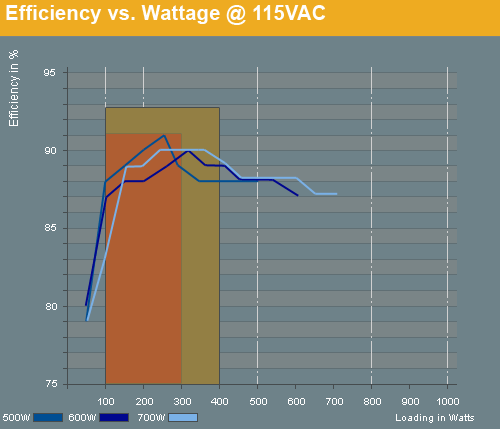 From 100 to around 400W you will get maximum efficiency if you're on a 115VAC grid. That will provide you with an 88-91-88-percent curve with the 500W unit, an 87-90-89-percent curve with the 600W unit, and an 83-90-89-percent curve with the 700W unit. If you want even better efficiency you would want to be in the darker red area of 100 to 300W output. We've combined all three PSUs on one chart, however, so you will want to consider the curves and adjust your PSU selection as appropriate, e.g. the 700W PSU performs best with a load of at least 150W.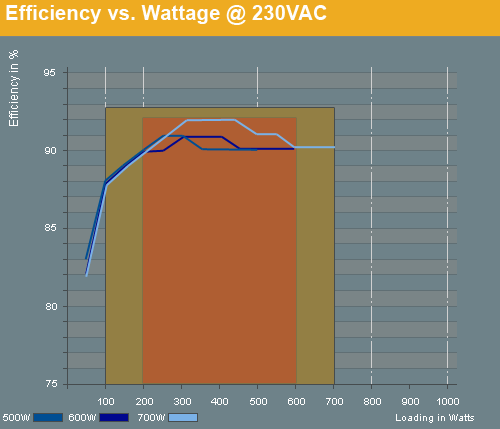 With 230VAC our recommendations look quite different. Users on a 230VAC grid can use any of these three units with any kind of load and achieve very good efficiency. Even at 5% load all of the units are still well above 80%, which is something that was difficult to reach a few years back. If you really want to squeeze the best results out of your units you will want load of at least 100W up to the maximum rated output of the PSU. That is a very large area and it shows how versatile these PSUs are. If your system uses 200W to 600W you will be able to maintain a constant efficiency of over 90%! In short, hook up just about any system to these power supplies on a 230V grid and you can be sure you'll be truly energy efficient.
Just to put things in perspective, the 80 Plus certification was introduced a few years back to put public focus on more energy efficient products, mainly power supplies. In the beginning there was only one certification, but since the initial introduction the group behind the certification has felt it necessary to introduce additional levels of efficiency. Today, we have Bronze, Silver, and Gold, with Gold being the highest level of the 80 Plus and presenting a very difficult target for the PSU manufacturers. The race to Gold has now been won, but now there's a new target in sight: Platinum. The required efficiencies for the different levels are listed below.
80 Plus Certification Requirements
20% Load (Light)
50% Load (Typical)
100% Load (Full)
80 Plus Standard
80%
80%
80%
80 Plus Bronze
82%
85%
82%
80 Plus Silver
85%
88%
85%
80 Plus Gold
87%
90%
87%
80 Plus Platinum (230VAC only)
90%
94%
91%