SYSMark 2007 Performance
Our journey starts with SYSMark 2007, the only all-encompassing performance suite in our review today. The idea here is simple: one benchmark to indicate the overall performance of your machine.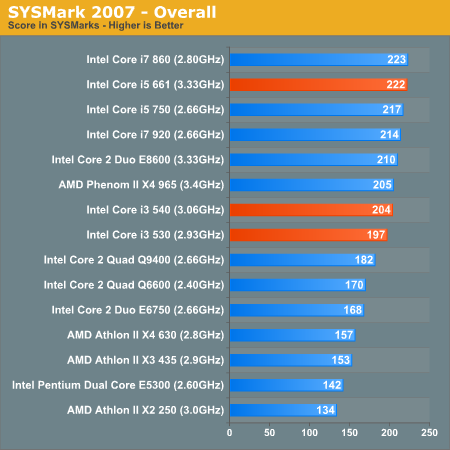 SYSMark performance is a strong point of the new Clarkdale family. The Core i5 661 is able to deliver overall performance roughly equivalent to the Core i7 860. If you aren't running heavily threaded code that can really stress all four cores of a Lynnfield or Phenom II, the Core i5 661 is going to perform very similarly.
The real winners however are the simulated Core i3 540 and 530. You give up Turbo Boost but you still maintain Hyper Threading, which delivers Phenom II X4 965 performance for $133. Obviously AMD will still win in most tasks that stress all four cores, but for the majority of users you'll actually have roughly the same performance out of an i3 530. Impressive.
These Clarkdale chips are also a significant performance improvement over the older Core 2 based products. The i3 530 looks to be around 17% faster than the Conroe based Core 2 Duo E6750. Even AMD's value quad-core chips can't compete here, but that's just because we're not really stressing all four threads.