Board Features
Today's test sample is the MSI P55 Big Bang - Trinergy and has an MSRP of $349.
MSI P55 Trinergy
Market Segment
P55 Overclocking Enthusiast
CPU Interface
LGA-1156
CPU Support
LGA-1156 i5/i7 Series of Processors
Chipset
Intel P55 Express Chipset
BCLK Speeds
100~600MHz, in 1 Mhz steps
DDR3 Memory Speed
800, 1067, 1333 Frequency Ratios
Uncore Frequency
Fixed at 16x or 18x according to CPU model class
PCIe Speeds
Auto, 90MHz-190MHz in 1MHz increments (100MHz stock)
Core Voltage
0.9V ~ 2.1V in 0.00625V increments
CPU Vdroop Compensation
High/Low
CPU Clock Multiplier
Dependant on Processor, all available multipliers supported
DRAM Voltage DDR3
Auto, 0.93V ~ 2.43V in 0.001V ~ 0.07V increments (1.53V base)
DRAM Timing Control
tCL, tRCD, tRP, tRAS, + 20 additional timings
DRAM Command Rate
Auto, 1N & 2N
PCH Voltage
Auto, 0.45V ~ 1.95V in .015V increments, 1.05V Base
CPU VTT (Uncore) Voltage
Auto, 0.482V ~ 2.092V in .08V ~.016V increments, 1.05V Base
CPU PLL Voltage
Auto, 0.20V ~ 2.40V in 0.01V ~ 0.40V increments, 1.80V Base
Memory Slots
Four 240-pin DDR3 DIMM Slots
Dual-Channel Configuration
Regular Unbuffered DDR3 Memory to 16GB Total
Expansion Slots
3 - PCIe 2.0 x16, PEG slot 1 @ x16. PEG2 @ x16 (x8 when all PEG slots filled), PEG 3 @ x8
2 - PCIe X1 (1 MSI supplied audiocard dedicated)
2 - PCI Slot 2.2
Onboard SATA/RAID
6x SATA 3.0Gbps Ports - Intel Chipset
Hot Plug and NCQ Support, RAID 0, 1, 5 RAID 0+1 Support & Intel Matrix Technology Support
4 JMicron JMB322
Onboard USB 2.0/IEEE-1394
14 USB 2.0 ports (8) I/O Panel, 6 via brackets
2x 1394a Ports - (1) I/O Panel, (1) via header
Onboard LAN
Realtek RTL 8111DL X2 (PCI/e)
Onboard Audio
Realtek ALC 888S - 7.1 Channel with software level support for EAX 5.0 and Creative TruStudio PC)
Power Connectors
ATX 24-pin, 8-pin EPS 12V
I/O Panel
1 x PS/2 Keyboard
2 x eSATA (JMicron JMB362)
2 x IEEE 1394
2 x RJ45
8 x USB 2.0/1.1
Fan Headers
1 CPU + 4 Additional Headers
Fan Control
CPU Fan speed Control Via BIOS&OS (temp/speed), additional fan headers have 3 step speed control only (via BIOS and OS software)
Package Contents
HDD Cable X1, SATA Cable X6, SATA Power Cable X2, ESATA Cable X1, I/O Panel X1, User Manuals, Driver DVD X1, SLI Bridge X3 & CF Bridge X1, USB Bracket X1, Voltag Check Cables X4.
BIOS Revisions Used
A7580IMS.110, A7580IMS.111 & A7580_T1.121
Warranty
3 year standard, (8 years if purchased during limited pre-order promotion)
MSI includes a full featured set of components like the Realtek ALC 889 HD audio codec on a dedicated plug in soundcard (which can only be used in the primary PCI-EX1 slot), dual Realtek PCI-E RTL8111D Gigabit LAN controllers, Via VT6315N 1394a chipset, powered JMB363 eSATA/USB ports on the I/O panel, and full support for the Core i7/i5 S1156 processor series.
MSI includes an extensive accessories bundle. You get the standard rear I/O panel cover along with 1 x IDE cable, 6 x SATA cables, 2 x SATA power cables, 3 x SLI and 1 x CF bridges, OC Dashboard, a USB bracket, an informative manual, quick installation guide, OC Genie guide, Winki Guide, and a software DVD.
Of note in the software package is Winki. This is a Linux-based operating system similar to ASUS' ExpressGate. Unlike ExpressGate, you boot Winki off the DVD or off a USB thumb drive once it is set up. Winki includes Open Office, Photo Viewer, Instant Messaging, Web, and Skype functionality without booting into your primary OS. A quick overview of the bundled Control Center overclocking software is available here. Earlier versions of this software had a tendency to misreport voltages which made it a minefield to use. MSI released an updated version last week that fixes 99% of these problems on the Trinergy and now appears safe to use.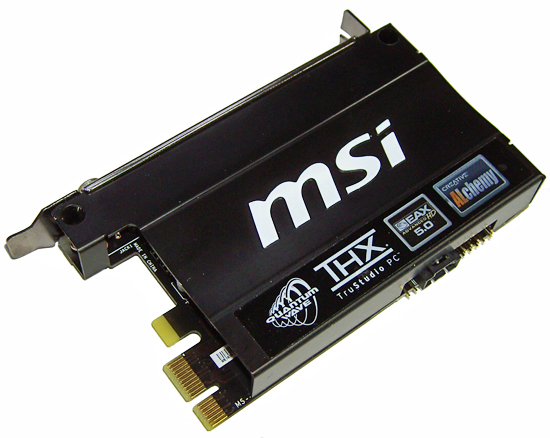 MSI have gone the route of making the Realtek ALC 889 based soundcard a plug-in module, which utilizes the first (dedicated) PCI-E x1 slot on the board. S/PDIF, Toslink optical, and six 3.5mm jack outputs are located on the rear of the card. Creative EAX 5.0, Creative Alchemy, and THX TruStudio PC software are included on the driver DVD (there is no Creative hardware on the soundcard). The soundcard will only work in the first PCI-E x1 slot, so is not a device that you'll be able to use on other motherboards in the future (unless supported by MSI). The primary PCI-E x1 slot does function as a normal slot, so is not limited solely to MSI's bundled soundcard. While we're on the subject of sound, we take this opportunity include a DPC Latency screenshot below for those of you interested in such matters.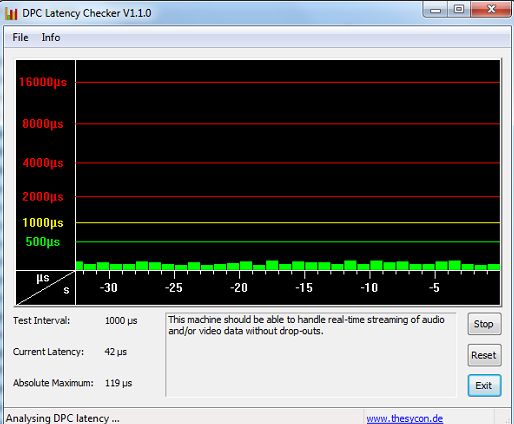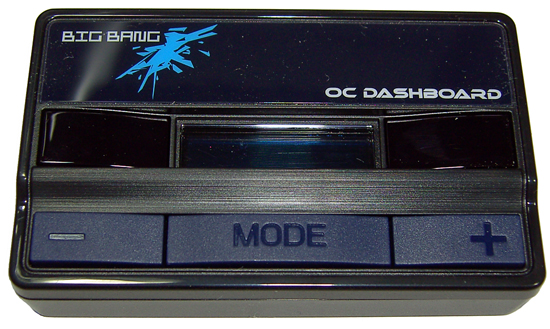 Finally, a handy little overclocking panel is included that allows on-the-fly adjustment of BCLK and voltages, as well as providing temperature and voltage monitoring options. The rear of this panel is magnetized allowing it to be attached to the front of suitable PC cases or benchmarking tables. The unit connects to the board via a dedicated port on the rear I/O panel and optionally USB for monitoring purposes (two 1.5m leads are included). No software is needed for connection or use of the device, although MSI does provide pop-up software that shows clocks speeds on the desktop when a change is made (USB connection required).
CPU Fan speed, CPU IHS temperature, CPU PWM temperature, and system temperature monitoring functions are available providing a small level of usefulness to desktop systems. We think the primary audience for this device is benchmarking fanatics who use subzero cooling to chase scores. We found OC Dashboard worked pretty well, although CPU VID was displayed as a positive offset from 0V upwards rather than the actual voltage (other rails reported values fine). It's probably wise to use a multimeter connected to the voltage rail you are adjusting while using OC Dashboard so you can see exactly what is going on.
BIOS
The BIOS layout is very good and offers a significant amount of settings for overclocking. MSI's Cell Menu is where all the action takes place with a wide variety of adjustments including the CPU Core, PLL, VTT, PCH, VDimm, and VRef voltages. Each of the settings is very granular and offers just about any range that a user could want or need. Clock and PCI-E skews are not available but generally are not needed in this range.
One extremely nice function that MSI includes is that frequency and timing changes are directly visible in the BIOS when values are being changed. Overclocking profiles can be saved, loaded, and individually named in one of the available six slots. One item missing from the board is some type of BIOS backup or redundancy system that we find on the ASUS, Gigabyte, and EVGA boards in this price range.
MSI's BIOS-level fan speed control options are an improvement over other P55 boards, but not perfect. Users can select a target CPU fan speed between 40 and 70°C while setting a minimum fan speed between 0% and 87.5% in 12.5% increments. The three system fan headers are only capable of speed changes with settings at 50, 75, or 100%. Unfortunately, they cannot be controlled by system temperature changes.