Snow Leopard: Bad for Battery Life

I've been very quiet on the Snow Leopard front, honestly in the condition it was released it was worth exactly what Apple was charging for it: $30. The bugs and incompatibilities weren't showstoppers, but they were annoying.

Since its release, Snow Leopard has improved tremendously. I'd say we're almost to the point where there's nothing I miss from Leopard. Is it worth the upgrade? Yeah, I'd say so, but do your research beforehand. There are still some incompatibilities that may make you want to wait before jumping. But if you don't use many 3rd party apps or non-Apple hardware, you'll be fine.
The title of this section says it all - Snow Leopard is worse for your Mac's battery life than Leopard. In the majority of cases it's not that big of a deal, take a few results from my 15-inch unibody MacBook Pro review and compare them to the same system under Snow Leopard:
| | | | |
| --- | --- | --- | --- |
| 15-inch MBP Battery Life | OS X 10.5.7 "Leopard" | OS X 10.6.1 "Snow Leopard" | % Drop |
| Light Web Browsing | 493 minutes | 444 minutes | 9.9% |
You're looking at nearly a 10% reduction in battery life, nothing to be proud of.
That's not the big issue however. The results on the previous page showed something troubling. The MacBook Pro is only able to deliver between 3.7 - 4.4 hours of battery life while browsing web pages with flash ads on them. Looking back at my 15-inch MBP results under Leopard, we see a problem:
| | | | |
| --- | --- | --- | --- |
| 15-inch MBP Battery Life | OS X 10.5.7 "Leopard" | OS X 10.6.1 "Snow Leopard" | % Drop |
| Flash Web Browsing | 403 minutes | 230 minutes | 42.9% |
I asked Apple on numerous occasions to help me understand what was going wrong, unfortunately I didn't get any response. I tried multiple things from my end. I updated the version of Flash, but that didn't help. It wasn't until I told our own Ryan Smith, one of the people instrumental in getting me to try a Mac years ago, that he gave me a brilliant suggestion: try 32-bit Safari.
Snow Leopard takes another step towards being a completely 64-bit OS, in many ways this step is the most disruptive. Many of SL's applications now ship with 64-bit binaries such as Finder, TextEdit and Safari. You can launch these 64-bit apps in 32-bit mode by selecting their .app icon and running Get Info (Command + I or File -> Get Info).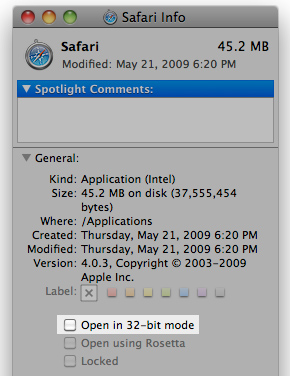 From there you can check the "Open in 32-bit mode" box. In my case, this gave me 32-bit Safari, which also gave me much better battery life in my heavy web browsing test:
| | | | |
| --- | --- | --- | --- |
| 13-inch MBP Battery Life | 64-bit Safari | 32-bit Safari | % Improvement |
| Flash Web Browsing | 222 minutes | 323 minutes | 45.5% |
My 3.7 hours of battery life that the 13-inch MacBook Pro gave me jumped up to 5.36 hours. That's an increase of over 45%.
I passed this data along to Apple but haven't gotten anything back from them. I'm guessing the silence on the matter means that it's a known issue and isn't something that's going to be addressed for a little while. Just to be sure, I spent most of last night running OS X 10.6.2 on three different systems to see if it fixed the problem. It didn't.
You'd think that with $1.67 billion in profit last quarter, Apple could afford to hire a couple of engineers to keep its OSes a bit more polished.