Incredible Battery Life Under OS X
Over the summer I stumbled onto something interesting: the new 15-inch MacBook Pro delivered an ungodly amount of battery life. By shrinking the battery, Apple was able to cram a 73Whr battery where they used to only have a 50Whr pack: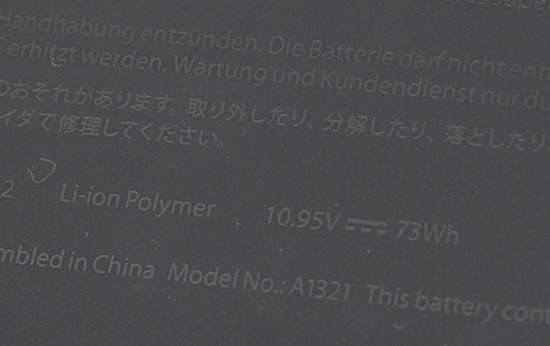 The rest of the lineup got a similarly sizeable upgrade in 2009:
| | | | |
| --- | --- | --- | --- |
| | New Lithium Polymer Battery (Integrated) | Old Lithium Ion Battery (Removable) | Increase in Capacity |
| MacBook Pro 13-inch | 58WHr | 45WHr | 29% |
| MacBook Pro 15-inch | 73WHr | 50WHr | 46% |
| MacBook Pro 17-inch | 95WHr | 68WHr | 40% |
I only tested the 15-inch over the summer, but recently I had the opportunity to try the entire lineup. I brewed up some new battery life test and put Apple's "up to 7 hours" claims to the test.
Light Web Browsing
Our first test is the one that yields the longest battery life: the light web browsing test. Here we're simply listening to MP3s in iTunes on repeat while browsing through a series of webpages with no flash on them. Each page forwards on to the next in the series after 20 seconds.
The display is kept at 50% brightness, all screen savers are disabled, but the hard drive is allowed to go to sleep if there's no disk activity. The wireless connection is enabled and connected to a local access point less than 20 feet away. This test represents the longest battery life you can achieve on the platform while doing minimal work. The results here are comparable to what you'd see typing a document in TextEdit or reading documents.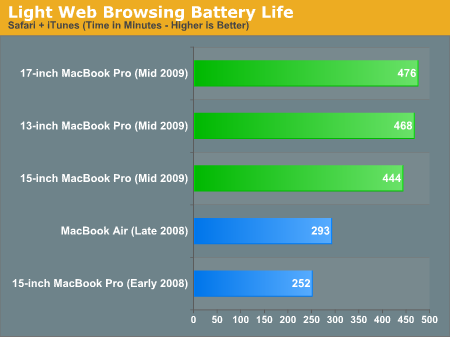 All of the new unibody MacBook Pros here get over 7 hours of battery life. This isn't idle folks, this is actual, real world battery life with real world settings. The worst was actually the 15-inch MacBook Pro at only 7.4 hours, while the 13-inch and 17-inch MacBook Pro got closer to 8 hours.
If you own a previous generation MacBook Pro (non-unibody) then the battery life is nearly double (a 76% increase). My personal 15-inch MacBook Pro is the first laptop I've owned where I was happy with both the performance and the battery life. It's what a notebook should be.
Flash Web Browsing
Our next test more closely simulates a very heavy web browsing scenario. The test here has three Safari windows open, each browsing a set of web pages with between 1 - 4 animated flash ads per page, at the same time. Each page forwards onto the next after about 20 seconds.
As always, the display is set to 50% brightness, audio at two bars, screensaver disabled and the hard drive is allowed to go to sleep if idle. The wireless connection is enabled and connected to a local access point less than 20 feet away.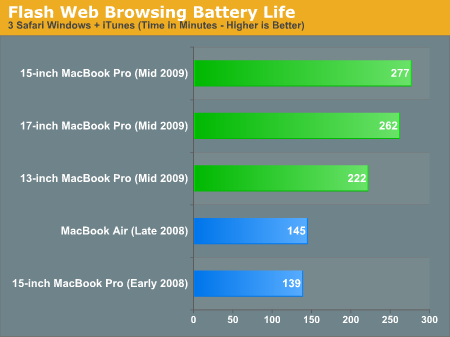 Battery life drops significantly. Our 7.4+ hours now drop down to 3.7 hours on the 13-inch MacBook Pro, 4.6 hours on the 15-inch and 4.4 hours on the 17-inch. That's still not bad but between these two numbers you get a reasonable idea of how long one of these systems will last while browsing the web. The smaller capacity battery on the 13-inch appears to be really holding it back here as the 15-inch manages nearly another hour of battery life.
Here we're actually doubling the battery life of the older 15-inch MacBook Pro from early 2008. It's interesting to note that Apple's lightest notebook, the MacBook Air, offers similar battery life to the MacBook Pro from almost two years ago.
XviD Video Playback
Watching movies on your laptop is very realistic usage model, but I wanted to spice it up a bit. The DVD playback test is so done, I wanted something a little more forward looking. I ripped The Dark Knight to XviD and played it back continuously in QuickTime X with Perian installed.
For this test the display was set to full brightess and audio was set at two bars below maximum. Once more the hard drive was allowed to go to sleep if it was idle. The AirPort (wireless LAN) was enabled and connected to a local access point less than 20 feet away.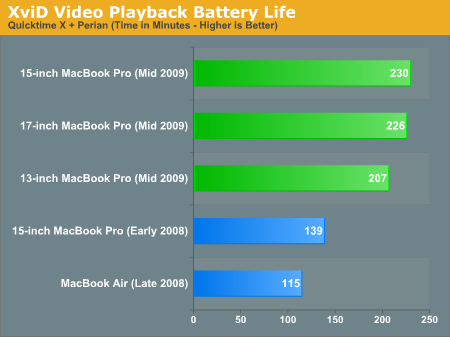 The 13-inch MacBook Pro comes in with the shortest battery life of 3.45 hours. The 15-inch is the winner at 3.83 hours, with the 17-inch close at 3.76 hours. All of the notebooks promise good enough battery life to get you through one long movie, but not quite enough for two back to back at full brightness. A couple of short ~100 minute movies is definitely doable though.
The older notebooks could only do a single long movie, the MacBook Air could barely finish one. Apple was very smart with its roadmap - when Intel could not provide significantly better performance, it delivered much better battery life to give users a reason to upgrade.
Multitasking Battery Life
Our final battery life test is the worst case scenario. In this test we have three open Safari windows, each browsing a set of web pages with between 1 - 4 flash ads per page, at the same time. We're also playing an XviD video in a window all while downloading files from a server at approximately 500KB/s.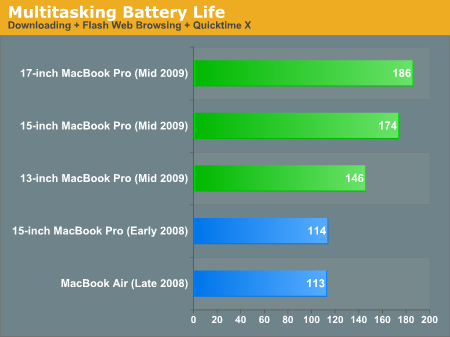 This test proved to bring our notebooks to their knees. The 13-inch MacBook Pro managed under 2.5 hours, while the 15-inch came close to 3 and the 17-inch actual broke it with 3.1 hours.
Between these four tests you can get a general idea of how long these notebooks will last. The 13-inch will last you between 2.5 and 7.4 hours, the 15-inch is more like 3 - 7.8, and the 17-inch is fairly similar at 3 - 7.9 hours. On average expecting four to five hours of battery life while doing real work isn't unrealistic.
Which, I should mention, is freaking awesome on these notebooks. It's also worth noting that these aren't just benchmarks, these are scenarios I've created and also vetted with my own experience with the 15-inch MacBook Pro. For a writer, any of these MacBook Pros are perfect, especially when traveling. The lack of a removable battery just isn't an issue.