Swap the Pro Out for Some Flavor
The 17-inch MacBook Pro is a workhorse. You get FireWire 800, an ExpressCard/34 slot and discrete graphics if you choose to use it. Apple figures someone who wants such a big machine will probably have some fast external storage to connect to it, some peripherals to slide in it, and some GPU intensive applications to run.


From left to right: 13-inch, 15-inch and 17-inch MacBook Pro
The 13-inch and 15-inch are much more consumer focused, despite their Pro branding. You lose the features mentioned above (although the 9600M is optional on the 15-inch), but gain a built in SD card reader. With most professional DSLRs using Compact Flash, the SD card reader seems to imply that Apple's entry level Pro users are shooting with point-and-shoot cameras instead.


13-inch MacBook Pro


15-inch MacBook Pro
Mini DisplayPort is still standard, and you still don't get any adapters in the box. The number of USB ports is cut down to two and processor speeds drop accordingly.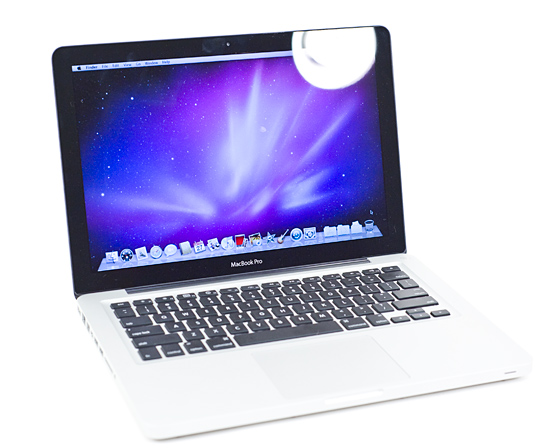 The 13-inch MacBook Pro. Compact but with a great keyboard.
The 13-inch MacBook Pro comes with a 2.26GHz Core 2 Duo by default. Still a 45nm chip, it only has 3MB of L2 cache to share between the cores. The base 13-inch model only comes with 2GB of memory, Apple's biggest fault, presumably to maintain profit margins even at the lowest end of the spectrum.
Moving to the $1499 version you can get the 2.53GHz Core 2 Duo, keeping the 3MB L2 cache. 4GB is also standard with the more expensive 13-inch model.
Hard drive speed remains at 5400RPM across all MacBook Pros, which is fine because if you really want speed you want an SSD anyway.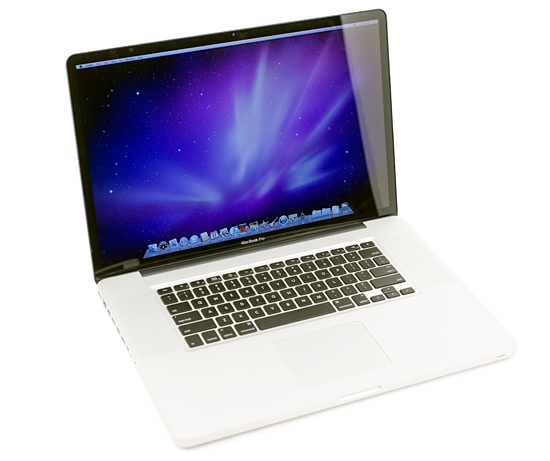 The 15-inch MacBook Pro. Same keyboard, more screen.
The 15-inch picks up where the 13-inch leaves off. You can get a 2.53GHz, 2.66GHz, 2.80GHz or 3.06GHz chip - the latter is only available in built-to-order configurations. It's the most flexible of all of the options, but its default configuration isn't bad at all. 4GB of RAM is standard on the 15-inch.
| | | | |
| --- | --- | --- | --- |
| Apple's 2009 Lineup | 13-inch MacBook Pro | 15-inch MacBook Pro | 17-inch MacBook Pro |
| CPU | Intel Core 2 Duo 2.26GHz | Intel Core 2 Duo 2.53GHz | Intel Core 2 Duo 2.8GHz |
| Memory | 2GB DDR3-1066 | 4GB DDR3-1066 | 4GB DDR3-1066 |
| HDD | 160GB 5400RPM | 250GB 5400RPM | 500GB 5400RPM |
| Video | NVIDIA GeForce 9400M (integrated) | NVIDIA GeForce 9400M (integrated) | NVIDIA GeForce 9400M (integrated) + NVIDIA GeForce 9600M 512MB (discrete) |
| Optical Drive | 8X Slot Load DL DVD +/-R | 8X Slot Load DL DVD +/-R | 8X Slot Load DL DVD +/-R |
| Screen Resolution | 1280 x 800 | 1440 x 900 | 1920 x 1200 |
| USB | 2 | 2 | 3 |
| SD Card Reader | Yes | Yes | No |
| FireWire 800 | 1 | 1 | 1 |
| ExpressCard/34 | No | No | Yes |
| Battery | 60Whr | 73Whr | 95Whr |
| Dimensions (W x D x H) | 12.78" x 8.94" x 0.95" | 14.35" x 9.82" x 0.95" | 15.47" x 10.51" x 0.98" |
| Weight | 4.5 lbs | 5.5 lbs | 6.6 lbs |
| Price | $1199 | $1699 | $2499 |