Max CPU BCLK and MHz
We used a 750 CPU for this part of the test, comparing maximum attainable BCLK using a 17x multiplier, maximum overall CPU clock validation using the same multiplier and finally the maximum Super Pi 1M pass frequency. The reason for using an i750, well, our two 870s did not survive due to the socket burn problem and before we torture our replacement processors we would like some assurances it will not happen again. As such, i750 results for the ASUS board are missing until we receive a replacement board.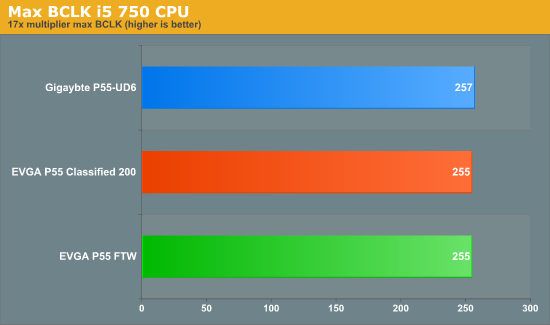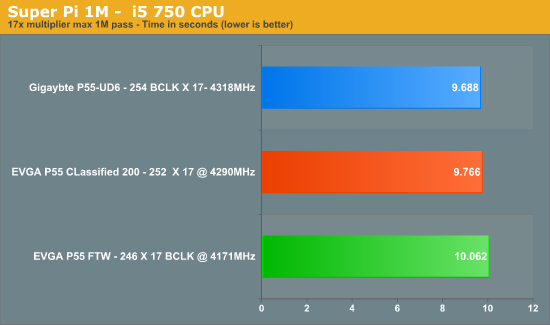 Note that using a lower CPU multiplier of 17X the Gigabyte board manages to beat the EVGA boards by 2 BCLK for outright CPU-Z validation and the EVGA P55 FTW by around 8 BCLK for Super PI 1M. At 21X however, that initial promise of higher 'validation stable' frequencies does not translate into higher overall overclocks even in light load benchmarks like Super Pi 1M.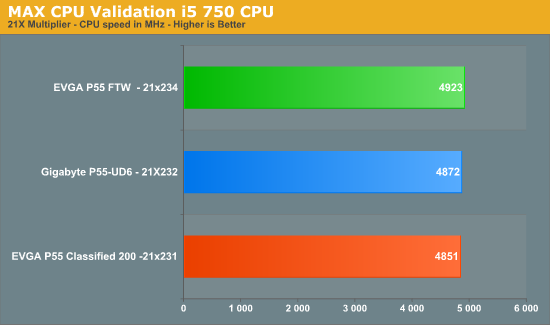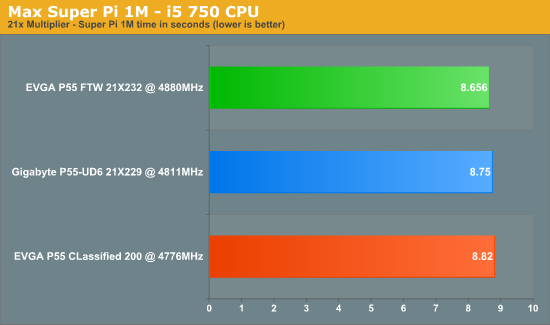 Although we managed to get a 1M to pass at 233x21 on the Gigabyte board, every time we tried to open CPU-Z to capture a screenshot, the system would crash. In the end we had to step down to 229X21 at 9-9-9-24 memory timings in order to get a screenshot with all relevant CPU tabs shown. This left us scratching our heads because at higher BCLKs using the lower CPU multipliers, the Gigabyte board showed better overall stability for validation and Super Pi 1M when pushed over 245 BCLK than the EVGA P55 FTW.
The EVGA E659 was a disappointment in this section of our testing too. Our maximum Super Pi 1M came in at 21X228 BCLK, while max validation stopped at 231 BCLK, trailing both the cheaper EVGA 657 and Gigabyte P55 UD6. This leaves the E659 as a board capable of lower stable memory speeds than the other boards in our testing with its one strength being 8-thread non-memory intensive system loads like WPrime 1024M.