Gigabyte GA-P55-UD6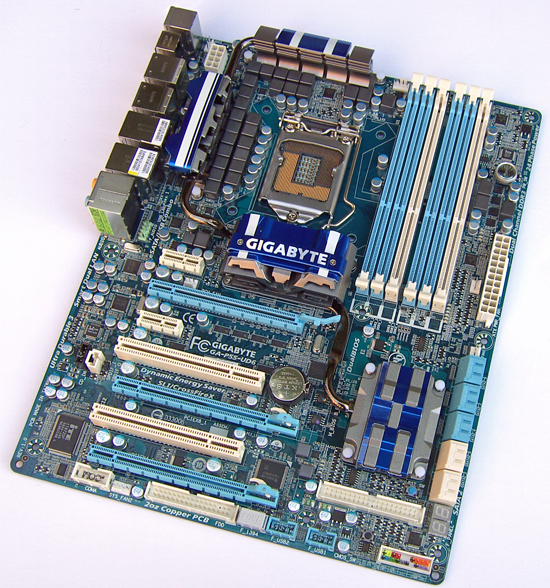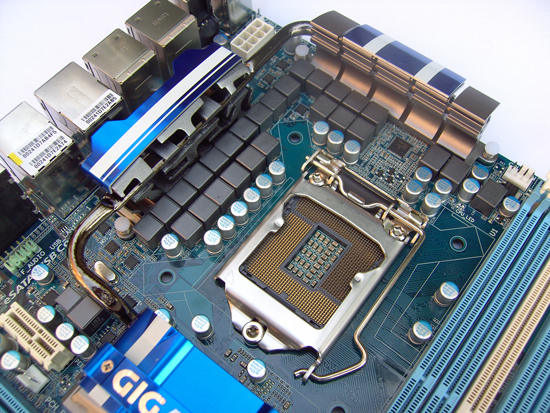 Gigabyte's top end offering comes in at $250 and touts their answer to competing boards as having '24-Phase' PWM circuit (using a multiplexed ISL6336 6 phase controller). Onboard cooling of the MOSFET area, Intel P55 PCH , and Gigabyte SATA chips is provided by a heatsink/heatpipe setup connecting all three areas together. The PCH portion of the heat sink is attached with screws while the PWM MOSFETs and Gigabyte SATA chip fittings are of push-pin type (screw fittings are our favorites).
A total of 6 fan headers are available (two of which are 4 pin). Our retail sample came with a Foxconn CPU socket, although Gigabyte is moving to LOTES sockets on their upper end boards after hearing of the problems some users have experienced with the early Foxconn sockets.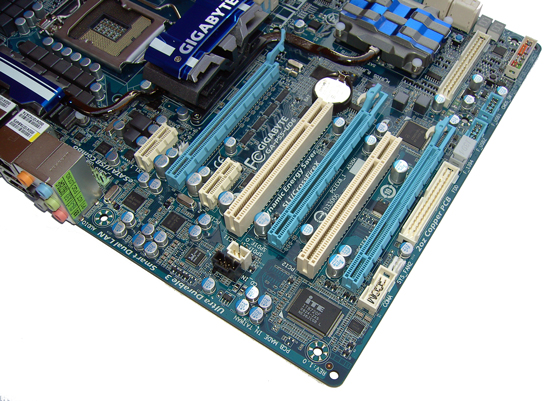 Expansion slot layout is identical to the ASUS Maximus III ROG, which is a good thing in our opinion. Starting at the top, we've got a PCI/eX1 slot, followed by PCI/e X16 and then another CPI/eX1 slot immediately beneath. Moving down, we get a PCI slot, the second PEG slot (running at 8X) followed by the second PCI slot and finally the last 16x mechanical PCI/e slot (running at 4x width). Slot layout is good, allowing for a variety of peripheral cards to be used in tandem. Underneath the last PCI/e slot at the lower edge of the board, we have 1XCOM port, 1XFDD, 1X1394 and 2 x USB headers.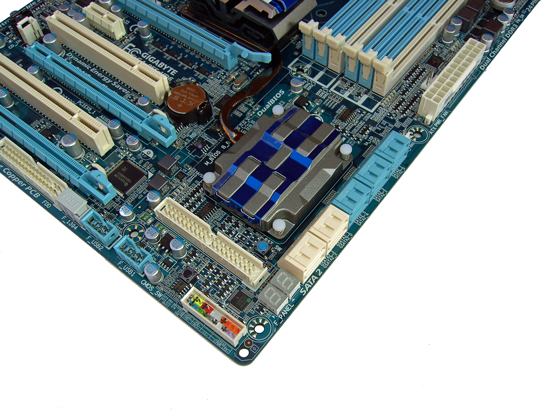 The lower right hand corner of the Gigabyte P55 UD6 is home to 10 right angled SATA ports (6 X Intel ICH10R and 4 Gigabyte SATA). A Hex post code reader is also included for debugging purposes. Just behind the Hex display, we've got CMOS clear and a reset switch for open test bed users. Finally an IDE port is provided for legacy drive users.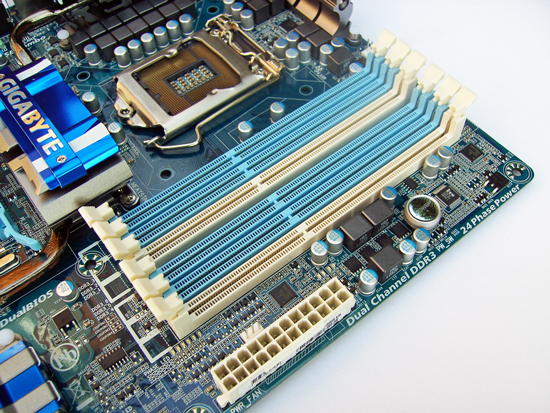 We're a tad bemused at the presence of 6 DIMM slots on a P55 motherboard when the processors are dual channel only when run without buffered DIMMS. Oddly enough, the extra slots are for running single sided modules in dual channel interleaved mode over 6 slots. We're not sure if this is a wise move at all because most users have moved over to double density 2GB modules which are priced attractively and capable of overclocking to high bandwidth due to advancements in memory IC design and memory controller design over previous platforms.
An onboard power button is placed very conveniently at the upper right edge of the board allowing for easy access in open test bed setups. Unfortunately, unlike the ASUS and EVGA boards, Gigabyte does not provide any voltage measurement pads for digital multimeters which can make the board a little tricky to get to grips with if you're benchmarking under LN2.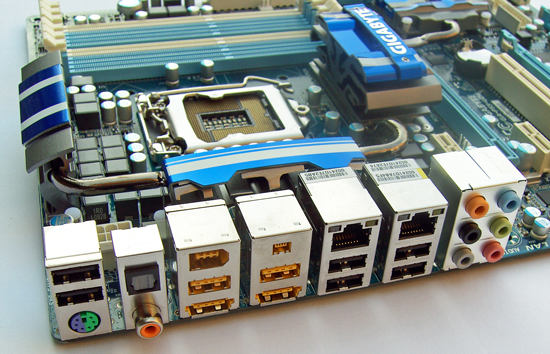 The rear panel is home to 1 x PS2, 8 x USB (2 SATA combo), 2 x1394, 1 x coaxial S/PDIF, 1 x TOSLINK optical, 2X RJ45 LAN ports and finally 6 audio output jacks. The presence of a rear CMOS clear switch would have been welcome for ease of access but is unfortunately missing. This leaves users with PC cases having to pull the side panel off their case if BIOS does not recover from a failed overclock.
Gigabyte's Easy Tune software is bundled with the motherboard, and allows for easy access to all primary voltage rails as well as bus speed manipulation and fan control options.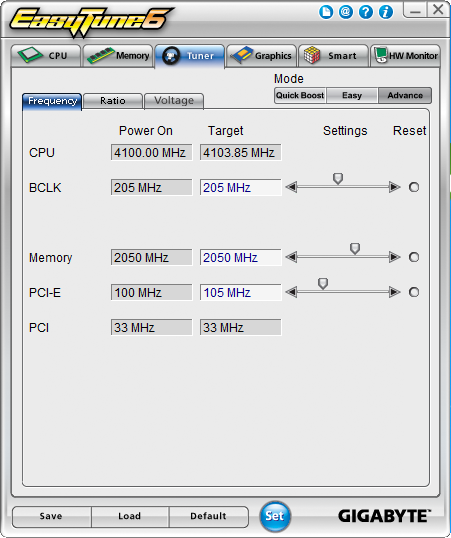 We found the Easy Tune software to be easy to use and to present a light enough system load to allow for unhindered overclocking. The only thing that would perhaps bolster Easy Tune would be the addition of hot keys with fast load profiles allowing for on the fly bus speed changes to maximize benchmark scoring potential. Other than that it's a well rounded and easy to use tool.