Crysis: Warhead
Kicking things off, we'll start with Crysis: Warhead. Warhead is still the single most demanding game in our arsenal, with cards continuing to struggle to put out a playable frame rate with everything turned up.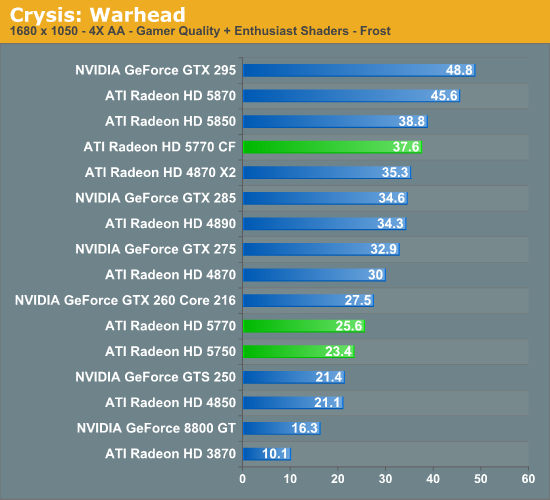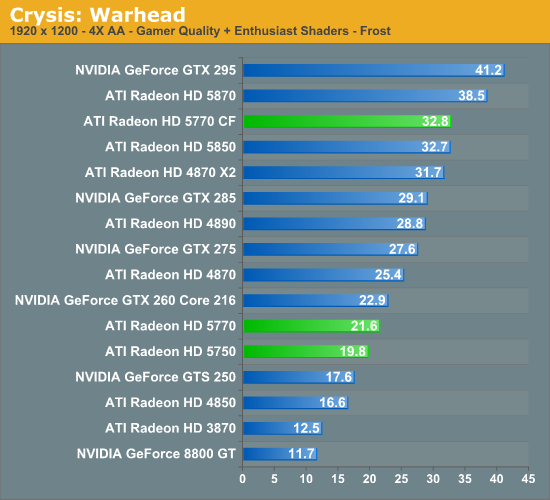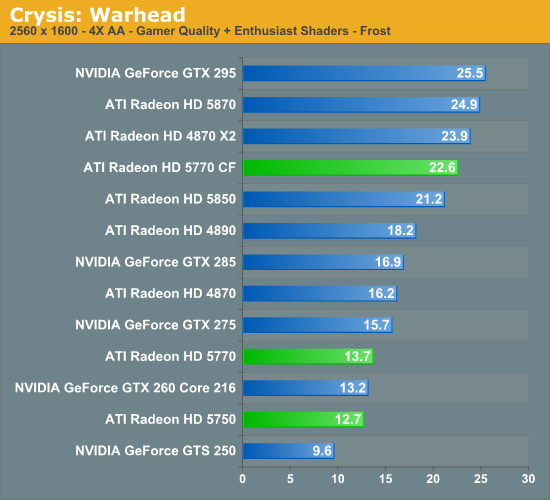 Update: As a few of you pointed out, there was something a bit off with our Crysis results; we had a Radeon 4850 beating the 5770. As it turns out we wrote down the maximum framerate for the 4850 instead of the average framerate. None of the other results were affected, and this has been corrected. Sorry, folks.
There are a few different situations we're going to be interested in. The first is the matchup between the 5770, the 4870, and the GTX 260. The second is the matchup between the 5750, the 4850, and the GTS 250. The third is the 5770 as compared to the 5800 series, in order to see what another $100 or $200 is buying you in the Evergreen family.
Unfortunate for the 5770, this is not a game that treats it well. In spite of the clock speed advantage over the 4870, and the architectural advantages (extra caches and what-not), it underperforms the 4870 by about 15% here. AMD had once told us that they believed that they weren't memory bandwidth constrained on the 4870/4890, but when that's the only significant difference between the 5770 and the 4870 that would explain the performance difference (certainly Juniper wouldn't be slower than RV770), we are beginning to doubt that. Meanwhile the GTX 260 outscores the 5770 here too.
Looking at the 5770 compared to the 5850, $100 buys you roughly 50% more performance.
The 5750 fares much better here. It beats the 4850 by 10%-20%, and beats the GTS 250 by a similar margin.