P55 Chipset Overview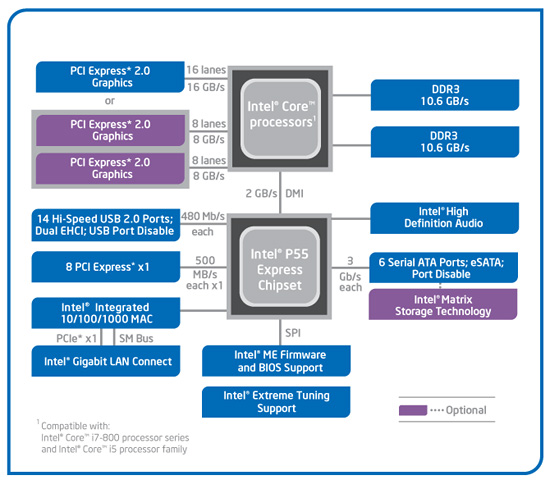 We have just one chipset now as typical Northbridge functions are moved onto the Lynnfield processor. Just like its Bloomfield-based Core i7 big brother, Lynnfield based CPUs have integrated memory controllers. The DDR3 memory channels are dual channel unlike the triple channel setup on Bloomfield. Lynnfield currently supports 16GB of memory, solidly placing it in the midrange category. However, official memory speeds now reach 1333MHz instead of 1066MHz on Bloomfield. The biggest difference between the two processer families is that Lynnfield stuffs 16 lanes of PCI Express 2.0 connectivity into the processor, thus alleviating the need for a Northbridge.
Those 16 PCIe 2.0 lanes can be configured as a single x16 link or split between a pair of x8s for multi-GPU configurations with a set of PCIe switches. CrossFireX support is a given but SLI support depends upon the motherboard manufacturer providing the right amount of funds to Nvidia for certification. For those unwilling to just accept 16 PCIe 2.0 lanes, EVGA already has a P55 board featuring the nForce 200 bridge chip with full support for three-way SLI.
What was known as the Integrated Controller Hub (ICH) on previous chipsets (such as the ICH10R) is now referred to as the P55 Express Platform Controller Hub, or PCH. The chip is based on 65-nm process technology. As such, it is a lot smaller than the ICH10 series with a total die area of around 76.5 mm².
| | | | |
| --- | --- | --- | --- |
| | AMD SB750 | Intel ICH10R | Intel P55 |
| Additional PCI Express | None | 6 x1 PCIe 1.1 | 8 x 1 PCIe 2.0 |
| USB | 12 ports | 12 ports | 14 ports |
| SATA (300MB/s) | 6 ports | 6 ports | 6 ports |
| PATA | 2 channels | None | None |
| RAID* | RAID 0/1/5/10 | RAID 0/1/5/10 | RAID 0/1/5/10 |
| HD Audio Interface | Yes | Yes | Yes |
| Ethernet | Not Integrated | Intel Gigabit LAN | Intel Gigabit LAN |
| Northbridge Interface | 4 lane PCIe 1.1 | DMI 1Gb/s each direction, full duplex | DMI 1Gb/s each direction, full duplex |
The P55 Express PCH provides six 3 Gb/s SATA ports, 14 USB 2.0 ports, a Gigabit Ethernet MAC , HD Audio interface, and eight lanes of PCI Express 2.0 goodness all for about $40. That price tag buys you two additional USB ports and two additional PCIe lanes over the $3 ICH10R. One other change worth mentioning is that the Gigbit Ethernet MAC will use one of those PCIe lanes if enabled.
The PCI Express lanes are version 2.0 but Intel decided to limit their speed to PCIe 1.x specs at 2.5GT/s. Why? We believe with the DMI link continuing to operate at 1GB/s in each direction, a decent 6Gb/s SAS/SATA RAID card and a few upcoming 6Gb/s drives could easily saturate the link. The P55 Express PCH consumes a little over 4.5W during normal operation. Considering the specifications on AMD's upcoming SB8xxx chipsets, it appears we have a PCH Gap brewing.