Mini-ITX is the new Micro-ATX, and Micro-ATX is the new ATX. At least that's where we see the trends going in the next few years. With the heavy amount of integration that Intel is working on, motherboard real estate just isn't as important as it used to be.
While we won't be able to buy an LGA-1156 mini-ITX motherboard until early 2010, there are good micro-ATX options for Lynnfield owners today with more coming.
The price points are nice and you don't give up any features to go with a micro-ATX P55 motherboard. Gigabyte's GA-P55M-UD2 is selling for $110 and ASRock's P55M Pro lists for $99. We will take a look at the performance oriented Gigabyte GA-P55M-UD4 and ASUS Maximus III GENE motherboards shortly. While both those boards are targeted to gamers/overclockers with dual x16 PCIe slots (x8 dual in CF/SLI) along with additional features, better performance is not necessarily a given unless you are running multi-GPU or high-end cooling options.
You also don't give up much in the way of features with either of these boards. Both offer a single PCIe x16 slot for graphics support along with an x4 PCIe 2.0 slot. ASRock gives you a single PCIe x1 and a 32-bit PCI slot, while Gigabyte insists on a pair of 32-bit PCI slots. Both boards also feature IEEE 1394a, eSATA, Gigabit LAN, 8-channel audio, and a penchant for overclocking. The Gigabyte UD2 board ups the stakes with two additional 3Gbps SATA ports and a BIOS that just about any enthusiast will love in an entry-level board.
Performance is indistinguishable from other P55 motherboards - these things all perform about the same at stock speeds: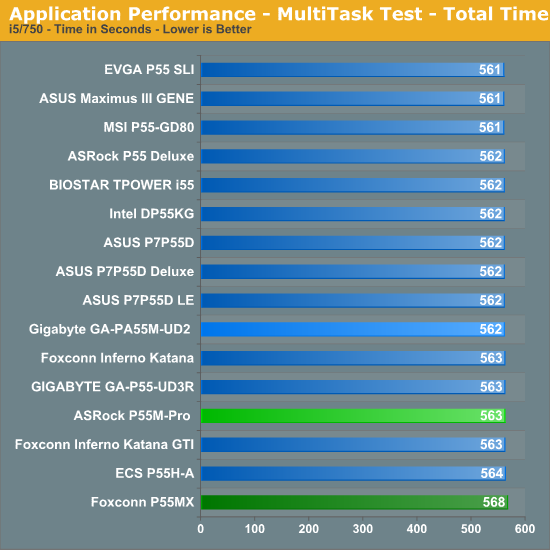 Networking and storage performance are about equal between the two boards as well: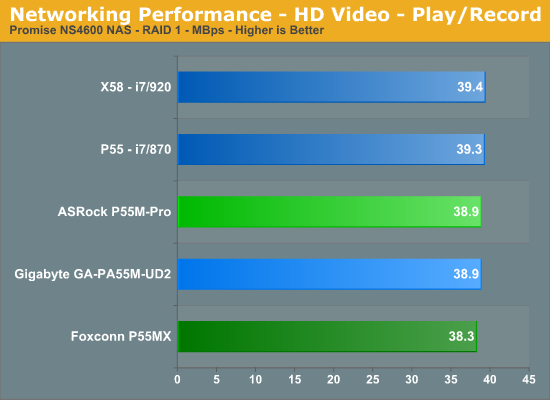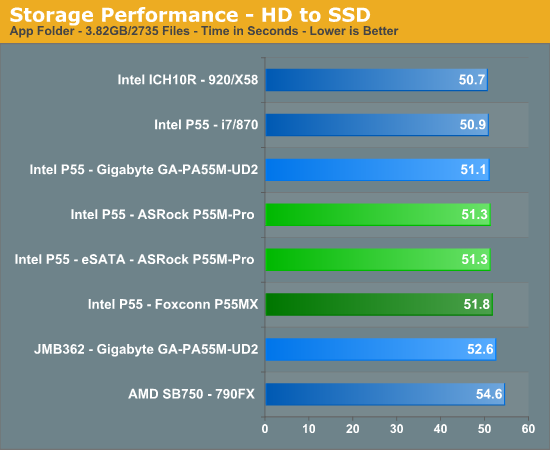 The biggest difference between the boards, from a stock performance standpoint, actually surfaces in power consumption: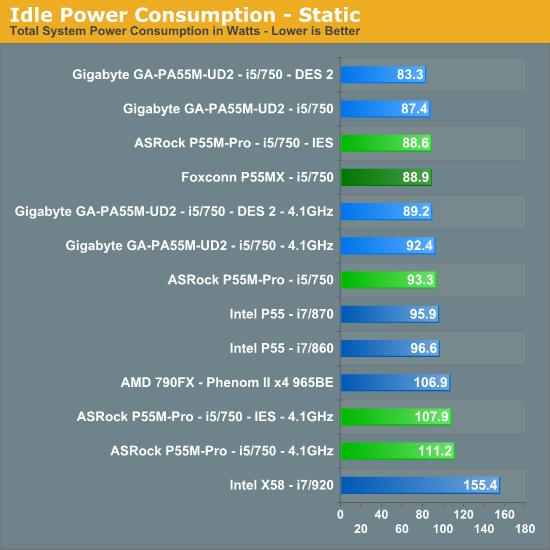 About the only real performance difference between these two motherboards is in overclocking.
Core i7/860 8GB Results -
Gigabyte GA-P55M-UD2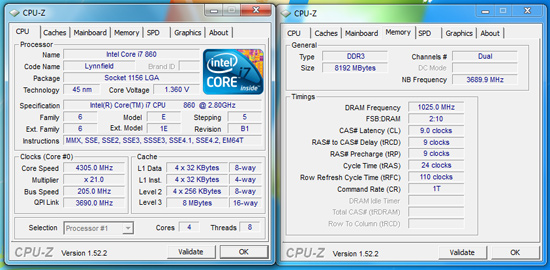 ASRock P55M Pro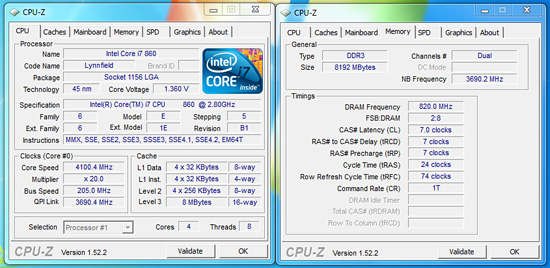 If you're going to buy just one, we'd recommend the Gigabyte GA-P55M-UD2, especially if top flight overclocking is important to you. If you are not concerned solely with overclocking, then the ASRock P55M Pro is a great choice, especially if you are on a strict budget and it comes with our full recommendation. If you want more details on both boards, continue on.