Good morning and welcome to Fall 2009 IDF week! As usual, Intel has a ton of stuff to discuss at the Intel Developers' Forum (IDF). Most of the truly exciting stuff shows up first on the desktop - things like Larrabee and Sandy Bridge. Those of us who dwell more in the mobile market tend to get leftovers, but sometimes things taste better after they've had some time to age properly.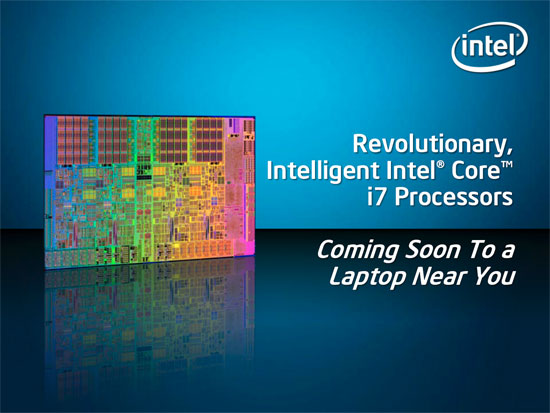 Not quite one year since the official launch of Nehalem for desktops and servers, Core i7 is officially making its way to notebooks. The processor is called Clarksfield, but it's essentially a mobile variant of Lynnfield. If you haven't read anything about Lynnfield, you might want to start with our thorough look at the desktop CPUs. Of course, there are some differences between Clarksfield and Lynnfield. Lynnfield processors use LGA-1156 for example, while the mobile Clarksfield uses a smaller 989-pin socket. Clarksfield also comes with new model numbers, naturally.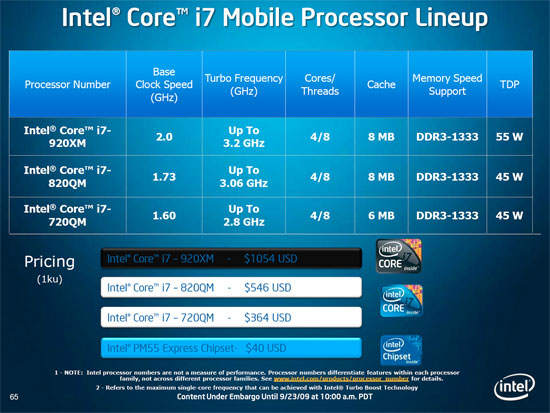 Initially, Clarksfield is launching in three variants: i7-920XM, i7-820QM, and i7-720QM. The i7-920XM is an Extreme Edition processor, designed to replace the Core 2 Extreme QX9300. Like all Extreme processors, the i7-920XM carries a price tag of around $1000. If you want the latest and greatest, it's going to cost you. The i7-820QM drops performance slightly and cuts the price in half, with the i7-720QM as the "affordable" alternative. Unlike Lynnfield, all of the current Clarksfield parts have Hyper-Threading enabled. The Turbo modes are also aggressive on all of the models, but multi-core performance will definitely favor the i7-920XM.
| | | | |
| --- | --- | --- | --- |
| Codename | Market | Cores | Manufacturing Process |
| Bloomfield | Desktop | 4 | 45nm |
| Lynnfield | Desktop | 4 | 45nm |
| Clarkdale | Desktop | 2 | 32nm |
| Clarksfield | Mobile | 4 | 45nm |
| Arrandale | Mobile | 2 | 32nm |
One of the interesting presentation points from Intel concerns the question of why Clarksfield is important - after all, don't most people just use a desktop anyway? Intel provided the following slide: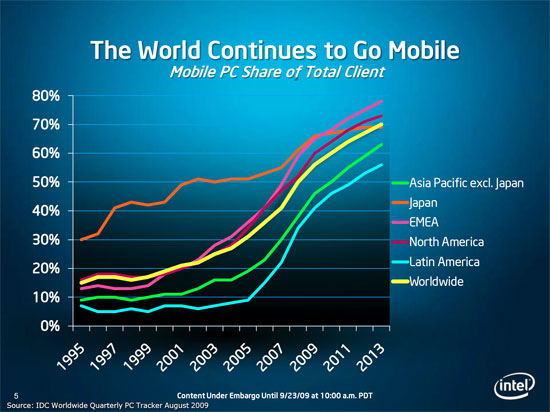 There will always be a case for using desktops (and servers, workstations, etc.), but there's a growing trend in the world to move towards laptops. The gap between desktops and laptops has always been rather large, and honestly it still is. The fastest laptops currently available are about equal to what you could get on the desktop at least two years ago, give or take. Getting mobile i7 CPUs at least narrows the gap somewhat. Comparing Clarksfield and Lynnfield, maximum base clock speeds favor desktops by just under 50% while Turbo speeds for a single core bring Clarksfield within 13% of Lynnfield. While that's nice, it doesn't change the fact that desktop GPUs are still a couple generations ahead of the mobile parts.
Anyway, we are here to talk about Clarksfield today. This is a first look as we are still performing additional tests - yes, we have a Clarksfield notebook - but we will follow up with a complete review of the highest performing notebook solutions. For now, let's quickly go over the Clarksfield basics, look at some of the material from Intel, and compare performance in a few benchmarks.