Clarksfield Platform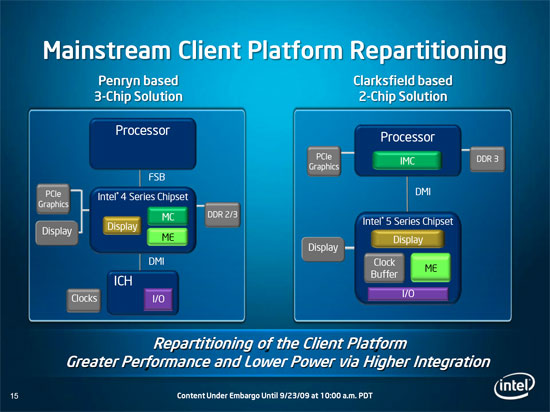 As mentioned, Clarksfield bears a striking resemblance to Lynnfield. The core architecture is the same, and the chipset is essentially the same as well - it's just a mobile version of the P55 chipset, the PM55. The processor has an integrated memory controller and PCI-E x16 connection, while the PM55 chipset handles the rest.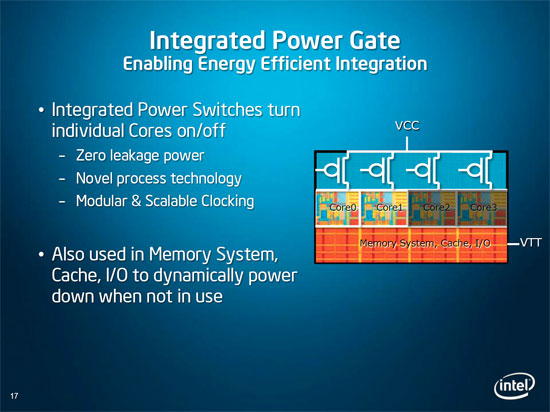 One of the major benefits of Nehalem on the desktop is that it is extremely efficient when you're not taxing the CPU. This comes courtesy of Intel's Power Gate transistors, and as you would expect it's going to prove extremely useful on laptops. Now we can finally get high-performance laptop CPUs that don't kill battery life. If you are only doing minor document editing, your quad-core processor can just shut down three of the cores to conserve power.
We have noticed in testing that current quad-core CPUs require noticeably more power than dual-core parts, resulting in relatively poor battery life on any quad-core notebook. Clarksfield should help to address that issue, although the CPU can still consume quite a bit of power under full load. That's going to make things a little difficult, since we now have a CPU that can use very little power when idle but it can suck down as much - or more - power than a Core 2 Quad QX9300 at full throttle. That means Clarksfield is going to be destined more for desktop replacements as opposed to thin and light laptops; we'll need the dual-core Arrandale (the mobile equivalent of Clarkdale) before we see 35 W and 25 W mobile parts. (What we really want to see is Power Gate transistors used on GPUs…. Ed: Something that will be coming in the next couple of years)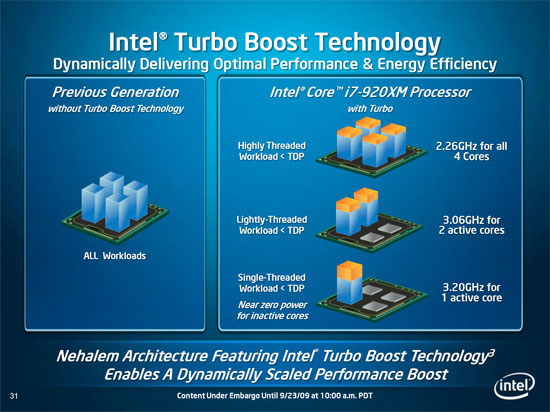 One of the major innovations with Lynnfield is the aggressive Turbo modes, which allow you to get a quad-core processor that also works as an extremely fast dual-core or single-core CPU. The desktop i7-870 offers relatively impressive Turbo modes, allowing the CPU to scale from 2.93 GHz up to 3.6 GHz depending on what sort of load it's currently running. Put another way, the i7-870 can run at up to five bins above its rated clock speed. The mobile i7-920XM has a much lower base clock speed of just 2.0 GHz, but it has even more aggressive Turbo modes, allowing a single-core to scale up to 3.2 GHz - a boost of nine bins! The maximum dual-core boost is also much higher than on Lynnfield, allowing the i7-920XM to run at eight bins above stock with two active cores. Only with three or four active cores are the Turbo modes limited to a two-bin increase.