SYSMark 2007 Performance
Our journey starts with SYSMark 2007, the only all-encompassing performance suite in our review today. The idea here is simple: one benchmark to indicate the overall performance of your machine.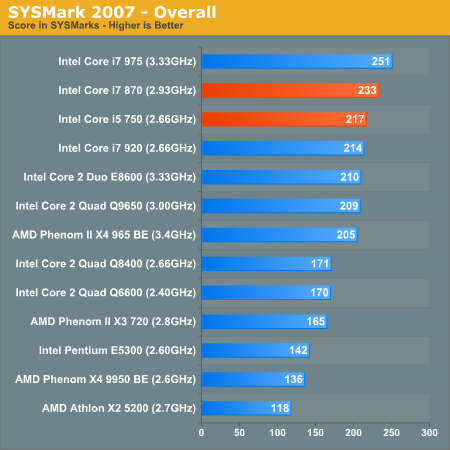 I already spoiled the surprise and gave out the SYSMark data earlier, but this should put things in perspective. See how the Core i7 870 and Core i5 750 fit nicely in between the Core i7 920 and 975? Yeah, that's because pretty much anything below the 975 doesn't make sense anymore thanks to Lynnfield.
Guess what else doesn't make sense anymore? AMD's pricing on the Phenom II X4 965 BE. The 965 BE is priced at $245 while the i5 750 is a $196 processor. The 750 is about 6% faster here. AMD will need to adjust its prices downward after this.
The standings move around a bit in the individual SYSMark tests, but the bottom line remains: the Core i5 750, despite lacking Hyper Threading, is worthy.