Sequential Read/Write Speed
Finally, to the roundup. We'll start with the traditional tests. Using the latest build of Iometer I ran a 3 minute long 2MB sequential write test over the entire span of the drive. The results reported are in average MB/s over the entire test length: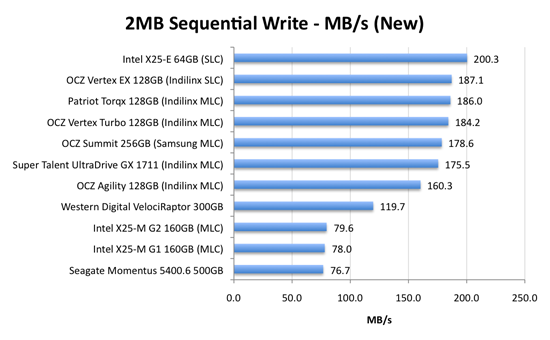 Sequential write speed was what all SSD makers focused on in the early days of consumer drives. The JMicron lesson taught us that there's much more to system performance than sequential write performance, and most have learned. Regardless, sequential write speed is still very important and as we can see here the majority of drives do very, very well. The high end Indilinx drives approach 190MB/s, while Intel's SLC X25-E actually breaks 200MB/s.
The same can't be said for Intel's mainstream MLC drives, both of which are limited to 80MB/s. While it doesn't make the drives feel slow in real world usage, it is a significant blemish on an otherwise (as you'll soon see) flawless track record.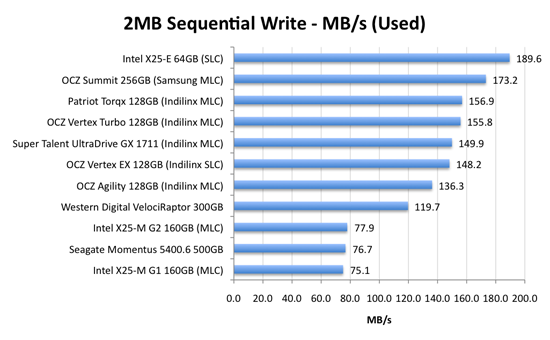 The standings don't really change with the drive in a used state. The Indilinx drives all fall around 15%, while the Intel drives stay the same.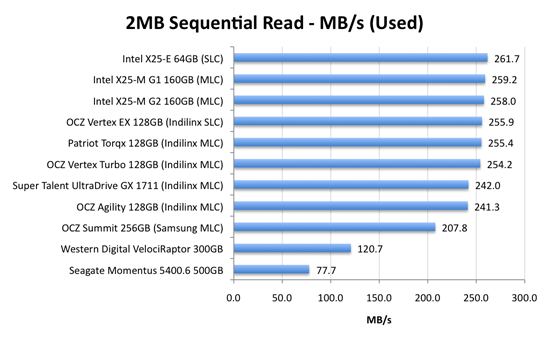 Ha! Read speed is ridiculous on these drives. See the wall at around 260MB/s? We're hitting the limit of what's possible over 3Gbps SATA. Expect read speeds to go up once we start seeing SATA 6Gbps drives and controllers to support them.