The Temperature and Noise Showdown
Under load (playing Quantum of Solace, full screen) the temperatures between the systems varied by a large margin. As expected, the Zotac board with a fan was the coolest. The ASRock in its silent mode ran the hottest and the ASUS with its noisy fan was a bit warmer than the Zotac.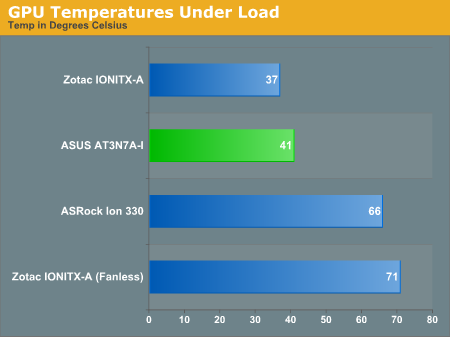 The Zotac fan is optional although removing it sent temperatures up above 70C. While the system never crashed or dropped frames without a fan directly on the heatsink, I would recommend having a case fan moving air over the heatsink to preserve the system's lifespan.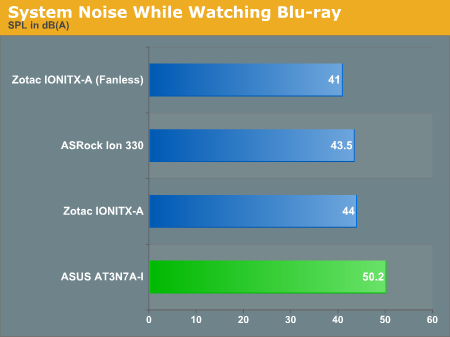 I measured sound 7" above the motherboards. Without any fan, ambient noise in the room gave us a floor of 41 dBA. The quietest solution was the ASRock at 43.5 dB, followed by the Zotac at 44 dB and finally the ASUS at just over 50 dB. While the ASRock system was technically quieter than the Zotac, the noise it did emit was more noticeable. The rear case fan in the ASRock Ion had a repeating drone to it, whereas the Zotac fan just sounded like it was moving air. Honestly, I'd say Zotac wins it here.