Gigabyte invited us to their P55/Lynnfield press event in Los Angeles. I hadn't been to LA since 2005. Gigabyte's invitation provided me with an opportunity to rectify that.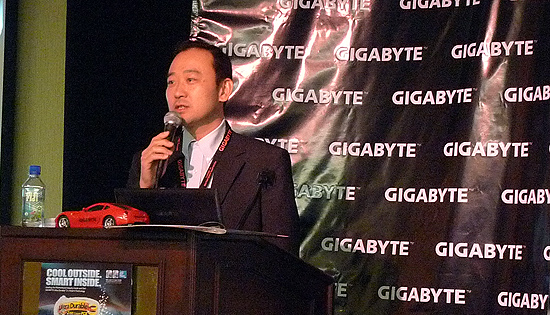 We find ourselves in an interesting situation with Lynnfield. Processors have been trickling out but motherboards aren't available in North America. We know what the model numbers are, what the price points are and even what the processor boxes look like.
For most of the past month we've been doing pictorial previews of the P55 motherboards that will be supporting Lynnfield. This is going to be a strong launch with wide availability.
We previewed Lynnfield's performance a couple months ago, but what will be shipping in September will be faster than that thanks to a very potent set of turbo modes. We'll provide final performance next month.
Lynnfield, as we all know, is a dual-channel platform. While Gigabyte's high end P55 motherboard (the GA-P55-UD6) will have six DIMM slots, most P55 boards will have four slots. This means that the triple-channel kits we saw for the Bloomfield Core i7 parts will be replaced augmented by dual-channel Lynnfield kits.
The same voltage sensitivities apply. While pre-i7 DDR3 memory kits operated well above 1.65V, with Lynnfield the max safe voltage is 1.65V. Stock JEDEC spec DDR3 memory kits will run at 1.5V, while the lower latency/higher bandwidth DDR3-1600, 1800 and 2133 kits will run at 1.65V.
Kingston outlined its entire Lynnfield lineup for us, including a new part number decoder to make identifying kits easier: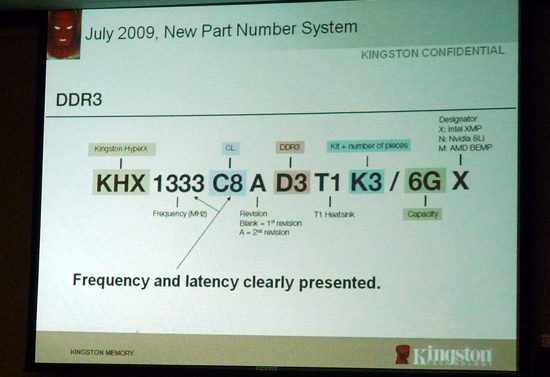 The P55 Motherboards
The most expensive P55 motherboard I've heard of will retail for around $349, while the cheapest will be just under $100 (micro-ATX). It looks like you'll have some good options around $139 - $149. This time around a few manufacturers are taking micro-ATX seriously. MSI's X58M proved that you can easily fit a high end motherboard into a micro-ATX form factor, so we may see more of that going forward as there's an increased focus on making desktops sexy.
We've done a lot of previews on P55 already so I'm just going to link to what we've already done here:
Out of those that we've previewed I'm most excited about the Gigabyte P55M-UD4. While I think Gigabyte needs to change its model numbering system, the idea of a fully functional micro-ATX Lynnfield board is quite delicious.