Test Setup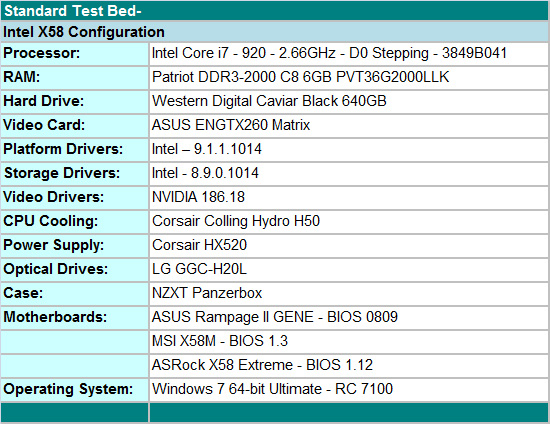 We selected the ASUS ENGTX260 video card for GPU duties. It is a non-reference design that offers improved thermals and acoustics over the standard NVIDIA GTX260 216 designs. The WD Caviar Black 640GB is our hard drive of choice for storage purposes. LG's GGC-H20L Blu-ray playback capable drive fills in for optical duties. We utilized Patriot's DDR3-2000 C8 6GB kit for memory duties. We use 6GB in our standard benchmarks with memory set at DDR3-1600 with 7-8-7-20 1T timings at 1.6V.
We chose the new Corsair Hydro Series H50 CPU cooler for thermal duties and it worked very well in our NZXT Panzerbox. Our standard power supply is the excellent Corsair HX520 and considering our standard test bed is limited to a single video card, this power supply is perfectly suited for us. Finally, we have dropped Vista 64 and moved to Windows7 64-bit RC for our testing today, it just works better.
Overclocking
ASRock considers the X58 Extreme an entry level X58 motherboard with the capability to overclock in a similar fashion to boards costing up to $80 more. They are correct for the most part. There are definitely boards that will hit higher Bclk rates and offer better memory clocking, but we are concentrating on mainstream overclocking abilities in our tests. We focus on the type of overclocks that support 24/7 operation with reasonable cooling alternatives and the ability to run a multitude of programs without a problem. We are not optimizing for Super Pi or 3DMark records.
We put an emphasis on stability during our testing sessions so we test with real world applications ranging from a variety of games to digital imaging software to various audio/video creation programs, along with the typical OCCT and PCMark Vantage tests.
i7 920 D0 6GB Results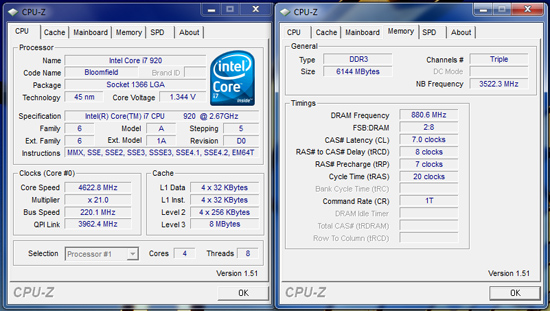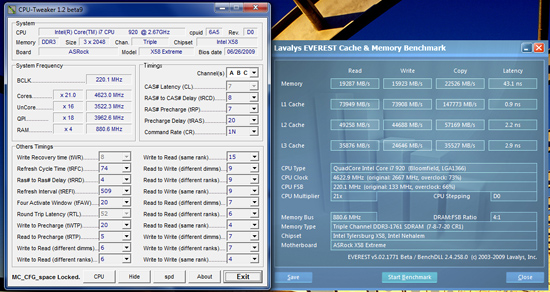 Our maximum 24/7 overclock using our cooler selection with the i7 920 D0 resulted in a 4.62GHz clock speed at a respectable 220 Bclk. The 6GB Patriot memory kit is set to DDR3-1760 at 7-8-7-20 1T timings. The primary voltage settings were 1.38V Core VID, 1.41V VTT, 1.85V PLL, 1.65V VDimm, and PCIe at 105MHz. We tried to enable basic power management options (SpeedStep/CState) so idle Core VID voltages could be reduced to the 1.18V range, but we just could not do it and maintain stability at this setting compared to other boards we have tested.
Dropping down to a much easier 24/7 friendly 21x200 (4.2GHz) setting allowed us to run all power management features without a problem at lower voltages. In fact, 21x210 (4.4GHz) was fine also although we had to run the same CPU voltage offset as we did at 4.6GHz. Core Vdroop was approximately -.04V with the Vdroop setting disabled and is our recommended setting. Maximum Bclk that we have reached on the board with standard cooling is 230 (19x230, 4.33GHz) straight from the BIOS, however, memory settings had to be relaxed to 9-9-9-24 at DDR3-1840 for stability. ASRock is continuing to fine tune memory performance on this board, even though the CAS difference does not adversely affect application performance, just the synthetic benchmarks.
i7 920 D0 High Clock Low Volt Results
While overclocking is an important and fun measurement of a board's capability, we also realize that undervolting can be just as important to others. As such, we devised a quick multitasking test that allows us to push our systems with real world applications that stress the GPU, CPU, Memory, and Storage subsystems. We load up Sony Vegas Pro 9.0 64-bit and set it to transcode a 1080P video while running our FarCry 2 loop benchmark at 1680x1050 2xAA DX10 High Quality in window mode. Average CPU usage is 98% throughout this process with HT enabled.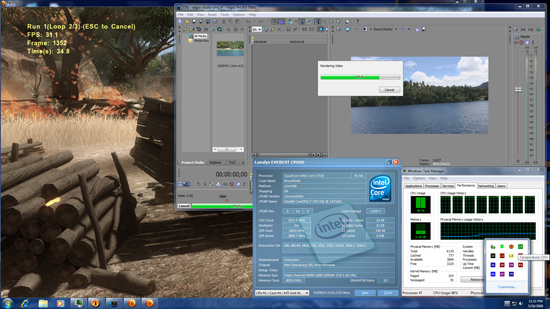 The ASRock X58 Extreme passed our full test suite at 21x160 for a final 3.37GHz core speed. We enabled the BIOS with full power management options and Core Vid at 1.15V (with offset) resulting in an idle voltage of 0.880V and full load voltage at 1.016V. VTT was set to 1.2V and VDimm at 1.60V with memory timings at 7-8-7-20 1T for DDR3-1600 speeds.
DPC Latency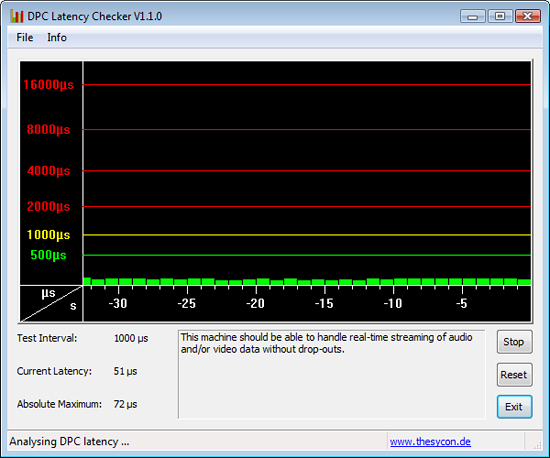 We receive numerous requests for DPC latency results on each board we test. The ASRock X58 Extreme passed with flying colors using our stock settings at 21x133, but with 12GB of memory at DDR3-1600 with 8-8-8-24 1T timings.