Exploring Core Overclocking
Adjusting core clock speed has a much higher impact on performance than only adjusting memory speed. At stock clock speeds the 4890 is much more compute bound than memory bound, and this is where the difference comes in. While the 900MHz core clock variant will not offer huge performance gains over the stock card, the performance gains will be fairly proportional to the clock speed increase.
Despite the fact that a 50MHz bump only offers a maximum potential average performance improvement of about 6%, we often see realized performance gains of between 3% and 5% on 900MHz core clocked 4890 hardware. This is certainly a much better return than we saw even with a 23%+ memory overclock. Even so, 5% real world performance isn't the holy grail. So we decided to test multiple core clock frequencies ranging from 850MHz to 1000MHz in 50MHz increments. For these tests, we fixed memory clock speed at 975MHz.
Let's jump right in and talk about 1000MHz. Here's a look at what we get from this boost in clock speed.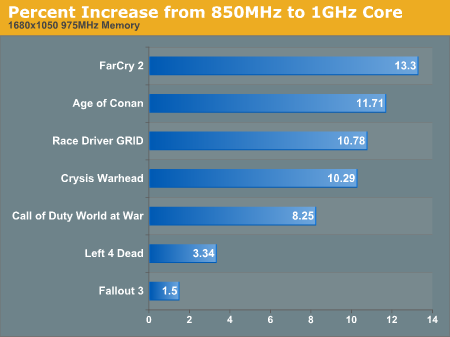 1680x1050
1920x1200
2560x1600
In non-CPU limited situations, the approximately 10% to 13% performance improvement out of a potential 17.6% improvement is nothing to sneeze at. Here's the break down of percent increase in performance at the different clock speeds we tested across three resolutions in all the games we tested.
At each speed bump we a pretty good proportional performance improvement. We are closer to the theoretical max at the more modest clock speed increases than at the high end though. This could potentially mean that our core clock speed increases are creating memory bottlenecks. It is clear that even without any potential boost from an accompanying memory overclock, the 4890 is potentially capable of some impressive clock speeds and performance. Despite the fact that we want to be thorough, we can't test all of these core clock speeds with multiple different memory clock speeds, as the testing would quickly balloon. So we compromised a bit, but the results on the next page speak for themselves.
We absolutely must caution our readers once again that these are not off-the-shelf retail parts. These are parts sent directly to us from manufacturers and could very likely have a higher overclocking potential than retail parts. From what we are hearing in the field, though, many people have been able to achieve a decent boost in clock speed with the 4890.